And He ascended too, just as He had become incarnate, for the sake of our salvation – Sergius Bulgakov[1]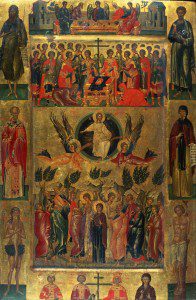 So when they had come together, they asked him, "Lord, will you at this time restore the kingdom to Israel?" He said to them, "It is not for you to know times or seasons which the Father has fixed by his own authority. But you shall receive power when the Holy Spirit has come upon you; and you shall be my witnesses in Jerusalem and in all Judea and Samaria and to the end of the earth."

And when he had said this, as they were looking on, he was lifted up, and a cloud took him out of their sight. And while they were gazing into heaven as he went, behold, two men stood by them in white robes, and said, "Men of Galilee, why do you stand looking into heaven? This Jesus, who was taken up from you into heaven, will come in the same way as you saw him go into heaven" (Acts 1:6-11 RSV).
The Ascension: A Poem
Turquoise sky intermixed with slimy mud,
White swabs intertwined with earthy crud,
Heaven and earth all together at last,
As Christ ascends in his glory unsurpassed.
Opposites united, division reconciled,
From heaven, matter no longer exiled.
The sun has risen on a new day,
The Son has risen and shows us the way.
He empties himself, vanishes from sight,
So that his followers receive his might:
The dove will once again descend,
The gift of the Son, a true Godsend.
The drama has already received its climax,
The immanent eschaton with us acts:
Time remains for the dénouement
And yet soon, that too shall be gone.
To enter into the final rest,
Die to the self, that's the test:
Either we rise up in Christ,
Or our eternal joy ends sacrificed.
---
[1] Sergius Bulgakov, Churchly Joy. Trans. Boris Jakim (Grand Rapids, MI: William B. Eerdmans Publishing Company, 2008), 122.
Stay in touch! Like A Little Bit of Nothing on Facebook: