One day Abba Macarius the Great came to Abba Anthony's dwelling on the mountain. When he knocked on the door, Anthony came out to him and said to him, 'Who are you?' He replied, 'I am Macarius.' Then Anthony went inside and shut the door leaving him there. Later, seeing his patience, he opened the door and received Macarius with joy, saying to him, 'I have wanted to see you for a long time, having heard about you.' He rendered him all the duties of hospitality and made him rest for he was very tired. When evening came, Abba Anthony soaked some palm-leaves for himself, and Abba Macarius said to him, 'Allow me to soak some for myself.' He replied: 'Do so.' Having made a large bundle, he soaked them. Then sitting down in the evening they spoke of the salvation of the soul, while they plaited the leaves. The rope which Macarius was making hung down through the window in the cave. Going in early, blessed Anthony saw the length of Abba Macarius' rope and said, 'Great power comes out of these hands.'[1]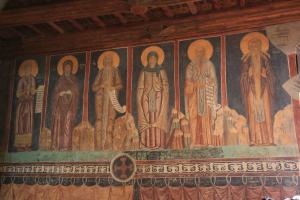 St. Macarius the Great had not always been recognized as a holy man; early in his ascetic career, he was falsely accused of having sex with a young maiden. She had become pregnant and claimed he was the father. Even though he was innocent of the accusation, Macarius was willing to take on the woman as a wife and look after her child once it was born, even as he was being abused and beat up by the people around him for all they thought he had done. He did not protest; he did not proclaim his innocence; he patiently endured the humiliation, believing it was better for the maiden and for himself if he did so. He truly understood the seriousness of the accusation, and the harm many women faced at the hands of evil men. He believed the best thing to do was help out, and not cause scandal which would hurt women who were truly mistreated by fighting for his own reputation. Later, when she was giving birth, she admitted that she had lied, and named the true father of the child. Having been declared innocent by his accuser, Macarius did not find the situation improved. Now the people who abused him came to him as a holy man, asking him for his help even as they asked for his forgiveness. He had held none of them in contempt, so the forgiveness was automatic, but he knew he could not stay there any longer. Humbled by the experience, and not wanting the villages to feel shame for what they had done, Macarius left his home to go deep into the Egyptian desert, at Scetis, hoping that he could once again be a simple monk without people coming to him singing him his praise.
This is not to say no one heard of his exploits. It is likely Anthony had heard what had happened to Macarius. Anthony knew how such good repute could influence those desiring to follow the simple ascetic path as he had to face the consequences of such fame early within his monastic profession. He knew that many who were venerated as holy men or women were not as holy as their legends made them out to be. Anthony, therefore, wanted to test Macarius; he wanted to see if what he had heard was true, and if so, celebrate with Macarius what God had achieved in his life. This is why when Macarius came to visit Anthony, instead of instantly welcoming him, Anthony closed the door on his fellow monk, letting him wait at the door for long hours, testing his patience. Anthony believed that if the story about him were true, Macarius would have no problem with such treatment; he would be patient and await the time when Anthony was ready for him. This is how and why, around the world, many would-be ascetics have met with similar treatment. Abbots have to test those who come to them to see if they are ready for the challenges ahead, and if someone is impatient at the door to the monastery, they would be even more impatient within the walls of the monastery and likely become a major distraction for all even as they would likely abandon the monastic way of life once their patience had become exhausted.
Anthony, full of love and compassion, did not enjoy the test – he wanted to meet Macarius and see someone whose great reputation went before him, someone who could make even Anthony marvel at what he had achieved. He wanted to meet Macarius and talk with him just as much as Macarius wanted to be with Anthony; when the test was done, it was time for Anthony to show himself and his full hospitality to Macarius, following the principles of Scripture:
The end of all things is at hand; therefore keep sane and sober for your prayers. Above all hold unfailing your love for one another, since love covers a multitude of sins. Practice hospitality ungrudgingly to one another. As each has received a gift, employ it for one another, as good stewards of God's varied grace: whoever speaks, as one who utters oracles of God; whoever renders service, as one who renders it by the strength which God supplies; in order that in everything God may be glorified through Jesus Christ. To him belong glory and dominion for ever and ever. Amen (1 Ptr. 4:7-11 RSV).
Together, Anthony and Macarius were able to glorify God. Macarius proved his patience, Anthony proved his love. After Anthony showed proper hospitality and care with Macarius, they were able to come together to worship God, not in a liturgical setting, but in the way desert monks of that era did, laboring together, praying and talking about the spiritual life while engaging their work. What amazed Anthony was the size of the rope Macarius had made. Macarius had long practiced this discipline, making for big, strong hands capable of creating exceeding large ropes in a short amount of time. Thus, the size of Macarius' hands indicated the greatness of his discipline. The patience which Anthony had tested was proved once again in Macarius' demeanor and the great strength which had developed in his hands. Macarius had engaged the ascetic life through simplicity, making ropes for hours on end. Through his hands he had learned his discipline, and through his hands, then, he had acquired the greatness of soul which had brought his fame across the world. For it is not in great deeds, but in simple humility, where true power of soul is to be found. It was Macarius' simple holiness which Anthony recognized was the greatest spiritual marvel in Macarius' long ascetic career.
[Image=Fresco on the west wall of the nave in Trinity Chapel in Lublin. The anchronites: SS Pachomius, Anthony the Hermit, Macarius of Egypt, Sabas of Cappadocia, Spirydon of Thremithus and Daniel the Stylite by Hans A. Rosbach/CC-BY-SA 3.0 [CC BY-SA 3.0 (https://creativecommons.org/licenses/by-sa/3.0)], via Wikimedia Commons]
---
[1] The Sayings of the Desert Fathers. trans. Benedicta Ward (Kalamazoo, MI: Cistercian Publications, 1984), 127-8.
Stay in touch! Like A Little Bit of Nothing on Facebook