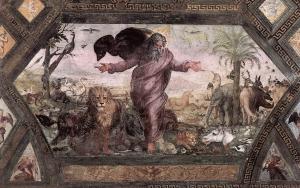 We have a tendency to try to place a hold upon God and believe he has some sort of exclusive relationship with us. We tend to do this both individually and communally. We want to believe there is something special about us, and that is where we find and proclaim our exclusive hold upon God. We are special, and God sees we are special, so he has a special tie with us, and if someone wants to make right with God, they need to make right with us. This is why, if and when we say God is for us, we tend to think that means he is only for us, and no one else. Throughout history, this exclusive form of thinking has caused great problems, including, and especially, in and through the violence which emerges as differing groups make similar exclusive claims about their relationship with God, each seeing the other as an existential threat which must be eliminated in one way or another. Similarly, this leads us to reject what God has done with others because we cannot believe he will be working with and through them when we believe he resides exclusively with us.
Instead of limiting God, and therefore, limiting the work accomplished by God, we must remember God is all in all, working for and with all. We need to also remember the revelation of this truth is in the incarnation, where God the Son, the Logos, became incarnate. The Logos does not exclusively have a relationship with us for the Logos was the one through whom all things are made. The Logos established the whole of creation, making many logoi, many beings which participate, in their own way, with the Logos, making them tied with the Logos. They are created by the Logos, they are sustained by the Logos, and all things are capable of being saved by the Logos. The Logos became man, yes, but the Logos also entered into creation and took on the status of creature, becoming in his humanity a created being so that through his humanity, the whole of creation has an interdependent relationship with him. The Logos saves humanity, but the Logos also works for and establishes the salvation of the whole of creation. He is interested in humanity, but we must not confuse God being with us in Jesus as indicating God is only interested in us. God is interested in his whole creation which he saw was good and beautiful because it was good; he desires that beauty to be preserved, that goodness not to be lost. Paul expressed this truth as he wrote to the Colossians, saying:
He is the image of the invisible God, the first-born of all creation; for in him all things were created, in heaven and on earth, visible and invisible, whether thrones or dominions or principalities or authorities — all things were created through him and for him. He is before all things, and in him all things hold together. He is the head of the body, the church; he is the beginning, the first-born from the dead, that in everything he might be pre-eminent. For in him all the fulness of God was pleased to dwell, and through him to reconcile to himself all things, whether on earth or in heaven, making peace by the blood of his cross (Col. 1:15-20 RSV).
Paul, explained that Jesus is not just the New Adam, come to save humanity, but also the firstborn of all creation, creating all things and therefore working to reconcile all things "whether on earth or in heaven" with God through his work on the cross. It is not just humanity which is affected, but the whole of creation. The heavens proclaim the glory of God – for the glory of God shines even there, giving his saving grace to any who should reside there, if only they would accept it and take it in as their own. "For he has made known to us in all wisdom and insight the mystery of his will, according to his purpose which he set forth in Christ as a plan for the fulness of time, to unite all things in him, things in heaven and things on earth" (Eph. 1:9-10 RSV).
Humanity is not alone in Jesus; all things in heaven and on earth are joined together in Christ, joined together in the God who became a part of creation so that he could give his deifying grace to the whole of creation. God loves humanity, and humanity has an important part in salvation history as the fact of the incarnation demonstrates, but we must not read that God is concerned exclusively for humanity. His incarnation as a human shows us that humans are special, but this does not mean he ignores the rest of his creation. Jesus made it clear, God takes concern for the rest of creation and so we can believe he will also take care of us:
Look at the birds of the air: they neither sow nor reap nor gather into barns, and yet your heavenly Father feeds them. Are you not of more value than they? And which of you by being anxious can add one cubit to his span of life? And why are you anxious about clothing? Consider the lilies of the field, how they grow; they neither toil nor spin; yet I tell you, even Solomon in all his glory was not arrayed like one of these (Matt. 6:26-29 RSV).
While Jesus' words affirm God's concern for us, we must not neglect the foundation is on God's care for the rest of creation. God's love and grace is given to all, helping all achieve their proper place in the kingdom of God. The Logos descended and ascended as a way to join all things together with his grace. "He who descended is he who also ascended far above all the heavens, that he might fill all things" (Eph. 4:10 RSV). It was not an act exclusively for us; all things are capable of being filled by his deifying grace; all things are able to be made new in light of the resurrection. "All things have been delivered to me by my Father; and no one knows the Son except the Father, and no one knows the Father except the Son and any one to whom the Son chooses to reveal him" (Matt. 11:27 RSV).
Creation, being good, is also called to share in the fullness of God's kingdom. All things have been delivered to Jesus so that Jesus can then bring them all together as one in the kingdom of God; this is how God will be all in all. The incarnation influences all things; it reveals the way every good gift comes from above, from God, who gives not just impersonally to all, but in and through his person in the form of a man, whereby then as man he is able to ascend into heaven and take with him the fullness of the world with him. Thus, Pseudo-Dionysius was able to state:
"Every good endowment and every perfect gift is from above, coming down from the Father of lights." But there is something more. Inspired by the Father, each procession of the Light spreads itself generally towards us, and, in its power to unify, it stirs us by lifting us up. It returns us back to the oneness and the deifying simplicity of the Father who gathers us in. For, as the sacred Word says, "from him and to him are all things."[1]
All things, the whole of creation, and not just us, are called by God to receive his all-deifying grace, each thing receiving in accordance to their potential. That is, while all will be raised in the Godman, and united together as one in the Godman, this is not to say all things will be the same. Each will be united in its own way, preserving its own form, even as it finds itself united to all other things in the Godman. Thus, the one who is the heir of all things (cf. Heb. 1:2), has been able to put all things at his feet (cf. Eph. 1:22) so as to rule them in the glory of his love. While we might be accustomed to think of him in relation to his work with us, since he became man, we must not use that to think his work was exclusively for us; we must keep in mind that it was so that he could put all things together as one and hand them all over, filled with grace, to the kingdom of God so that all things will be made new (cf. 2Ptr. 3:13).
God loves us, but he does not only love us; God loves his whole creation; why would he let that which is good be lost, why would he create a good so that it should perish? All that is good is to be preserved in God because God is good; God does not eliminate or destroy the good, but lifts it up and fills it with his grace, deifying it so that all things can partake of the glory of God and be filled with his presence. St. Francis of Assisi, who not only glorified the beauty of creation, but saw God at work in and with it reveals the cosmic sense which we should have in our understanding about God so that we can recognize, with Francis, that even animals can be blessed by God and raised up by him. Now, more than ever, this vision needs to be heeded as the world itself is being harmed by the sin of humanity which selfishly seeks its own and demand to hold onto God with exclusive claims about his grace. We are called to share the blessings of Christ to the world; we who are rich in grace are called to share our riches to the poor of creation; why do we withhold it and neglect our duty to the rest of the earth? We are God's stewards; the good steward takes what is given and share it with all. "As each has received a gift, employ it for one another, as good stewards of God's varied grace" (1 Ptr. 4:10 RSV). When we realize we are indeed stewards of the earth, then we realize our position is to follow Christ, to raise and improve the earth with the bounty of God's grace, not to strip it and abuse it for our own selfish ambition. For when we realize we are such stewards, set up to help guide and direct the world through the bounty of God's grace given to us, Jesus' words must be read as a part of his expectation for us in relation to the world:
Who then is the faithful and wise steward, whom his master will set over his household, to give them their portion of food at the proper time? Blessed is that servant whom his master when he comes will find so doing. Truly, I say to you, he will set him over all his possessions. But if that servant says to himself, `My master is delayed in coming,' and begins to beat the menservants and the maidservants, and to eat and drink and get drunk, the master of that servant will come on a day when he does not expect him and at an hour he does not know, and will punish him, and put him with the unfaithful (Lk. 12:42b-46 RSV).
God expects us to take the talent of grace and to use it for his glory; we must not let the sin of presumption lead us to ignore our duty to creation. We are stewards of the earth and all its inhabitants; we must not delay our duty to God just because we feel we are free to do whatever we wish as we await the return of Christ. God loves all, and wants us to come, follow Jesus, to take up our cross and share the grace which we have received unto the whole of creation. We must not think God is only for us, but rather God is with us so that we can continue his work in creation, seeking to lift it and all that is in it back to God. We are mediators of God's grace, that is what it means to be his steward. The world, and the whole of creation, is called to be received into the kingdom of God, and we are called to help bring that into fruition. God is with us, but he is not only for us, and so we should not only be for ourselves, but for all the good which God desires for his whole creation.
[Image=Creation of the Animals by Raphael [Public domain], via Wikimedia Commons]
---
[1] Pseudo-Dionysius, "The Celestial Hierarchy" in Pseudo-Dionysius: The Complete Works. trans. Colm Luibheid (New York: Paulist Press, 1987), 145.
Stay in touch! Like A Little Bit of Nothing on Facebook