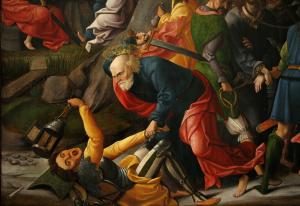 Jesus Christ is the prince of peace. He did not encourage violence, indeed, he routinely spoke out against it, telling his followers to love their enemies and do them good instead of fighting back. Early Christians took this to heart. They did not take the path of the zealots and engage armed revolt against Rome; instead, they consistently taught peaceful resistance was the means by which they were to confront authorities who sought to bring them harm. For Jesus told them to fear spiritual death, not bodily harm: "And do not fear those who kill the body but cannot kill the soul; rather fear him who can destroy both soul and body in hell" (Matt. 10:8 RSV). To be a follower of Jesus, one was expected to follow the path of peace, not war, for that was what made one a child of God (cf. Matt. 5:9).
Nonetheless, many suggest that such peacemaking is not what Jesus expects of us today. They think we are to take up arms and fight. They say that Jesus used a whip against the moneylenders and that he told the Apostles to buy a sword indicating that Christians, likewise, are not to be pushovers, but fighters, who in the present day are to carry on the fight with a gun. Such interpretations are far from the ancient Christian understanding of Jesus and the Christian life; they serve, rather, as justification for irrational passions which emerge out of the eight deadly sins that encourage us to seek after and protect our own life by any means necessary instead following Jesus who said, "For whoever would save his life will lose it, and whoever loses his life for my sake will find it. For what will it profit a man, if he gains the whole world and forfeits his life? Or what shall a man give in return for his life?" (Matt. 16:25-26 RSV).
When Jesus entered the temple, the Greek text of the story implies he did not use the whip on humans; rather, he used it to direct the sheep and the oxen out of the temple. Therefore, to try to use this incident as support for violence would be like using a passage of Jesus sitting on a donkey and a colt as indicating it is proper for us to sit on people and use them as slaves to carry us around. Jesus did cast the people out, and overturned their tables, but again, not with any indication of violence. We must read the story as a kind of exorcism, where Jesus, by his moral and spiritual authority, was able to drive the moneylenders, who already knew their activity was wrong. Likewise, the story can be seen as an example of what happens in each and every one of us, as he expels the darkness within our soul, which is the temple of the Holy Spirit. When we understand how Jesus comes to work in our soul, cutting away the sinso that we can be cleansed and healed, we can then better understand what Jesus was doing in the temple in Jerusalem.[1]
Likewise, when Jesus talked about buying a sword (Lk. 22:36), we must be careful, and understand what sword he wanted his disciples to get. They thought it was a literal sword, but when it was put in use, Jesus objected:
And behold, one of those who were with Jesus stretched out his hand and drew his sword, and struck the slave of the high priest, and cut off his ear. Then Jesus said to him, "Put your sword back into its place; for all who take the sword will perish by the sword" (Matt. 26:52-3 RSV).[2]
It should be quite clear from what Jesus said that he objected to the use of the sword. He was clear that those who use weaponry for the sake of self-defense will find its use ineffective. Violence begets violence; those who engage in and glorify violence shall find such violence killing them spiritually, if not also physically. If people thought Jesus was promoting the use of weaponry, all they need to do is read about Jesus' response. He did not want his disciples to take for themselves a literal weapon, but rather, to offer themselves up as a living and holy sacrifice to God, living for God and in return, trusting in God with the sword of the spirit for their defense. Paul understood Jesus' intention, and helped clarify it by writing about our true battle is an inner, spiritual battle, which engages spiritual principles:
Put on the whole armor of God, that you may be able to stand against the wiles of the devil. For we are not contending against flesh and blood, but against the principalities, against the powers, against the world rulers of this present darkness, against the spiritual hosts of wickedness in the heavenly places. Therefore take the whole armor of God, that you may be able to withstand in the evil day, and having done all, to stand. Stand therefore, having girded your loins with truth, and having put on the breastplate of righteousness, and having shod your feet with the equipment of the gospel of peace; besides all these, taking the shield of faith, with which you can quench all the flaming darts of the evil one. And take the helmet of salvation, and the sword of the Spirit, which is the word of God (Eph. 6:10-17 RSV).
It was not a physical sword, but a spiritual sword, the sword of truth, which must be taken up. We must all that we have, that is, give our lives up over to Jesus, in order to join in with the Word of God, and have him as our sword. [3]
Thus, Origen in explaining the spiritual meanings behind the book of Numbers, preached:
These things may have edified the first people; but for those redeemed by Christ, a physical sword has been removed from your hands. In its place he "sword of the Spirit" has been given, and you must seize the latter sword.[4]
This sword, Origen explained, is to be used against spiritual evils (represented in allegorical fashion in the Torah), so that we are not seen attacking other people with it but rather, fight the spiritual fight within, cutting away our sins and temptations:
And therefore let us rise up and pray that we always find that "sword of the Spirit" prepared, through which the very seeds and receptacles of sin maybe be destroyed, and God will become propitious to us through the true Phinehas, our own Lord Jesus Christ, to whom be "the glory and the power in the ages of ages. Amen.[5]
By misunderstanding Scripture, those who promote violence and encourage the use of guns, turn the intention of Scripture around and ignore the rebuke Jesus gave to that kind of thinking. We are not to aim our sights at others as enemies to be destroyed, rather, we are to seek to make peace to become children of God. We must, of course, work for justice in the world, but violence begets violence, not justice. Those who live by the gun shall also die by it, if not physically, then spiritually as they turn away from their faith in Jesus and rather put their trust in arms, just as Israelites trusted in the might of Egypt instead of God (cf. Is. 31:1). We must not fall for the temptation of violence, we must not put our trust in arms; such idolatry might save our body, but it will fail to save our soul.
[Img=The Capture of Christ by anonymous; musée des beaux-arts de Dijon [CeCILL (http://www.cecill.info/licences/Licence_CeCILL_V2-en.html) or CC BY-SA 2.0 fr (https://creativecommons.org/licenses/by-sa/2.0/fr/deed.en)], via Wikimedia Commons]
---
[1] Likewise, the cleansing of the temple can be understood in relation to the church. St. Anthony of Padua, taking on this tradition, explained:
"Jesus enters the temple every day when he visits his Church and considers the actions of each one, casting out from among the saints those whose good deeds are only a pretence, or who openly do evil. The oxen which till the ground stand for the preachers of heavenly doctrine. The sellers of oxen are those who do not preach from the love of God, but to gain a temporal reward. The innocent sheep provide wool for clothing, which represents works of cleanness and piety. Those who sell them are those who do these things for the sake of human praise," St. Anthony of Padua, Sermons for Sundays and Festivals. Trans. Paul Spilsbury (Padua: Ediziono Messaggero Padova, 2007), 256-7.
[2] Likewise, in John:
"Then Simon Peter, having a sword, drew it and struck the high priest's slave and cut off his right ear. The slave's name was Malchus. Jesus said to Peter, 'Put your sword into its sheath; shall I not drink the cup which the Father has given me?;"(John 18:10-11 RSV).
[3] Symbolically, this is represented in the Apocalypse by how Jesus is described: "in his right hand he held seven stars, from his mouth issued a sharp two-edged sword, and his face was like the sun shining in full strength" (Rev. 1:16 RSV).
[4] Origen, Homilies on Numbers. Trans. Thomas P. Scheck (Downers Grove, IL: Intervarsity Press, 2009), 131.
[5] Ibid., 131.
Stay in touch! Like A Little Bit of Nothing on Facebook