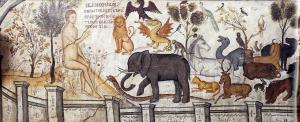 Evolution shows us not only that there is a continuity between humanity and the rest of animal kind, but also all life on earth is related to each other. They share one common heritage; they form one chain of life which ties them together. Each animal, each plant, each form of life certainly has their differences from each other, but yet, they hold much in common. They form one biological family, and this fact is something which should not be ignored (just as the common bond which ties all that exists together as being a part of one created existence must also not be forgotten).
Sadly, throughout history, humanity took control and exercised dominion over the rest of the earth, thinking and believing that everything else in creation was established to serve whatever they should desire. Some, to be sure, contended against such conceit, realizing the hubris which lay behind such sentiments. Even then, there remained a temptation to limit the value which was attributed to other life forms. Christians could come to recognize that animals have a goodness all their own, given to them by God, but then turn that good into a good which humans are meant to employ for their own wellbeing without considering God's own separate desires and intentions for animals. Andrew Linzey, an Anglican theologian who has long engaged theological reflections upon animals, has found that the instrumentalist approach towards animals continues to hold sway within the Catholic Church from his examination of the Catechism of the Catholic Church. While acknowledging that there is some element in it in trying to rise up and accept that animals have a worth all their own from God, he feels that its continued acceptance of the tradition exemplified by St. Thomas Aquinas, defending the instrumental use of animals instead of recognizing they have a good independent of such use, leads to an inherent self-contradiction which must be overcome: "It is illogical to acknowledge that animals have some independent worth to God and then practically subscribe to a wholly instrumentalist understanding of their status as resources for human use." [1]
Scripture, to be sure, promotes a vision of animals which suggests humanity should take them seriously as beings which not only praises God in their own ways, but beings which God loves and also seeks to save for their own sake: "Thy steadfast love, O LORD, extends to the heavens, thy faithfulness to the clouds. Thy righteousness is like the mountains of God, thy judgments are like the great deep; man and beast thou savest, O LORD" (Ps. 36:5-6 RSV). The whole of creation, not just humanity, is restored by the work of Jesus Christ. All things are elevated and deified by Christ:
He is the image of the invisible God, the first-born of all creation; for in him all things were created, in heaven and on earth, visible and invisible, whether thrones or dominions or principalities or authorities — all things were created through him and for him. He is before all things, and in him all things hold together. He is the head of the body, the church; he is the beginning, the first-born from the dead, that in everything he might be pre-eminent. For in him all the fulness of God was pleased to dwell, and through him to reconcile to himself all things, whether on earth or in heaven, making peace by the blood of his cross (Col. 1:15-20 RSV).
God loves the world, not just humanity; he loves all things which he creates or brings into existence because they are good. All things reveal the glory of God. All things reflect and point to God. All things participate in the divine life. They do so in different proportions, so they do not have to be seen as equal, but they all remain good and deserving respect in accordance to the level of being which they contain in themselves. The infinite transcendent glory of God is reflected in the infinite potentiality of being; the infinite potential of being then manifests itself in the diverse creatures and things established in existence. As all creatures some out of that plurality of being which mirrors and reflects the glory of God, they all reveal in themselves the glory of God. Thus, St. Maximos the Confessor explained:
And this in fact with the sign of God's goodness, namely, that He did not simply establish the divine and incorporeal essences of the intelligible hosts as images of divine glory – each one proportionally receiving as much as is permitted, the inconceivable splendor of the unapproachable beauty – but He also intermingled even among sensory creatures, who are greatly inferior to the intelligible essences, resonances of His own magnificence.[2]
Job, therefore, was able to point to animals and understand that they presented the glory of God:
But ask the beasts, and they will teach you; the birds of the air, and they will tell you; or the plants of the earth, and they will teach you; and the fish of the sea will declare to you. Who among all these does not know that the hand of the LORD has done this? In his hand is the life of every living thing and the breath of all mankind (Job 12:7-10 RSV).
Likewise, the Psalmist said that all things praised the Lord in their own being:
Beasts and all cattle, creeping things and flying birds! Kings of the earth and all peoples, princes and all rulers of the earth! Young men and maidens together, old men and children! Let them praise the name of the LORD, for his name alone is exalted; his glory is above earth and heaven. He has raised up a horn for his people, praise for all his saints, for the people of Israel who are near to him. Praise the LORD! (Ps.148:10-14 RSV)
Animals, therefore, present something of the glory of God in themselves. They have a share of the divine life within them. They are not created to be mere instruments for human enjoyment, but rather, they are beings which belong to God and are looked after and cared for by him: "For every beast of the forest is mine, the cattle on a thousand hills. I know all the birds of the air, and all that moves in the field is mine" (Ps. 50:10-11 RSV). Those who are righteous will care for animals; they will recognize themselves as stewards of God's earth, seeking to multiply the glory instead of hinder it, while the wicked will deface the earth and all its inhabitants, cruelly mistreating all things as mere play-things to be enjoyed: "A righteous man has regard for the life of his beast, but the mercy of the wicked is cruel" (Prov. 12:10 RSV).
When we combine what we can learn from Scripture with what we can and do learn from evolution, we should begin to question and change our understanding of the animal world and its potential. The Aristotelian tradition understood a distinction between life forms using qualities associated with nutritive, sensitive and rational souls. Lower forms of life would be distinguished from higher forms of life by the qualities which they did not possess. Animals were said to possesses nutritive and sensitive qualities of soul, but not reason, while humans were said to be rational animals and so to have within them all three qualities. This allowed for a way to create absolute divisions between the various forms of life. This tradition cannot be accepted without reformation. Engagement with animals can show that they deliberate and act upon reason. This is why animals must not be seen as purely irrational, justifying abuse of them, or worse, justifying their annihilation in the eschaton. Christians should know better than that as Scripture consistently indicates the cosmic restorative work of the messiah. Sadly, Christians allowed themselves to be diverted from a solid, cosmic soteriology as they let a poor understanding of biology give them justifications for their rejection of most of creation being restored and glorified in the eschaton. But some, like St. Maximos, knew we must not see ourselves as entirely distinct from the rest of creation; we are united as one in relation to God and so what Christ works with in his salvific activity is not only for us but the whole of creation. We must follow with their intuition and add to it what we learn from the sciences.
We can accept that there are qualitative differences between various forms of life, but we cannot turn such differentiation into an absolute division. We exist in one interdependent chain of evolution, one sequence of life, which ties us all together, even as our humanity ties us together with the rest of humanity. Since we are not entirely separated from the rest of the great evolutionary chain of life, we cannot use a belief in an absolute difference from the rest of life as a reason to justify our lack of care, or worse, mistreatment of them. Those who study animals can see gradations in regards to their reasoning ability; they communicate, some better than others, some even with rudimentary forms of language (as research with prairie dogs demonstrate); they have emotions, pain and sorrows with life, and so should be treated with respect, as creatures of God and not just creatures for human manipulation. We should be their guardians, not their dominators; we should be custodians of God's earth instead of thieves stealing from the good of being.
Just like the new cosmology required Christians to reconsider their relationship with the universe, Christians still have yet to take into account evolution and what it truly means in regards their responsibility with creation. Even if most now can accept evolution as a fact, they have yet to truly examine the implications of that fact. The medieval philosophers who followed Aristotle should be our example, not in the outcomes of what they theorized, but in their willingness to take the best scientific knowledge known at the time and work with it, finding out its implications. We must look to the scientists and listen to them. We must be willing to change our beliefs and practices to fit with what we learn from science. It might not be easy, but it is what is expected of us. Then, in doing so, we will be learning more about God's great work, his great creation, and through it, see and understand even more about God and glorify him for his wondrous deeds, instead of what most Christians have done in history, which is to neglect most of that glory and limit it to ourselves alone.
[IMG=Adam Naming the Animals [Public domain], via Wikimedia Commons]
---
[1] Andrew Linzey, Animal Gospel (Louisville, KY: Westminster John Knox Press, 1998), 61.
[2] St. Maximos the Confessor, On Difficulties in Sacred Scripture: The Responses to Thalassios. Trans. Fr. Maximos Constas (Washington, DC: CUA Press, 2018), 305.
Stay in touch! Like A Little Bit of Nothing on Facebook