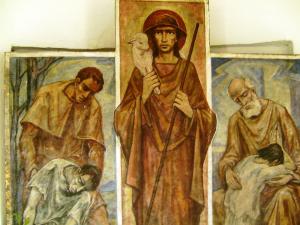 One of the appalling factors in modern Christian life, Catholic or otherwise, is the great disconnect between faith and action. Christian leaders find all kinds of reason to excuse themselves, and their friends or political allies, from the mode of conduct which they demand from others. The words of St. Salvian the Presbyter, written during a time of upheaval and the collapse of the Roman Empire, could be said today.  Christians, not non-Christians, are creating terrible scandals which serve as justifications for non-Christians to ignore the Christian message; Christians are causing God to be blasphemed:
As I have said, this evil is peculiar only to Christians, because through them only, in a way, is God blasphemed. They learn good and do evil who, it is written, confess God by words and deny Him by deeds. They, as the same Apostle says, repose in the Law and know its intent and approve of those things that are the more profitable. They have the form of knowledge and of truth in the Law. They preach that they must not steal, yet they do steal. They read that they must not commit adultery, yet they commit it. They glory in the Law, but by transgression of the Law they dishonor God. Therefore, for this very reason, Christians are worse because they should be better. [1]
Christians, because they know better, or at least they say they know better, will be judged much more severely when they commit offenses which cry up to God. Ignoring the plight of the oppressed, supporting the rich over the poor, laughing away the sins of youth as "boys will be boys," and the like will be judged and condemned harshly when the light of truth shines on these and other evil acts.
Without charity, Christianity is nothing (cf. 1 Cor. 13:2). For God is love, and those who do not know love do not now God (cf. 1 Jn. 4:8). Truth without charity is not the truth. It is only a simulacrum of the truth, an idol which is used for the sake of personal gain. Those who speak of the law but do not live it use it only as a bludgeon to harm others. They might be using words which are true; they might even have a sense of authority, which cannot be denied, but they have cut themselves off from the truth, and so are in a way thieves who have nothing of their own, but only the elements of truth which they have taken from others. They preach do not steal, but the command itself is not theirs to give: they have stolen it from God. They preach do not commit adultery, and yet they shame many men, women, and children who suffer the consequences of sexual abuses, even as others have adulterated themselves by promoting sexual deviants as men of God who deserve positions of authority.
As James indicated, we are all called to be doers of the word:
Therefore put away all filthiness and rank growth of wickedness and receive with meekness the implanted word, which is able to save your souls. But be doers of the word, and not hearers only, deceiving yourselves. For if any one is a hearer of the word and not a doer, he is like a man who observes his natural face in a mirror; for he observes himself and goes away and at once forgets what he was like (James 1:21-24 RSV).
When Christianity is riddled with hearers of the word who do not act upon what they heard, Christianity is graced, and those Christians who avoid right action produce great scandal in the world. Who would believe in the transformative power of Christ when Christians themselves do not care to be transformed, to be the light of the world, the salt which preserves and purifies the world?
It is easy to understand why people begin to doubt the Christian faith when they see what goes on under the mantle of Christ. Those who flee, either their own chosen faith tradition, or the whole of the Christian faith, because of the evils they have experienced as a Christian, are not to be won back by harsh judgment and condemnation. Such reactions only serve to send them farther away. And yet, even as they flee the faith, they are often truer to themselves and the faith which they believed than those who scandalized them, because they want the truth manifested in love. They flee, not in rejection of Christ, but for his sake: they reject what is said and done in his name, while they seek the way of truth and justice. They might subjectively reject Christ because of what they have seen, but find themselves like those in the parable of the last judgment, fleeing towards Christ in his objective reality and truth, where they will be welcomed by him with love. Those who are so blinded from the wounds given to them by Christians in the name of Christ might subjectively be incapable of hearing the Christian faith until they come face to face with Christ himself and see beyond the shame and hurt they have experienced.
[2]
Christians need to witness to them, not by judgment, or arguing difficult matters of faith with them, but by love and respect, letting them be while being willing to be there for them if ever asked.  Only by such love will the truth be made manifest. Their fate is not ours to judge. Christ, and many saints, have often made it clear that such people could be one with us in truth despite all appearances otherwise.
Yet, for those of us who remain where we are at, despite all the suffering and confusion around us, despite whatever grievances we might have with other Christians, especially with those in leadership positions in our churches, we must remain humble and true to the faith. We must be doers of the word. We must listen to God. We must hear what he says for us to do. Then we must do it. We cannot control others. But we can work to control ourselves.  We must truly break free from any disconnect between faith and works in our lives and tie them together as one. Yes, we will slip up and sin. Yes, we will need grace. But we must remember what we believe and remember ourselves as the first among sinners. Then we will realize that the compassion and charity we want for ourselves should be given to all. If Christians truly lived this out, they would begin to reveal the truth of the faith once again, in a way far more credible, far more enticing, than those found in theological and philosophical debates.
[IMG=Jesus, Merciful Father, Good Herdsman [Creative Commons CC0] via maxpixel.net]
---
[1] St. Salvian, "The Governance of God" in The Writings of Salvian the Presbyter. Trans. Jeremiah F. O'Sullivan, PhD (Washington, DC: CUA Press, 1962),123.
[2] That is, it is possible that "invincible ignorance" applies to them. Invincible ignorance is not about someone being uneducated or lacking of intelligence, but rather, it is about someone's personal context creating a barrier between themselves and the fullness of the Christian faith which cannot be overcome by any normal means.
Stay in touch! Like A Little Bit of Nothing on Facebook