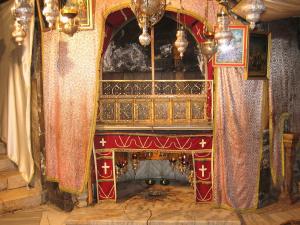 Deep in the heart of a shallow cave,
The very author of life was born.
Beginning his journey to the grave,
The small child did not cry or mourn.
How can this great marvel be
That the invisible Lord of all,
Is one whom all can now see,
In that babe so small?
Behold the seed of death in birth,
The seed of salvation amongst sin,
and the seed of heaven found on earth.
In that child, God is found within.
Now what was two have become one:
The eschaton found itself within time.
The earth and all within it are won
Cleansed from the filth of its crime.
The hopes and desires of all find themselves fulfilled in a small, little baby.  This baby possessed a destiny which would lead him all the way from the cave of his birth to the cave of his death – and beyond. But those who came to him, those who came to adore him laying in a manger dud not have any vision of this destiny. They only knew that the weight of the world already stood upon this small, little, weak child.
We, too, come to this child, but as we do so, we know who he is. He is the light of the world. He is the Word made flesh. He is the Logos through whom all things were made.  He is indeed all these things, and yet he is something more: he is also human, indeed, a man.
What God has entered, what God has taken up and assumed for himself, is holy. The kingdom of God, the eschatological kingdom which transcends the world, is not of the world; and yet, in him, it is in the world and a part of it. He came into the world, and the world knew him not, because he came in the form of a small child, a child which looked weak and helpless.
How can a child such as this be the God of all? God is not made; God is not a creature, how, then can he be this little baby, a baby born of Mary? How is this possible?
With God all things as possible; with God, the incarnation is possible. But how?
Have this mind among yourselves, which was in Christ Jesus,  who, though he was in the form of God, did not count equality with God a thing to be grasped,  but emptied himself, taking the form of a servant, being born in the likeness of men. And being found in human form he humbled himself and became obedient unto death, even death on a cross  (Philip.  2:5-8 RSV).
He emptied himself, and so willingly became this small little infant. At once, he is strong and weak, the helper of all and a helpless little baby. He was not attached to his greatness, and that is why he is truly great. He was not attached to the division between heaven and earth, strength and weakness. In him all of it is found. The strength of his divinity sanctified his weakness, making all such weakness holy. He who nourishes all things found himself in need of nourishment. He who loves all as God, for God is love, experienced the need for human companionship and love, sanctifying all human relationships centered around love.
He comes to us lowly and simple, as a small child, welcoming us in his humble simplicity, knowing full well the innocence of a child naturally attracts our loving devotion. If we look carefully at him, we can see him looking back at us with love. He came, indeed, because he loved us, but he came in such a way that his love can be welcomed. This is because is easier for us to open our hearts to him when we see him as a baby than as some powerful Lord demanding our love.
This baby, this flesh and blood child, this king and eternal God, reveals to us true greatness can be found anywhere. The world is God's, and in it, in all places and times, God is at work, making it holy. God entered the world not only to show us the goodness of the world, but to raise it up, to truly make heaven and earth as one. The eschaton is immanent, and all things, all times, are capable of being made holy. Those who deny the world will deny God, not only because they deny the good work of God, but because they deny God himself, who is present in the world. Body and soul are to share in the glory of God together, even as in Jesus, in the little child born in Bethlehem, body and soul find themselves one with the eternally begotten Son of God.
God became man and opened up the treasury of heaven for us and the whole of the world. We find it all set before us in and through the world. We can have it all if we follow the example of this child, who did not seek to grasp all things and take it as a mere possession for himself alone. He emptied himself of all such attachment. And so, we need to empty ourselves as well. This is not because the world and all that is in it is evil and to be shunned, but rather, it is because it is good. For we close off the grace of God when we try to separate and divide the world through our selfish ambition, dividing, therefore, heaven from earth.  Only when we cut away such divisions, and so bring all things together as one do we find the glory of God and realize the kingdom of God.
In this baby, we are shown the kingdom of heaven is one with us. In him we know that God is with us.  Let us glorify him!
[IMG=Church of the Nativity by Darko Tepert Donatus [CC BY-SA 2.5 (https://creativecommons.org/licenses/by-sa/2.5)], from Wikimedia Commons]
Stay in touch! Like A Little Bit of Nothing on Facebook