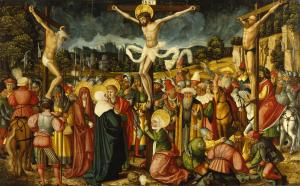 The death of Jesus must not be attributed to specifically to the Jews. When talking about the historical reality of his death, those who were in positions of power and authority in Jerusalem can be held responsible. Some of them, but not all of them, were Jewish leaders in Israel who felt threatened by Jesus' words and deeds. Thus Vatican Council II, in its attempt to stop much of the anti-Semitic rhetoric which has been use to demonize the Jews, stated clearly what is the only logical conclusion we could actually hold:
True, the Jewish authorities and those who followed their lead pressed for the death of Christ; still, what happened in His passion cannot be charged against all the Jews, without distinction, then alive, nor against the Jews of today. Although the Church is the new people of God, the Jews should not be presented as rejected or accursed by God, as if this followed from the Holy Scriptures. All should see to it, then, that in catechetical work or in the preaching of the word of God they do not teach anything that does not conform to the truth of the Gospel and the spirit of Christ.[1]
Historically, the attempt to connect the death of Jesus at the hands of all the Jews has been used to justify all kinds of horrible crimes against the Jews. Once such demonization is accepted, Jews are easily treated as scapegoats; if they were all guilty of killing Jesus, what else would they not do? Likewise, then, they were treated not only with suspicion, but with outright hostility. Their lives were put in jeopardy. If the Jews are so evil, if they are willing to do all kinds of evil crimes against humanity, would it not be just to take them out before they do anything more to harm society?[2] This thought process, this kind of rhetoric, must be completely and utterly rejected, not only in relation to the Jews, but in regards all forms of xenophobia which ends up not only allowing for abuse of one group or another, but demands it for the sake of "peace and safety." We must not generalize against the Jews, but also, we must not generalize against Africans, Arabs, Latinos, Irish, Italians, Polish, or any other nationality. We must be careful not to confuse bad leadership within any nation as with the people who are ruled by such bad leaders.[3]
When we read about the death of Jesus, it is clear, it was done under the auspices of Rome, with both Roman and Jewish authorities wrestling with each other, trying to make the other act. Pilate, when meeting with Jewish leaders, wanted them to handle Jesus on their own, but they said they could not deal with him properly because they felt he deserved to be put to death:
Pilate said to them, "Take him yourselves and judge him by your own law." The Jews said to him, "It is not lawful for us to put any man to death." This was to fulfil the word which Jesus had spoken to show by what death he was to die (Jn. 18:31-32 RSV).
Pilate, in what was likely unusual for him, did not seem to care to get involved with what he saw as intra-Jewish concerns. However, when pressed, when Jesus was presented as a political challenge to Caesar, he reluctantly used his power to have Christ crucified.
And they crucified him, and divided his garments among them, casting lots for them, to decide what each should take. And it was the third hour, when they crucified him. And the inscription of the charge against him read, "The King of the Jews." And with him they crucified two robbers, one on his right and one on his left (Mk. 15:24-27 RSV).
Once Jesus was handed over soldiers to take him to the site of his crucifixion, it is clear that they understood what he was being executed for, as a political rival to Caesar. They treated him as a rival king who had been taken in and overcome by Rome:
Then the soldiers of the governor took Jesus into the praetorium, and they gathered the whole battalion before him. And they stripped him and put a scarlet robe upon him, and plaiting a crown of thorns they put it on his head, and put a reed in his right hand. And kneeling before him they mocked him, saying, "Hail, King of the Jews!" And they spat upon him, and took the reed and struck him on the head. And when they had mocked him, they stripped him of the robe, and put his own clothes on him, and led him away to crucify him (Matt. 27:27-31 RSV).
In this instance, the humiliation of Jesus was the humiliation which was done before to many of Roman's rivals, of those who fought against and lost to Rome's might. In humiliating him they actually did him honor. By their actions, they inadvertently accepted his right to be seen as a king. Likewise, then, their actions can be seen as being contemptuous not only to Jesus, but to the Jews. Treating him as a rival king from the Jews, mistreating him and abusing him, ridiculing him as they did, allowed them to use him as a representative of the whole Jewish people; thus, they can be seeing as ridiculing and abusing the Jews when they mocked Jesus. In this regard, we find that the death of Jesus connects with, and should be seen is united with, all forms of anti-Semitism: Jesus took upon himself not only the sins of the world, but also the terror and abuse which had been given out, and will continue to be given out, to the Jews. He was and is in solidarity with the Jews in his death, and this is as it should be expected, for he was their Messiah, he was of the line of David, and he was, despite all appearances, truly a representative of the Jews. What was done to him was done to all of them, and what was done to all of them was done to him: is it no wonder, then, that the words of Isaiah 53, rightfully interpreted by Christians as being prophetically related to Jesus can also be seen and is seen by the Jews as representing themselves and their own history?[4]
And yet, we must remember, just as what was done to connected him with the Jewish people, so that the Jews should be lifted up and not abused by Christians, Jesus was forgiving all what was done to him. He did not want the soldiers who abused him to be used as a means for demonization: his death was for the sake of the world, acted out of love. It was for the forgiveness of sins for all the world. Everyone is called by him for their salvation. "Jesus truly suffered for all men. For the Cross was no illusion; otherwise our redemption also is an illusion. His death was not imaginary; otherwise our salvation is an idle tale." [5] To show this, St. Longinus was not only forgiven by Christ for his part of the crucifixion, he became a great Christian witness of who Jesus was:
It was now about the sixth hour, and there was darkness over the whole land until the ninth hour, while the sun's light failed; and the curtain of the temple was torn in two. Then Jesus, crying with a loud voice, said, "Father, into thy hands I commit my spirit!" And having said this he breathed his last.

Now when the centurion saw what had taken place, he praised God, and said, "Certainly this man was innocent!" And all the multitudes who assembled to see the sight, when they saw what had taken place, returned home beating their breasts.

And all his acquaintances and the women who had followed him from Galilee stood at a distance and saw these things (Lk. 23:44-49 RSV).
Jesus, accepting the cross, accepted the humiliation upon the cross as an act of pure love. Through his humility he was glorified. Through his love, he opens himself to all, so that all can be redeemed. Thus, St. Hildegard exclaimed:
By giving His body and blood to sanctify those who believe; and so the Heavenly Father delivered Him up to the Passion for the redemption of the peoples and conquered the ancient serpent through Him in humility and justice. He did not want His Son to conquer by His power and strength, for God is just and does not will iniquity, as the Psalmist declares, saying:

"Blessed is the man who has not walked on the counsel of the ungodly, or stood in the way of sinners, or sat in the seat of the pernicious" [Ps. 1:1].[6]
Jesus loves all; as Bl. Henry Suso explained, the immeasurable depth of his love was for all sinners:
Response of eternal Wisdom: Never did a thirsting mouth so ardently long for cold spring water or any dying many long for another cheery day of life as I longed to help all sinners and to endear myself to them. It would be easier to bring back the days gone by, to breathe fresh life into withered flowers, and to gather together all the raindrops than it would be to measure my love for you and all men. [7]
Just as his mistreatment by Roman soldiers honored him with the dignity of kingship, so his death gave us the true representation of the glory of love. He was shown to be the true king of all because he took on the humiliation and degradation that all of us put upon him through our sin. It was not just Roman soldiers, it was not just Jewish leaders, but it is all of us who piled up on him the greatest of humiliations so that he can be shown to be the most glorious of all. His glory, his love, was so great and powerful, he was able to take on a painful, humiliating death, and enter into hell itself. In this manner, he was able to reconstitute the whole world in and through his passion and resurrection. He was shown to be the king of all because all have placed their sin upon him; as king of all, he worked for all and their salvation, not their condemnation and destruction.
Jesus' death represents the great love of God for all humanity. It transfigures all things, as Jesus transforms all things, healing all things from the damage done by sin. It glorifies him; the more he accepted and took on the humiliating acts of sin against him, the more glory he showed. He did not want anyone to hold on to and judge those who took part in his death: he spoke of mercy for his killers even as he died. We must remember this and treat his death in the way he accepted it in himself. We must not allow it to be used as a tool to denigrate others. It is the gift of love for all, and in it, all are drawn towards salvation. Why, then, would a Christian speak otherwise, acting like it separates some from the love of God?
---
[1] Nostra Aetate. Vatican Translation. ¶4.
[2] It should not be surprising, but some have taken the line of thought against Catholics: since the Romans held the political authority and were behind the execution, Romans (and therefore Roman Catholics) are said to be evil. Therefore, Catholics are not only suspect, but dangers to be stopped by all means necessary.
[3] While many people follow bad leaders, and when they do, they hold some culpability for what they do, how much will depend upon many factors, including how much they know or how free they are in making a decision. Many people are ignorant of what they do because authoritarian leaders often create propaganda which confuses the general populace, and they force compliance upon their subjects in a way that many find it difficult to do anything but obey.
[4] He was despised and rejected by men; a man of sorrows, and acquainted with grief; and as one from whom men hide their faces he was despised, and we esteemed him not. Surely he has borne our griefs and carried our sorrows; yet we esteemed him stricken, smitten by God, and afflicted. But he was wounded for our transgressions, he was bruised for our iniquities; upon him was the chastisement that made us whole, and with his stripes we are healed. All we like sheep have gone astray; we have turned every one to his own way; and the LORD has laid on him the iniquity of us all. He was oppressed, and he was afflicted, yet he opened not his mouth; like a lamb that is led to the slaughter, and like a sheep that before its shearers is dumb, so he opened not his mouth. By oppression and judgment he was taken away; and as for his generation, who considered that he was cut off out of the land of the living, stricken for the transgression of my people? And they made his grave with the wicked and with a rich man in his death, although he had done no violence, and there was no deceit in his mouth. Yet it was the will of the LORD to bruise him; he has put him to grief; when he makes himself an offering for sin, he shall see his offspring, he shall prolong his days; the will of the LORD shall prosper in his hand; he shall see the fruit of the travail of his soul and be satisfied; by his knowledge shall the righteous one, my servant, make many to be accounted righteous; and he shall bear their iniquities. Therefore I will divide him a portion with the great, and he shall divide the spoil with the strong; because he poured out his soul to death, and was numbered with the transgressors; yet he bore the sin of many, and made intercession for the transgressors (Isa. 53:3-12 RSV).
[5] St. Cyril of Jerusalem, "Catechesis XIII" in The Works of St. Cyril of Jerusalem. Volume 2. Trans. Leo P. McCauley, SJ (Washington, DC: CUA Press, 1970), 6.
[6] St. Hildegard of Bingen, Scivias. Trans. Columba Hart and Jane Bishop (New York: Paulist Press, 1990), 239.
[7] Bl. Henry Suso, "Little Book of Eternal Wisdom" in Henry Suso: The Exemplar with Two German Sermons. Trans. Frank Tobin (New York: Paulist Press, 1989), 218.
Stay in touch! Like A Little Bit of Nothing on Facebook