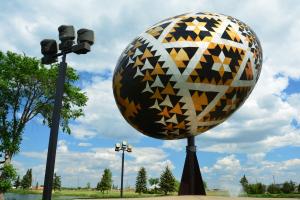 This year, 2019, Earth Day is the day after the celebration of Christ's resurrection from the dead. There is something very fitting to this. Christ rose from the dead and shared his saving grace to all things. The earth and all that is on it has been damaged by the sin of humanity. Christ's resurrection from the dead brings grace to the earth which will allow it to come back to its original purity before being taken into eternity (and in eternity, the earth will receive its proper share in God's deifying grace).
Christ's resurrection from the dead, therefore, has the very point of Earth Day itself as a part of its accomplishment. Christ came to restore his creation and preserve it in its glorified form in eternity. He, likewise, established the church so that it could continue to fulfill his mission in time, so that the church and its members would come together and protect the earth from the ravages of human sin. That means Christians are called to participate in and engage Christ's healing work to the world. They are called to fulfill their original vocation as caretakers and stewards of the earth (cf. Gen. 1:28; 2:15).
The grace which Christ gives to Christians as a result of his resurrection is meant to raise them up, to purify them, to remove them from the path of sin and destruction so that they can then fulfill their calling in Christ. They are to join in with him, becoming adopted children of God. This is possible for God became man, and indeed, a part of creation, so that humanity, and all of creation, can share in his divine glory. Those who have opened themselves up to Christ, who find their life is all a life in Christ, with sin eliminated from their lives, must then continue to act as Christ on earth and engage the work of restorative justice, sharing the great talent of grace throughout all the earth. This work of justice is not merely a work for the sake of humanity (though it must include all of humanity), it is a calling in which Christians are called out throughout the whole of creation, seeking where the defilement of sin has taken effect so that they can then bring the grace of Christ to it.
As sin has defiled and harmed the whole of creation, so Christians find they are to work in service for the whole of creation, including and especially the earth. This is why St. Paul said that all creation groaned for the coming of the children of God. They are called to take the talent of grace given to them and spread it far and wide, helping to liberate creation from the bondage imposed upon it by sin:
For the creation waits with eager longing for the revealing of the sons of God; for the creation was subjected to futility, not of its own will but by the will of him who subjected it in hope; because the creation itself will be set free from its bondage to decay and obtain the glorious liberty of the children of God (Rom. 8:19-21 RSV).
In Christ, heaven is shown to be united with earth. The children of God, those who have joined themselves to Christ, are called to live out this glorious revelation, to realize the will of God on earth as it is in heaven. How is this possible if they ignore their vocation and selfishly turn their backs against God and continue to pollute the earth? What ungrateful children are they who would take the bounty of God's good creation and continue to defile it as if it were not important. And yet, Scripture makes clear, it is important in God's sight. It is something good and beautiful and indeed, holy, for God's graces have come to it and rendered it holy. Moses understood the implications of this when he took off his shoes on holy ground: he knew holiness deserved respect on his part. We, who have seen Christ unite heaven and earth together should then recognize everywhere we go is holy, and though we might tread on the earth with shoes, we must not let it be contaminated by our filth. Where our inhumane desecration has harmed it, we must do what we can to heal it, to restore it to its integral holiness, not only removing whatever garbage we might have carelessly dumped upon it, but working to make sure such desecration of God's holy ground does not happen again.
Christ is risen, and the earth is glad. Christ is risen, and now the children of God are called to preach the glory of the resurrection over all of the earth. Christ is risen, and all things are going to be made new. That is what Jesus, the king of glory, the Lord of the living and the dead, proclaims: "And he who sat upon the throne said, 'Behold, I make all things new'" (Rev. 21:5a RSV). All things will be made new. The new heaven and the new earth are the same heaven and earth, but manifested in a new glorified mode of existence. It is the same creation. Its glorified existence is its eternal state, a state established by Christ in his resurrection. The eschaton has become immanent. Eternity opens up to temporality, and temporality to eternity as the two become one. Time flows into eternity as the old creation is constantly brought into and elevated into eternity. The children of God participate in the eschaton insofar as they receive the glory of the resurrection into themselves but remain awaiting the full glory of the resurrection at their final and complete entrance into the eschaton itself. "Therefore, if any one is in Christ, he is a new creation; the old has passed away, behold, the new has come" (2Cor. 5:17 RSV). They are new creations insofar as grace touched them; as much as they have been touched by the eschatological glory, so they are called to share that glory throughout all the earth.
Some might ask, if all things are going to flow into eternity and receive their final glorification there, what does it matter what happens in time? Such a question comes out of sin, for it is sin which seeks to divide creation and destroy it through negating the relationship between heaven and earth, eternity and time. Christ came to heal the divisions brought about by sin. What is on earth now already participates in and receives a share of the glory of the resurrection, though sin will seek to deflect and cut off the flow of such grace. This is why our bodies are seen as holy temples of the Spirit, not to be defiled: "Do you not know that your body is a temple of the Holy Spirit within you, which you have from God?" (1Cor. 6:19a RSV). For our body is good, and are to be given its share of God's grace and given respect, even in its temporal mode of being, just as it will also share in eternity and participate in transfigured glory in the life to come. The same is to be had for the earth. It is also God's temple, it is also a place in which God's presence and Spirit is to be found, and it is to be accorded the same respect, even if it will be transformed and transfigured into a "new earth" in the eschatological kingdom of God. What is done on earth will be seen in eternity: Christ's hands still show the brutality of the crucifixion upon them, and so what is done on earth has eternal significance. Our careless treatment of the earth is itself a representation of our unbelief in God and all that he has revealed to us about the glory of the resurrection itself.
Earth Day, in the shadow of the resurrection, serves as a great way to remember Christ's work to bring all creation together as one and elevate it into eternal glory. Earth Day allows us not only to give thanksgiving and praise to God for the glory of his creation, but also to reflect upon what we, as Christians, are expected to do for the earth itself in the light of the resurrection. The earth, and the whole of creation, has groaned for the revealing of the children of God, of those who take their vocation of being caretakers of the earth seriously. In Christ, in the restoration of humanity, we not only can take up that vocation again, we are expected to do so. For it is in this way we will reveal we are truly children of God.
Stay in touch! Like A Little Bit of Nothing on Facebook.
If you have liked what you read, please consider sharing it with your friends and family!