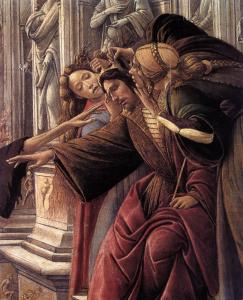 "You shall not bear false witness against your neighbor" (Ex. 20:16 RSV). Who is our neighbor? Everyone. As we should do to others as we would like them to do to us, we should protect the good reputation of others, not lying about them, because we would not like it if someone would bear false witness against us. "Do not speak evil against one another, brethren. He that speaks evil against a brother or judges his brother, speaks evil against the law and judges the law. But if you judge the law, you are not a doer of the law but a judge" (Jas. 4:11 RSV). We must not be malicious against others, unjustly speaking ill of them; rather, we must remember that they, like us, are made in the image and likeness of God. Calumnious speech attacks the good in the other, that is, it attacks their dignity, and with it, the dignity of God. For what is done in malice towards others, is done not just them, but to those who they represent: God. Abba Isaiah of Scetis, a fifth century desert monk, understood this when he spoke of the twofold cause of calumny:
He was also asked what calumny is and he replied, 'It is ignorance of the glory of God, and hatred of one's neighbor."[1]
We do not realize, or often we forget, that the glory of God is manifest in and through all of us by being made in his image. Likewise, being created by God, being given life and existence through him, we reflect his glory. Just as a good artist is praised through their works, so God is praised through his work; to disregard it is to disregard God. If we would but pause and consider how God is revealed in each and everyone one of us, we will see how calumny itself comes out of disrespect for God. It is, of course, worse when we know and realize how we have been made in the image and likeness of God, for with greater knowledge comes greater responsibility. The more we know, the worse it is when we act against truth and justice.
The more we act in hostility towards someone else, the more we will let anger rule over is, blinding us more and more from the truth, from the glory of God found in the person we seek to destroy. In this regard, St. John Cassian said:
No matter what provokes it, anger blinds the soul's eyes preventing it from seeing the Sun of Righteousness. Leaves, whether gold or lead, placed over the eyes, obstruct sight equally, for the value of the gold does not affect the blindness it produces. Similarly, anger, whether reasonable or unreasonable, obstructs our spiritual vision. Our incensive power can be used in a way that is according to nature only when turned against our own impassioned or self-indulgent thoughts. [2]
When we let our anger get the best of us, we find ourselves turning away from God. As God is love, so our actions turn us away from love and towards hate. The more we seek to destroy someone else, the more we find ourselves turning against God. And slowly, we will find, we will be going against ourselves. For that image and likeness which we attack in others, is also found in us. The more we attack the other, the more we wound ourselves. The more we let hate thrive, the more nihilistic we will become.
Calumny, therefore, is a dangerous temptation, especially for the Christian who should know better. Those who have once turned themselves over to Christ, those who have been shown the goodness of God, and the image and likeness of God in themselves, risk throwing it all away in the embrace of calumny. It turns us back to what we once were, for through it, we attack the image of God, the glory of God himself, within us as we defile it through our hatred. It is for this reason St. Paul warned us that all that runs contrary to God must be put away, seen as a part of our old, fallen nature:
But now put them all away: anger, wrath, malice, slander, and foul talk from your mouth. Do not lie to one another, seeing that you have put off the old nature with its practices and have put on the new nature, which is being renewed in knowledge after the image of its creator (Col. 3:8-10 RSV).
In baptism, having put on Christ, we are called to be like him, to let ourselves once again reveal the original, integral purity of the image of God, the image of love. Calumny becomes blasphemous for Christians because they have been shown the glory of the image of God, having been revealed it by Christ. This is why they have been told, time and time again, that what is done to others, especially those concerned low and unwanted by society, is done to Christ, so that they think twice before attacking the glory of God.
"Submit yourselves therefore to God. Resist the devil and he will flee from you" (Jas 4:7 RSV). Show respect to your neighbor; correct them, of course, when necessary but only out of love. Hate them, and speak ill of them out of that hate, and you will be submitting yourself to the devil. Showing respect to others, honoring them as representations of God, is a way we submit ourselves to God: this is not to say we should think of them as God, for they are not, but only that God is revealed in them and through them, as God is revealed in and through all his works. His glory is all around us. It is there in our neighbor, even if they hide it in and through their sins. We must not embrace sin because they do; we must always keep forthright and stay with God, bringing forth his glory wherever it is found. If it is covered up in the mire of sin, we must wash it and make it clean, not cover it up with further disgrace. Those who act in hate only work to cover up that glory, in their neighbor, but also in themselves. They become, according to the Anchoress Rule, knife-throwers of the devil:
The angry person skirmishes with knives before the devil, and is his knife-thrower, and plays with swords, carrying them with the sharp point of his tongue. The sword and the knife are sharp and cutting words which he throws and skirmishes with at others. And he foretells how devils will play with him with their sharp hooks, skirmish all about him, toss him like a patch of old hide from one another, and pierce him through and through with hell-swords, that is with keen, hideous and cutting torments.[3]
But, even if we take up hellish swords of hate against others, against our neighbor or our friend, there is hope. We can put it away, and work for the restoration of justice. We can cleanse ourselves from the excrement of hate, and therefore, seek to restore our relationship with our neighbor. "Even if you have drawn your sword against a friend, do not despair, for a renewal of friendship is possible" (Sir. 22:21 RSV). In that renewal, we then begin to see and understand the glory of God once again. Of course, this means we must make restitution: when we have spoken out in calumny, we must repent and declare our error, working to restore the good reputation of those we have destroyed.
"Let us, therefore, celebrate the festival, not with the old leaven, the leaven of malice and evil, but with the unleavened bread of sincerity and truth" (1Cor. 5:8 RSV). To live and act in love is to live and act with sincerity and truth. To eat of the bread of heaven, to take it in and make it a part of us, is to let ourselves become a part of Christ, to be made one with him so that we can remove from ourselves the leaven of sin. When we are tempted to go against truth and charity, when we are tempted to speak ill of others out of spite and hate, we must remember the infection of that old leaven, and the way it works against the glory of God. Whenever we come across that old leaven in ourselves, when we see the temptation to blaspheme God through calumny, we must work hard to remove it, to not let it spread and defile us and the image of God which has been renewed in us: then we can celebrate God, then we can truly partake of the eschatological feast, then we shall know love and with it the kingdom of God which is within.
---
[1] Abba Isaiah in Sayings of the Desert Fathers. Trans. Benedicta Ward (Kalamazoo, MI: Cistercian Publications, 1984),98. [Saying 10].
[2] St. John Cassian, "On the Eight Vices," in in The Philokalia: The Complete Text. Volume One. Trans. G.E.H. Palmer, Philip Sherrard, Kallistos Ware et. al. (London: Faber and Faber, 1983), 83.
[3] Ancrene Wisse in Anchoritic Spirituality. Trans. Anne Savage and Nicholas Watson (New York: Paulist Press, 1991), 126.
Stay in touch! Like A Little Bit of Nothing on Facebook