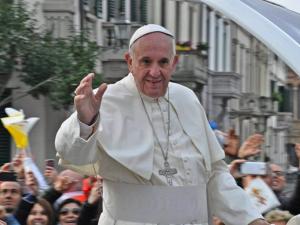 When the Pope was walking through St. Peter's Square, a woman grabbed his arm as he was passing on by, tugged him in her direction, and would not let go as he tried to get his hand free from her grasp. After a couple unsuccessful attempts to libertate, he slapped the hand of the woman who was holding on to him, trying once again to get free.
The video of the event show that Pope Francis was in pain. It also shows that he was irritated with the woman. It is clear, she was trying to say something to him, but the audio is not so clear as to allow a perfect rendition of what she said; the best guess is that she was speaking in Japanese, asking for the Pope to meet with her.
Critics of the Pope tried to turn his attempt to free his hand as some indication that he is violent, that he strikes out at women, and that his general demeanor is an act and his actions here showed his true personality. Obviously, they used half-truths and sophistry to make their point. The Pope didn't just randomly become irate and strike out at a woman, which is what their narrative wants people to believe; rather, he was the one who had been grabbed at and abused, and he did what anyone would do if they found someone holding onto them without their permission. He might have been annoyed that she would not let go, but his reaction was defensive, and slight. It was justified
And yet, the Pope apologized. The Pope indicated in the Angelus on the Solemnity of the Mother of God (January 1), that he believed he was impatient and failed to act in perfect love the woman's wrist. His apology is a sign of the Pope's humility, his willingness to admit his own imperfections, showing us that we, too, should not be afraid of doing the same.
The apology does not mean the woman was in the right for what she did. Nor does it say the Pope was unjustified in trying to get his hand free, and using as minimal force as was necessary to do so. The apology certainly must not be used as some sort of ammunition to criticize the Pope some more. What the apology did is show how, even if and when we are justified in our actions, that does not mean our actions are perfect and without any fault or blame. The Pope recognized his own impatience, and with it, saw that he did not come out of the event without blemish. Again, this is not to say he was not justified in what he did, it only points out how, even when we are justified in a particular response, we do not always come out of it without some fault of our own. Indeed, the need to justify our actions indicates that there was something which we did which would normally not be appropriate, and on that level, there can be a reason to make amends.
And so, the Pope apologized.
Pope Francis showed us, in his apology, his own spiritual makeup is one which follows the desert fathers. For they promoted humility and with that humility, the need to acknowledge and admit our own faults without concern of self-justification. Indeed, to show mercy and kindness to those who caused them harm. For, in their sayings, we read: "An elder said, 'To blame oneself is the beginning of salvation.'"[1] Likewise: "An elder said, 'In every trial, do not blame somebody else but yourself alone and say, 'This happened to me on account of my sins.''"[2] Similarly: "One of the fathers said, 'If someone with a humble mind says to another, 'Forgive me,' he burns up the demons.'"[3] And finally: "A monk who received a hurt from somebody contained the hurt within himself and prostrated himself before him who had hurt him."[4]
Such humility of spirit also follows the admonitions found in Scripture. "Strive for peace with all men, and for the holiness without which no one will see the Lord" (Heb. 12:14 RSV). Those who strive for peace will bear the burden of peace upon themselves. They will accept criticism, even unjust criticism, and apologize if their actions, even if justified, are misinterpreted and are liable to cause people to stumble. Thus, Paul said, concerning many lively debates as to the debates concerning what Christians were and were not free to do, that even if a Christian were free to act in a particular way, if it would offend others, they might have to act differently in order to generate good will: "Let us then pursue what makes for peace and for mutual upbuilding" (Rom. 14:19 RSV). And so, Paul pointed out, those who follow the dictates of love will bear all things:
Love is patient and kind; love is not jealous or boastful; it is not arrogant or rude. Love does not insist on its own way; it is not irritable or resentful; it does not rejoice at wrong, but rejoices in the right. Love bears all things, believes all things, hopes all things, endures all things (1Cor. 13:4-7 RSV).
Pope Francis, in his humility, saw how far he was from the perfection of love, and so he apologized. Though he saw in himself a personal failure, his humility allowed him to admit it, showing us how much closer he is than many of us in fulfilling the expectations of love. He didn't look to preserve his own honor. He didn't look to justify himself, even though he could have done so. He didn't look to his own self-interest. What he looked to was the expectations of love, saw that he failed to attain those expectations, and so he apologized. His apology, likewise, was in the spirit of the Eastern Christian service of Forgiveness Vespers, where the priest and the parish community all apologize to each other for whatever wrongs they have done, intentional and unintentional. For in that spirit, love is able to grow.
The Pope was justified in his actions. The Pope nonetheless apologized, showing that his goal was not mere justification, but perfect. The Pope apologized. Will his critics likewise do the same?
[1] John Wortley, trans. and ed., The Book of the Elders: Sayings of the Desert Fathers. The Systematic Collection (Collegeville, MN: Liturgical Press, 2012), 252.
[2] John Wortley, The Book of the Elders, 267.
[3] John Wortley, The Book of the Elders, 271.
[4] John Wortley, The Book of the Elders, 272.
Stay in touch! Like A Little Bit of Nothing on Facebook.
If you liked what you read, please consider sharing it with your friends and family!