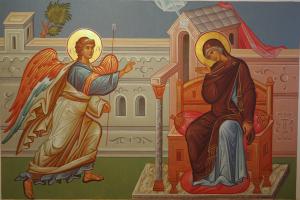 The Annunciation tells us about God and how he interacts with us. When Mary was greeted by Gabriel, she was told of the wondrous thing which God intended for her. But he gave her a choice. She could accept his plan or deny it. Mary, through her walk with God, knew this; she knew all that Gabriel said would come to pass only if she gave her consent, which she did:
And the angel said to her, "The Holy Spirit will come upon you, and the power of the Most High will overshadow you; therefore the child to be born will be called holy, the Son of God. And behold, your kinswoman Elizabeth in her old age has also conceived a son; and this is the sixth month with her who was called barren. For with God nothing will be impossible." And Mary said, "Behold, I am the handmaid of the Lord; let it be to me according to your word." And the angel departed from her (Lk: 1:35-38 RSV).
God does not want to impose his will on us, turning us into puppets. He works with us and our wills, interacting with us and engaging us in accordance to how we act with him (and with each other). If we are open to him, God can make us and all that we do better, but if we deny him, he will not force his grace upon us.
Mary, in a very special way, represents humanity to God. She shows us what human freedom can be like. Being full of grace, she was free, that is, free from the slavery of sin. She was the most truly human of us all, for sin did not corrupt her and make her less than what she could be. This allowed her to be able to address God and respond to God in a way no one else could. Ambrose, understanding this, tells us that Gabriel's greeting helps us to realize the uniqueness of Mary, that she alone could be met with the words "full of grace"; she alone was ready to receive God in her so as to conceive the God-man: "This salutation was kept for Mary alone: for she alone is well said to be full of Grace, she who alone obtained the Grace which no other woman had deserved, that she should be filled with the Author of Grace."[1] That grace had prepared her for that special moment, that time to make a free decision for or against the special plan of God in her life, a decision she made, not only for herself, but for all humanity. She accepted it, but wondered how it would be done:
Nevertheless, she did not deny the faith, she did not refuse the duty, but she conformed her will; she promised obedience. For, truly, when she says, "How shall this be?" [Saint Luke 1:34], she did not doubt concerning the outcome, but sought the nature of this same outcome.[2]
While she was given the greatest of tasks possible, to bear the God-man within her, that gift came with the greatest of responsibilities. To receive such a great gift, she had to follow God with a full, complete self-giving of herself. She would have to follow the path of the cross, to take it on starting with her pregnancy. Or, as Bulgakov says, she had to decide whether or not she would renounce all, for that was the only way she could truly become the Handmaid of the Lord:
But the Annunciation itself contains news of the Cross; and with a heavy cross it is placed upon the Most Pure Virgin, "the handmaid of the Lord," who now renounces all things that pertain to Her selfhood and entrusts Herself to the power of the Lord. [3]
The salutation of Gabriel and the offer of a unique role in salvation history to Mary, therefore, implied all kinds of expectations, and it is these expectations which Mary had to consider and decide for herself if she would be willing to fulfill them. Only if she would entirely give herself over to God, renounce all things which would otherwise distance her from God, could do what was necessary to become Mother of God. This is why God would not impose himself upon her; this is why God would send Gabriel to tell her what was possible, and allow her to answer as to whether or not she would accept the gift and the burden which would come with it. For she would find great suffering and sorrow tied with the joy which she could receive. It is only because she was the woman who was full of grace, the woman God had brought forth among the people of Israel, the personification of Daughter Zion, that she could and would do what was asked. God, of course, knew what she would say, but he would not have asked if he had to force such a response from her.
Likewise, God comes to us also seeking our consent. He wants to conceive the Word, the Logos, in our hearts and minds, but he will not do so unless we, like Mary, consent. "This fire came upon the Virgin, and filled her with the charism of graces. But in this fire, the Incarnation of the Word was not yet, but waited for the consent of the Virgin. No-one can conceive God in their mind, except by consent of the mind. Whatever is in the mind apart from its consent, cannot justify a man."[4] We also find God coming to us, sending messengers of grace to us, telling us what glory awaits us if we say yes to him. But he will not impose himself upon us. He will walk with us. He will show us his love and grace. He will reveal how beautiful and lovely he is. He will inspire us and ask us to draw near. But he will not impose himself upon us. He gives us room to move away from him, even as he welcomes us when we come back and find our rest in him.
"The Annunciation is a direct testimony of God's love for the world."[5] It tells us how the God who is love act and reacts. It shows us how love elevates even as it makes room for the other. God became man out of love. His divinity and his humanity are united in his divine person, a person who reflects the divine nature of love. He came to Mary to reveal his love, not just for her, but for all. He gave her a chance to share in that love, not just by experiencing that love herself, but by participating in salvation history by becoming the Mother of God. Likewise, he continues to act with us in a similar fashion, revealing his love to us, asking to be with us in that love, and then to be with him and work with him in the spread of that love around creation.
We are to conceive Christ in our hearts and souls, and follow through life in imitation of the simple Handmaiden of the Lord. We should grow in love for God so that we too consent to God's will and follow through with what God would have us do. We might not have the same place in salvation history as Mary, and so, we can and should recognize how she is unique. Nonetheless, as Balthasar explains, this does not mean she is isolated. Rather, she always has a community of the faithful with her:
Mary is unique, but that does not mean she is isolated, and Marian piety should not isolate her either. Many portrayals show her as a part of a community: pictures of her with St. Anne show her in the succession of generations to which she belongs; the meeting with St. Elizabeth wonderfully symbolizes the profound inner unity between the Old and New Covenants; Mary's child blesses his precursor, John the Baptist, while often one sees the two children playing together watched over by their mothers; Mary's exchange of rings with Joseph is portrayed, but even more often her standing with John at the foot of the Cross; finally there is the apostles' astonishment at seeing her taken up into heaven away from the flowering grave. However lonely she may have been, she was never isolated.[6]
We, too, should find ourselves in the community with Mary, sharing in the joy and glory of the Annunciation. We should look to God and say yes to him. Likewise, we should learn from the way God acts out of love. We should act and react with people in a similar fashion, recognizing their freedom. We must be willing to share our love with them while making room for them so that they can accept or deny it as they wish. We must respect the need for consent.
The Annunciation is one of the greatest events of salvation history. It is also one of the greatest representations indicating the way God interacts with us. He reveals what he has to offer, showing us his love and mercy, and all that he is willing to give to us. Will we be like Mary and say yes, let it be as according to Thy will, or will we say no, and deny the glory which he has in store for us?
---
[1] St. Ambrose, Exposition of the Holy Gospel According to Saint Luke. trans. Theodosia Tomkinson (Etna, CA: Center for Traditionalist Orthodox Studies, 2003), 45.
[2] St. Ambrose, Exposition of the Holy Gospel According to Saint Luke, 48.
[3] Sergius Bulgakov, Churchly Joy. Trans. Boris Jakim (Grand Rapids, MI: William B Eerdmans Publishing Company, 2008), 89.
[4] St. Anthony of Padua, Sermons for Sundays and Festivals. Volume IV. trans. Paul Spilsbury (Padua: Edizioni Messaggero Padova, 2010), 174.
[5] Sergius Bulgakov, Churchly Joy, 89.
[6] Hans Urs von Balthasar, Mary for Today. Trans. Robert Nowell (San Francisco: Ignatius Press, 1988), 49.
Stay in touch! Like A Little Bit of Nothing on Facebook.
If you liked what you read, please consider sharing it with your friends and family!