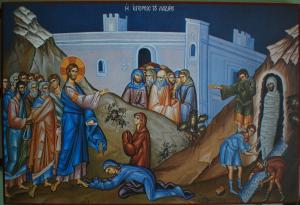 Before entering Jerusalem, Jesus demonstrated that he is the Lord of the living and the dead by having Lazarus come forth from his tomb. Lazarus, being dead for four days, had already acquired the stench of death:
Now when Jesus came, he found that Lazarus had already been in the tomb four days. Bethany was near Jerusalem, about two miles off, and many of the Jews had come to Martha and Mary to console them concerning their brother. When Martha heard that Jesus was coming, she went and met him, while Mary sat in the house. Martha said to Jesus, "Lord, if you had been here, my brother would not have died. And even now I know that whatever you ask from God, God will give you." Jesus said to her, "Your brother will rise again." Martha said to him, "I know that he will rise again in the resurrection at the last day." Jesus said to her, "I am the resurrection and the life; he who believes in me, though he die, yet shall he live, and whoever lives and believes in me shall never die. Do you believe this?" She said to him, "Yes, Lord; I believe that you are the Christ, the Son of God, he who is coming into the world" (Jn. 11:17- 27 RSV)
Jesus says that no one shall ever die to him. This is because, as a divine person, he is eternal. In his eternity, he knows us and experiences us both in our temporal existence and also in the eschaton. For him, all of time, all of space, is as one. God sustains in his eternal creativity all that happens in time. All that happens in time, for God, is a part of his eternal activity and so what he does in time, including the incarnation, is itself eternal for God. While we experience his encounters with us in time, for Jesus, they are a part of his one eternal activity.
Jesus is the Lord of the living and the dead; to him death is nothing because it has no hold on him. To show us this, in anticipation for his own resurrection from the dead (which transcends the reanimation of Lazarus), Lazarus, is brought back to life. Lazarus, however, is raised from the dead, not in the way Jesus was to be resurrected, but only by having his temporal life restored back to him. He could and would die once again, while what the resurrection of Jesus entailed was the total triumph and overcoming of death so that death would have no more hold on Jesus and all those who experience the resurrection of the dead through him.
Throughout his ministry, Jesus showed that he had power over death. Lazarus was not the only one he raised from the dead. Each time Jesus brought someone back to life, he did not end the power of death over humanity. He only showed that he could force death to withdraw its hold and allow some who were dead to be brought back to temporal existence. St. Cyril of Jerusalem, in his Catechetical Lectures, therefore says each time Jesus raised someone from the dead, one of the things he did was to show us his power over death so as prepare us for the possibility of the resurrection of the dead:
And many Scriptures there are which testify of the Resurrection of the dead; for there are many other sayings on this matter. But now, by way of remembrance only, we will make a passing mention of the raising of Lazarus on the fourth day; and just allude, because of the shortness of the time, to the widow's son also who was raised, and merely for the sake of reminding you, let me mention the ruler of the synagogue's daughter, and the rending of the rocks, and how there arose many bodies of the saints which slept, their graves having been opened. But specially be it remembered that Christ has been raised from the dead. I speak but in passing of Elias, and the widow's son whom he raised; of Elisseus also, who raised the dead twice; once in his lifetime, and once after his death. For when alive he wrought the resurrection by means of his own soul; but that not the souls only of the just might be honoured, but that it might be believed that in the bodies also of the just there lies a power, the corpse which was cast into the sepulchre of Elisseus, when it touched the dead body of the prophet, was quickened, and the dead body of the prophet did the work of the soul, and that which was dead and buried gave life to the dead, and though it gave life, yet continued itself among the dead. Wherefore? Lest if Elisseus should rise again, the work should be ascribed to his soul alone; and to show, that even though the soul is not present, a virtue resides in the body of the saints, because of the righteous soul which has for so many years dwelt in it, and used it as its minister. And let us not foolishly disbelieve, as though this thing had not happened: for if handkerchiefs and aprons, which are from without, touching the bodies of the diseased, raised up the sick, how much more should the very body of the Prophet raise the dead? [1]
Life is greater than death. When someone is brought back from the dead, even temporarily, such an action is good. We must not ignore the good which is found in life, even if we can also recognize the value of death. We are meant for eternal life. This is not to be understood as some bodiless spiritual existence, but rather, as embodied, because our bodies are a part of who we are. Bringing back to life someone who was once dead, reviving them, hints at the greater glory to come, when the resurrection of the dead is established. For it validates the goodness of life, and that the body should not be seen as a prison for the soul.
Nonetheless, we must be careful in talking about the good of life, and not turn that good against itself. When we see the value of bringing back someone from the dead, we are talking about those who are able to live natural lives afterwards. We are not talking about people brought back to life and live in a coma or other substandard existence through some sort of artificial means. That is not true life. Vitalism distorts the good of temporal life and turns it into an absolute, denying that there comes a time to accept a natural death. No one should needlessly die for the sake of some lesser good (such as happens when people are allowed to die because they lack money), but no one should be forced to sustain temporal existence when it is clear that all that is forced to live on is a shadow of life itself.
There is a spiritual meaning which we can find in the story of Lazarus once we remember the connection between sin and death: when we sin, we can be said to wound or destroy ourselves spiritually and so become as it were among the living dead. With Jesus as Lord over the living and the dead, he has the power over sin. He can free us from the sin unto death, the sin which lead us to spiritual death. The story of Lazarus can be read as what all of us as we experience. We suffer spiritual death because of our sins before Jesus raises us back to spiritual life through his grace. Sin, therefore, can even be said to have the stench of death, similar to the stench Lazarus had for being dead for four days:
[And] consider if there is not a smell of death in the wounds that come from sin, concerning which it has been said, "My wounds stink and rot." The smell of death was also on Lazarus before he arose from the dead. It was because the disciples did not wish to smell it that they said to the Savior, "Lord, he already stinks, for it is the fourth day."[2]
St. Theognostos, following such a spiritual reading of the text, tells us that Lazarus' two sisters, Mary and Martha, represent humility and love. We must embrace both of them in our lives and use them to supplicate Jesus to bring us back to spiritual life:
Since salvation comes to you as a free gift, give thanks to God your saviour. If you wish to present Him with gifts, gratefully offer from your widowed soul two tiny coins, humility and love, and God will accept these in the treasury of His salvation more gladly than the host of virtues deposited there by others (cf. Mark 12: 41-43). Dead through the passions, pray like Lazarus to be brought to life again, sending God these two sisters to intercede with Him (cf. John 11:20 -44); and you will surely attain your goal.[3]
Through humility, we recognize our faults and the need for God's mercy. Through love, the sins which we recognize and deplore in ourselves can be forgiven. With humility and love, with contrition and desire for God, we find ourselves capable of being drawn out of the tomb of our sin and able to once again walk with Jesus. But such love for God is manifest also in our love for everyone else. If we neglect to love others, and the image and likeness of God contained within them, we do not properly follow through with our love for God and so risk remaining dead in our sins. Thus, the author of the book of Hebrews tells us to share our love with others so that we can to be free from all disordered loves (such as avarice):
Let brotherly love continue. Do not neglect to show hospitality to strangers, for thereby some have entertained angels unawares. Remember those who are in prison, as though in prison with them; and those who are ill-treated, since you also are in the body. Let marriage be held in honor among all, and let the marriage bed be undefiled; for God will judge the immoral and adulterous. Keep your life free from love of money, and be content with what you have; for he has said, "I will never fail you nor forsake you." Hence we can confidently say, "The Lord is my helper, I will not be afraid; what can man do to me?" Remember your leaders, those who spoke to you the word of God; consider the outcome of their life, and imitate their faith. Jesus Christ is the same yesterday and today and for ever. (Heb. 13:1-8 RSV).
When we find ourselves revived by humility and love, then we should not be surprised if we have tears of joy coming to us from Jesus, similar to the tears which he showed forth before raising Lazarus from the dead (cf. Jn. 11:35). For while we can interpret those tears as being representations of human sorrow, they can also be expressions of joys as Jesus knew the joy which will be experienced by the family and friends of Lazarus once he was brought back from the dead. [4]
The joy which was felt when Lazarus came back to life clearly was infectious. The people heard the good news. They understood the kingdom of God was at hand, and they were right, but they did not understand what that meant. The time had come for the passion. Jesus was to make his last journey into Jerusalem. The joy would soon turn into sorrow. Jesus' disciples, having seen the power and glory of Jesus, would desert him.
Thus, we, too, must be careful; once we have been restored to spiritual life through his grace, we must not assume we will never abandon him. We need to continue to follow him in humility and love. But if we do not, if we falter, if we fail him, we must remember, Jesus will be there willing to welcome us back as he did Peter. We must never despair. His acts on earth are all about that lesson. Let us hope we learn it before it is too late
---
[1] St. Cyril of Jerusalem, "Catechetical Lecture 18" in NPNF1(7):138.
[2] Origen, Commentary on the Gospel of John. Books 13 – 32. Ronald Heine (Washington, DC: CUA Press, 1993), 290.
[3] St. Theognostos, "On the Practice of the Virtues" in The Philokalia: The Complete Text. Volume Two. Trans. G.E.H. Palmer, Philip Sherrard, Kallistos Ware et. al. (London: Faber and Faber, 1984), 369 [#45].
[4] See Origen, Commentary on the Gospel of John. Books 13 – 32, 290.
Stay in touch! Like A Little Bit of Nothing on Facebook.
If you liked what you read, please consider sharing it with your friends and family!