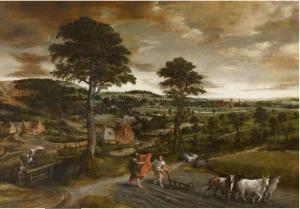 While Elijah is more famous than his successor, Elisha, we must remember that Scripture indicates that Elisha received a double-portion of Elijah's prophetic Spirit and so his contribution to salvation history must not be ignored:
When they had crossed, Elijah said to Elisha, "Ask what I shall do for you, before I am taken from you." And Elisha said, "I pray you, let me inherit a double share of your spirit." And he said, "You have asked a hard thing; yet, if you see me as I am being taken from you, it shall be so for you; but if you do not see me, it shall not be so."

And as they still went on and talked, behold, a chariot of fire and horses of fire separated the two of them. And Elijah went up by a whirlwind into heaven. And Elisha saw it and he cried, "My father, my father! the chariots of Israel and its horsemen!" And he saw him no more. Then he took hold of his own clothes and rent them in two pieces (2 Kings 2:9-12 RSV).
Elisha, as Elijah's successor, continued Elijah's mission, boldly proclaiming the word of the Lord. Possessing, as it were, a double-portion of the Spirit which Elijah had, this enabled Elisha to continue to prophesy and work against injustice even after he died:
It was Elijah who was covered by the whirlwind, and Elisha was filled with his spirit; in all his days he did not tremble before any ruler, and no one brought him into subjection. Nothing was too hard for him, and when he was dead his body prophesied. As in his life he did wonders, so in death his deeds were marvelous (Sir. 48:12-14 RSV).
Elisha followed Elijah in boldly speaking out against rulers who turned away from what the Lord wanted from the people of Israel. He did not cower before them; he was not concerned with what they would do to him for he knew that he had to proclaim what the Spirit of the Lord had him to say, similar to the way St John the Baptist, another one who came along with the Spirit of Elijah, would speak out in the time of Herod.
The prophetic Spirit is not founded upon human authority, and so it does not find itself confined by the patterns and structures of sin found within the society from which it emerges. It does not let itself be enchanted by human glory. It speaks out because injustice prevails. It will denounce those who try to claim the Lord is on their side while doing everything contrary to what the Lord has taught. We should expect those infused with it will look beyond outward appearances of piety and speak boldly against those who will hold up the God (or the Bible) in one hand while acting contrary to the justice declared by God. The Spirit of Elijah, handed down to Elisha, continued to promote prophecy – and it continues to engage such prophesy to this day. It is found dwelling with those who speak up for what is right, with those who confront worldly rulers who use their power and authority to squash people down instead of lifting them up.
The prophetic Spirit is not always combative or critical. It seeks justice, and it is willing to work with those who promote it. It seeks unity, and will promote it with others so long as they are willing to do what is good and right. Thus, as Elijah Benamozegh explained, the prophets of Israel, Elisha included, often made alliances with foreigners, working with them, indeed, often serving them, because they saw and understood that God wanted people to unite together in the execution of justice:
Far from opposing any friendly relations or even alliances with foreigners, the Prophets often encouraged them. Differences between the Prophets and the prevailing policy arose only over questions of choice, of prudence, of opportunity. There were Prophets in the time of Solomon, who were allied to King Hiram of Tyre, and they do not seem to have shown dissatisfaction with this relationship. Prophets such as Elisha attended the Syrian kings (2Kgs 8:7-15). Jeremiah preaches obedience to the king of Babylon (Jer 29:4-7), which is something quite difference from an alliance. And Israel is mentioned along with Egypt and Assyria in Isaiah's benediction (Is 19:24-25). Patriarchal history provides, moreover, instances of alliances with Gentiles. Abraham, for example, contracted one with Abimelech; Aner, Eshkol, and Mamre are also called his allies (Gn 14:13).[1]
Scripture records many miracles in Elisha's name, miracles associated with his prophetic ministry, such as when he purified the water of Jericho (2 Kings 2:19-22), helped a widow pay her debts with miraculous oil (cf. 2 Kings 4:1-7), fed a hundred men (cf. 2 Kings 4:42-44), and, even after he died, his body was said to have held such power that it brought back to life a man who was buried next to him (cf. 2 Kings 13:20-21). The Spirit continued with Elisha and his body. It continued to bring graces to the world.
St. Maximos suggests we understand the tomb of the prophet is the place in which we preserve the memory and trace of the prophetic Spirit within us, and if we go to it, we can then find ourselves revived and leading a virtuous life
I understand what took place in the case of Elisha in the same way: any person who is dead on account of his trespasses, when placed upon the tomb of the prophet containing his body, that is, upon the memory containing a trace of the prophetic life, in which the body of virtues is securely guarded – such a person, I say, is restored to life by the imitation of the prophet's way of life, being transposed from the deadness of the evil passions to a life of virtue.[2]
Those of us who have been confirmed (chrismated), have the Spirit within us, the same Spirit which we find in and with the prophets. Though we have not always followed it in our lives, though we often act as if we are among the living dead, no longer caring about justice, no longer living a life of charity, no longer struggling against the inordinate passions which lead us astray, the Spirit remains within, and we can open ourselves up to it and find ourselves revived by it. The Spirit of Elisha, the Spirit of Elijah, is within us; we just need to uncover it and embrace it, then we, too, can follow the path of the prophets, not only speaking out against injustice, but helping those truly in need. We, too, can help widows, and other vulnerable people, pay off their debts; we too can and should be helping to feed the multitude with acts of charitable giving. We should be doing that, but we should also be doing more. We should be dismantling the system which robs people of justice; we should make it so less and less people are in need. If we are unwilling to confront the powers that be which keep injustices in place, we do not follow the prophetic Spirit, but instead, we find ourselves imitating the priests of Baal, whose sacrifices only led to further grief and ruin.
We must dismantle systematic evil. We must fight against oppression. If we do so, if we work for justice, then, we can offer our own sacrifice of praise and thanksgiving to God and like Elijah and all his successors, find ourselves vindicated by God for following the true Spirit of prophecy.
---
[1] Elijah Benamozegh, Israel and Humanity. Trans. Maxwell Luria (New York: Paulist Press, 1995), 286.
[2] St. Maximos the Confessor, On Difficulties in Sacred Scripture: The Response to Thalassios. Trans. Fr. Maximos Constas (Washington, DC: CUA Press, 2018), 221 [Question 37].
Stay in touch! Like A Little Bit of Nothing on Facebook.
If you liked what you read, please consider sharing it with your friends and family!