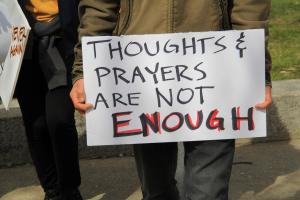 For the Christian, faith alone, if that is taken to mean belief alone, is imaginative fiction. How can one have faith in Jesus Christ and ignore what he said in the Gospels? Jesus told his followers what to do. Nowhere do we find him telling people to just believe in him and do nothing else. Rather, he tells them to sin no more and to be perfect like the heavenly Father, and if they question what that means, he gives them a lesson showing the kinds of actions they should follow.
Faith, by its nature, will never be alone. Faith, by its nature, will always lead to action. The problem of those who believe that they can have faith apart from action can be seen in those who think they can merely offer "thoughts and prayers" to those who are in distress. They believe that such thoughts and prayers is all they need to do; obviously, thoughts and prayers are good, and if it is all that one can offer, they should do so, but if there is more one can do, limiting oneself to thoughts and prayers is not taking the situation seriously. James, therefore, tells us such prayers, and such inactive faith, are equally without profit:
What does it profit, my brethren, if a man says he has faith but has not works? Can his faith save him? If a brother or sister is ill-clad and in lack of daily food,  and one of you says to them, "Go in peace, be warmed and filled," without giving them the things needed for the body, what does it profit? So faith by itself, if it has no works, is dead (Jas. 2:14-17 RSV).
Faith without works is dead because it is not faith. Those who are only willing to give thoughts and prayers to someone in need when they have the potential to give much more is indicative of someone who likes to appear as if they care while in reality, they do not. This is why so many will publicly offer thoughts and prayers to people in need while ignoring the context of the need and so end up doing nothing to really fix the situation. Such prayer is often offered by those with some sort of privilege who do not want to be inconvenienced by helping those who are not so privileged; if they truly cared, such inconvenience would not stop them from doing what is right.  Likewise, then, those who truly have faith in will Jesus listen to and obey what Jesus said in the Gospels, but those who do not, those who think faith is mere belief, will be like demons, not doing the work of faith and showing they have not yet put themselves under the Lordship of Jesus.
""If you love me, you will keep my commandments" (Jn. 14:15 RSV).  Faith and love are interconnected. Faith in Jesus, a true, spiritual faith, will lead us to love. For by following Jesus, by having faith in him and what he taught, we will know love should be the foundation for all that we do in the world. It is what ties us to Jesus and to one another. And through such love, though the communion established in love, we will find ourselves illuminated by that love, as St. Thalassios indicates: "Let us acquire faith so that we may attain love; for love gives birth to the illumination of spiritual knowledge." [1] But, Thalassios points out, when one receive that illumination, we find ourselves developing a new kind of faith: "The intellect that begins to pursue divine wisdom starts with faith; it then passes through the intermediate stages until it arrives once more at faith, though this time of the highest type."[2]
Faith, therefore, begins with belief and fidelity to Christ. When we hear his message and find ourselves drawn to him, we transform ourselves so as to follow what Christ told us to do, and in that transformation, we find ourselves growing in love. This is because, behind all that Christ taught us, is the law of love, and the more we follow Jesus, the more we act in love and develop those habits which are founded upon such love. That love draws us in closer to Christ, to see and experience things in and through our relationship with him, so that we then begin to see and understand the faith in a new way. We will know things which we did not know before. That knowledge does not turn us away from the faith, but rather, transforms it, makes it greater: faith and knowledge are to be joined together as one instead of being seen as counterparts. Faith gives us the foundation for our knowledge, and knowledge then allows us to discern the ever-greater mystery which lies before us once we have apprehended it through faith. But this will not happen if we do not move ourselves and act in good faith; we must have the faith which moves mountains, that is, ourselves, if we want to truly be raised up and experience the transcendent glory of the kingdom of God for ourselves.
Faith without works is dead because it is not faith, but only the simulation of faith. It is belief without fidelity. So long as we are cold and indifferent to love, we have yet to attain true faith. But once we open up to faith, we will follow through with the message of the Gospel, love will arise in us, and we will find ourselves naturally acting in the ways Christ has told us to act. Then, the love in us will show us that we must always do what we can to help those in need. We must let ourselves be drawn in by the love of God and to love all things in and through the love of God. If we do so, then people will know our faith, our true Christian faith, by our love.
---
[1] St. Thalassios, "On Love, Self-Control and Life in Accordance with the Intellect," in in The Philokalia: The Complete Text. Volume Two. Trans. G.E.H. Palmer, Philip Sherrard, Kallistos Ware et. al. (London: Faber and Faber, 1990), 328 [IV.60].
[2] St. Thalassios, "On Love, Self-Control and Life in Accordance with the Intellect," 330 [IV.78].
Stay in touch! Like A Little Bit of Nothing on Facebook.
If you liked what you read, please consider sharing it with your friends and family!