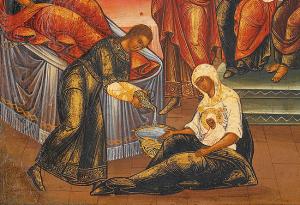 Jesus often was praised by those who thought they could flatter him, appeal to his vanity and get something out of him as a kind of reward. Sometimes, the praise was done indirectly, such as when a woman praised his mother:
As he said this, a woman in the crowd raised her voice and said to him, "Blessed is the womb that bore you, and the breasts that you sucked!" But he said, "Blessed rather are those who hear the word of God and keep it!" (Lk. 11:27-28 RSV).
Jesus' reaction here is similar to the one he gave to the rich young man who called him good; he told that young man not to call him good as it was to be done out of mere flattery. His response should not lead us to believe he was not good, but rather, that he rejecting being called good for the wrong reasons. The rich young man spoke the truth, but his intention was false. Jesus responded in a way to indicate he would not be so easily charmed. The same can be said here with the woman saying his mother was blessed. Jesus was not denying what she said; rather, he wanted her to know that she could also be blessed if she gave up her foolish attempt at flattery and instead followed after him and embraced his teachings. Jesus loved the woman, just as he loved the rich young man, and so addressed her with his love to teach her what she needed to learn. We will not be rewarded with beatitude merely because we said something true; we become blessed by living out the ramifications of the truth. Jesus' mother lived it: she certainly was blessed, but we, too, can be blessed if we answer yes to the Lord and do as he asks. Thus, the Venerable Bede explained:
But willingly receiving this testimony to the truth she had brought forth, he immediately answered, 'Blessed are those who hear the word of God and abide by it,' so that the woman herself and everybody who was listening might trust that they also would be blessed if they were willing to comply with the divine mandates. [1]
Mary, when told what God could do if she accepted his plan for her answered with a yes. The blessings she had since the time of her conception were infinitely multiplied as she became the Mother of God. We, too, are called to say yes to God, to respond to his love with our love, and through such love, to follow God and become blessed. The church, remembering the birth of the Mother of God, reminds us that she is to serve as our example. She shows us what is possible when humanity follows after God in love and answers that love with love. She is blessed, indeed, blessed beyond all others because of her special role in the economy of salvation. We can remember this, we can praise her as we praise anyone who we love for all the things which inspire us and make us love them, but that is it, it must be done out of love, and not out of any desire to manipulate God in any way.
Today, we remember the nativity of the Mother of God, not as a way to heap faint praise upon her or God, but rather, to rejoice in the great things which God has done with her for the sake of humanity as well as the great things which humanity has done with God through her. For Mary represented all of humanity to God. She shows us what our natural goodness and love entails. When she said yes to God, all of humanity can and should join in with her with that yes. We can recognize the glorious role Mary had in the economy of salvation, and our hearts should go out to her and our words should reveal the love we feel for her for what she has done. But we must be careful; we must make sure the words are authentic, lest we find ourselves rebuked.
We must seek after virtue. We must do what we can to follow God, and do so, not for selfish gain, but out of love. Then we shall truly be transformed and become blessed. Thus, when we read about the two sisters, Mary and Martha, we find a similar lesson being told. Mary, with her simplicity of heart, found the true path, while Martha, in all her activity, was active for all the wrong reasons:
Now as they went on their way, he entered a village; and a woman named Martha received him into her house. And she had a sister called Mary, who sat at the Lord's feet and listened to his teaching. But Martha was distracted with much serving; and she went to him and said, "Lord, do you not care that my sister has left me to serve alone? Tell her then to help me." But the Lord answered her, "Martha, Martha, you are anxious and troubled about many things; one thing is needful. Mary has chosen the good portion, which shall not be taken away from her." (Lk. 10:38-42 RSV).
Martha was distracted because her love for Jesus was not yet pure. She had much good in her; to be sure, she was not far off from her sister, but yet, she still sought praise for herself. This caused Martha to be troubled. She wanted to compare herself to others, to be seen as greater than her sister because of what she had done. Her motive for what she did was impure, and so what she accomplished, without perfect love, was far less than Mary achieved with her pure love. Both were great saints, and Martha learned the lesson well. Jesus was not telling her to embrace a quietist retreat from the world. Neither Mary nor Martha would do so; indeed, when we read of what Mary did throughout her life, we know Mary in her love embraced a life where she put her faith and love in Jesus into action. Jesus only wanted Martha to understand that, at that time, her motive was mixed and so impure. When Martha understood this, she cast aside all that got in the way of her love for Jesus; she was no longer distracted and so was able to share in the glory which her sister had already received.
We, too, must learn this lesson. Today is a glorious day. We hear of the miracle of the birth of the Theotokos to St. Anne. We rejoice with Sts. Joachim and Anne concerning the birth of their daughter, Mary. Hopefully, we do so out of love. We should do so filled with awe, knowing that God had wrought a glorious thing in and through them, for they had, until then, no children of their own. They stood in justice with God, following God with their love, even when they were rebuked by others, seen as cursed because they did not have any children. Having children, or not having children, is not what makes one blessed. Our holiness comes from what we do. The people who rebuked the parents of the Theotokos were far from God because they did not properly understand God and what he wanted and what he was willing to do for humanity. They did not realize God is love and desires love in return. They believed blessings were gifts God gave to people who slavishly flattered him. God desires more, much more, than such flattery. Jesus tells us what he desires: our love, and the devotion which emerges out of that love. Then, what we do, how we find ourselves in life, will always be blessed if we are united with him in love. On the other hand, if all we do is imitate virtue but have no love, we might appear blessed to others, but deep inside we will be anxious, looking with jealous eyes at all those who seem to be blessed by God but who do not appear to have earned that blessing.
---
[1] Venerable Bede, Homilies on the Gospels. Book One. Advent to Lent. Trans. Lawrence T. Martin and David Hurst, OSB (Kalamazoo, MI: Cistercian Publications, 1991), 38 [Homily I.4].
Stay in touch! Like A Little Bit of Nothing on Facebook.
If you liked what you read, please consider sharing it with your friends and family!