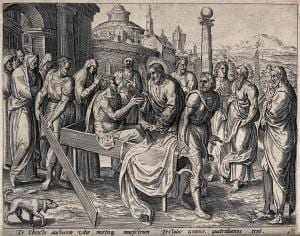 Sometimes, reading Scripture, we get a hint of the way early Christians slowly became aware of the identity of Jesus. Even though it was written after the fact, and with a theological purpose, Scripture speaks to us timeless truths about Jesus, and through them, we can learn to look at him and identify him, not only in the way the early Christians did, but in the way subsequent theological development, guided by the Holy Spirit, allowed the church to come to understand him. For all development comes out of and from that initial understanding, the Christological seed found in Scripture. Thus, for example, when Luke writes about a widow holding her dead son in front of Jesus, and Jesus raised the young man back to life, we read that some came to conclude that they had come into the presence of God:
Soon afterward he went to a city called Nain, and his disciples and a great crowd went with him. As he drew near to the gate of the city, behold, a man who had died was being carried out, the only son of his mother, and she was a widow; and a large crowd from the city was with her. And when the Lord saw her, he had compassion on her and said to her, "Do not weep." And he came and touched the bier, and the bearers stood still. And he said, "Young man, I say to you, arise." And the dead man sat up, and began to speak. And he gave him to his mother. Fear seized them all; and they glorified God, saying, "A great prophet has arisen among us!" and "God has visited his people!" (Lk. 7:11-16 RSV).
Paul, tells us that the knowledge and faith he held came to him from no man, but from Jesus:
For I would have you know, brethren, that the gospel which was preached by me is not man's gospel. For I did not receive it from man, nor was I taught it, but it came through a revelation of Jesus Christ (Gal. 113:11-12 RSV).
The theological vocabulary needed to discuss the incarnation was developed over several centuries. From the beginning, Christians knew that Jesus was not a mere man, they knew they had the presence of God in and through him. Indeed, they knew that he was God with us (Emmanuel). But they also knew he was a man, that he lived and died as a man. It was only after several centuries of theological debate that a proper systematic outline was put in place at Chalcedon which allowed Christians to explain how Jesus could be and was described in relation to divinity or humanity without undermining the other nature.
Early Christians did not seek a systematic theological system. Rather, they lived out what they intuitively understood: Jesus was man even as he was God-with us. Sometimes they would discuss him in relation to his humanity, and it could appear as if they ignored his divinity. Sometimes, and increasingly more often over time, they focused on his divinity, and his humanity receded from view. But what they believed, what they found important, and what we see witnessed in early writings, is that Christians believed that in and with Jesus, God was active with humanity, and as a man, he perfectly lived out and followed the dictates of God. When he was executed, God took his side over his executioners and glorified him in the resurrection.[1]
Paul, like the widow, found himself face to face with the power of God and was transformed as a result of it. He had an authentic love for God, and so it was out of that love, God was able to work with him. That is, once Paul came to know Christ, that zeal remained, but now was used properly, as Paul used it to work with those whom he otherwise had ignored, for the sake of the messiah whom he had previously rejected:
For you have heard of my former life in Judaism, how I persecuted the church of God violently and tried to destroy it; and I advanced in Judaism beyond many of my own age among my people, so extremely zealous was I for the traditions of my fathers. But when he who had set me apart before I was born, and had called me through his grace, was pleased to reveal his Son to me, in order that I might preach him among the Gentiles, I did not confer with flesh and blood, nor did I go up to Jerusalem to those who were apostles before me, but I went away into Arabia; and again I returned to Damascus (Gal. 1:13 – 17 RSV).
We must remember when we find someone with a zeal for God, this does not mean they truly understand what God wants them to do. The zeal is good, but it can be easily misdirected. Paul's zeal, indeed, his love for God, was real, but it led him to persecute Christians because he believed they blasphemed God. God was able to work with that zeal, to transform Paul, so that the zeal did not have to be lost, but could be used to help fix what Paul previously had disrupted.
Our zeal, too, can become misdirected. Do we try to argue for God, to defend God, and in doing so, grow angry and violent at those who we believe stand against God? We need to realize, like Paul, the answer which God wants us to bring is grace, not violence. Grace is what breaks down barriers. It is love, shown in and through that grace, which is capable of healing wounded souls. When confronted with serious challenges, such as when we are confronted with the problem of evil, we must not think the answer lies with us, for it does not; it is with God, and God alone. We are to follow God in love, and with that love, we can share the grace that will provide the answers which people seek. Paul had to learn it was grace, grace found in and through Jesus, which was what he sought, even when he attacked Christians. He was dead in his sin, and in that deadness, his zeal lead him along the path of violence and death. But when he found himself with Christ, he saw how wrong he had been, and he was able to take in grace and transform the zeal which he had, so that it could be used to heal the harm which he had previously caused.
We, too, must experience the resurrection, for, like the widow's son, we often find ourselves spiritually dead because of our own sins. We need Christ to come to us and resurrect us. Without his grace our attempt to answer on behalf of God will be as faulty as it was with Paul. This is why St. Seraphim of Sarov said that we first must be saved if we desire to help Christ save others: it is not because we should selfishly pursue our own salvation at the expense of others, but rather, because we should seek the salvation of all. We can only do so if we first find ourselves participating in Christ's grace. We must know Jesus, not just in words, but in reality. Then, once we do, once grace truly has embraced us, we can begin to offer the answers which others seek, for we will act in grace and love, showing the grace and love which answers all questions. We will then be spreading the Gospel to all, sharing the grace which will help others rise up from spiritual death and receive their share of the kingdom of God.
---
[1] And when it was realized that the rose from the dead, that is, he was active in his own resurrection, that also allowed Christians to reflect upon and present his divinity to those who would listen to them.
Stay in touch! Like A Little Bit of Nothing on Facebook.
If you liked what you read, please consider sharing it with your friends and family!