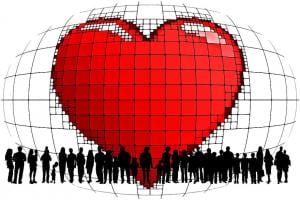 Peter, writing to the faithful, tells them to hold love above all things:
Above all hold unfailing your love for one another, since love covers a multitude of sins. Practice hospitality ungrudgingly to one another. As each has received a gift, employ it for one another, as good stewards of God's varied grace: whoever speaks, as one who utters oracles of God; whoever renders service, as one who renders it by the strength which God supplies; in order that in everything God may be glorified through Jesus Christ. To him belong glory and dominion for ever and ever. Amen (1 Ptr. 4:8-11 RSV).
Christ came to bring us life, and life abundantly. The sting of death, which comes to us as a result of sin, has been overcome by him in his death and resurrection. Death no longer has the same sting. It should not lead us to despair. We can see it as a way to join ourselves to the death of Christ and his resurrection. For us to do so, however, we must activate the grace which he gave to us, and we do so through love. As long as we follow unlove, we are still among those who will feel the sting of death. When we embrace the path of love, we become spiritually alive, so that we will abide in life, even in death: "We know that we have passed out of death into life, because we love the brethren. He who does not love abides in death" (1 Jn. 3:14 RSV).
Love is the key. Love is stronger than death. God is love, and in his love for us, God became one of us, died, and rose again from the dead. He shows us the power of life. It is self-giving, it is sacrificial, but it is not nihilistic. Love becomes greater the more it is given. Love conquers death; those who embrace such love, have grace, and in that grace, they can acquire the Holy Spirit and participate in the kingdom of God. When love is not embraced, the grace which Christ shares to us is not properly activated; the power of death mocks us, as it tries to take us under its mantle and cause it to suffer from its sting.
When love is lost or abandoned by those who claim to be Christian, when self-interest rules, they show themselves to follow the economics of death rather than the economy of the resurrection. They no longer experience the bounty of grace, but instead, they encounter the dying embers of nature. They foolish attach themselves to it and fight anyone who would get in their way of such a possession. If they only embraced love, and the path of love, they would see the bounty of grace was all around them; they would not need to fight others over the goods of the earth but rather, they would share them in common. Then they would see what emerges from the bond of love is greater than the sum of its contributions.
The Desert Fathers experienced the truth of this. The bond of love served as the foundation of their monastic communities. Sadly, over time, that love waned, and with it, the grace needed for those communities to thrive:
Somebody asked an elder, "How is that nowadays there are those who labor each in his way of life but do not receive grace the way those of old time did?" "There was love in those times," the elder replied, "and each one promoted his neighbor; that is why we do not receive grace."[1]
We must learn, just as the Desert Fathers needed to learn, how to promote our neighbor. If we want to experience abundant life, if we want to acquire the Holy Spirit, we will do so through the path of love. Insofar as we love, we live; insofar as we reject love, we die, and cut ourselves off from the Comforter and all its gifts. Paradoxically, that means, the more unselfish we become, the more we will receive and gain for ourselves, while the more we seek for ourselves at the expense of others, the less we will truly have. Is that not one of the lessons Jesus taught us with the various servants who were given talents? Those who put them to use found the talents doubled, while the one who hid the talent he had been given, doing nothing with it, found it taken away.
We must die to the self to live. But that death to the self must be based upon love, and that means, not only do we give our love to others, we must accept the love and sacrifice of others for our behalf:
They used to tell of an elder at Scete that he fell ill and wanted to eat a little bread. When one of the brothers who was fighting the good fight there heard this, he took his sheepskin with some fried loaves in it and went off to Egypt. He traded them for small loaves and brought them to the elder. Folks were astounded at the sight of the warm loaves, but the elder was reluctant to taste [them]. "It is my brother's blood," he said, but the elders entreated him, saying, "Eat, for the Lord's sake, or the brother's sacrifice will have been in vain." He began to eat when they entreated him like that. [2]
It is important to remember that love is not just what we do for others. Love is what we also receive from others. We can establish a bond of love only if we accept what others do for us. Love is not one-directional. Love is communal. It is shared. And it is in that sharing that the gift of grace spreads and grows and becomes strong and allows all who experience it to experience abundant life and the glory of the resurrection. And thus, through the joy of love, through the community which is brought together and made one by love, God is glorified and made all in all, for God is love, and where that love is, the presence of God is found.
---
[1] John Wortley, trans., The Book of the Elders: Sayings of the Desert Fathers (Collegeville, MN: Cistercian Publications, 2012), 305 [N349].
[2] John Wortley, trans., The Book of the Elders: Sayings of the Desert Fathers, 304-5 [N348].
Stay in touch! Like A Little Bit of Nothing on Facebook.
If you liked what you read, please consider sharing it with your friends and family!