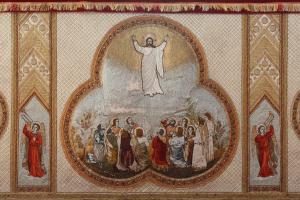 The teaching of theosis tells us that God became man so that man can become God. That is, God's plan was to draw humanity into the divine life through the incarnation. By becoming human, by becoming a particular human, the man Christ Jesus, God assumed a created nature. All that is created has a created nature.  Thus, just as becoming human made him one with humanity, by assuming a created nature, Christ is made one with the whole of creation. That means, everything which has been created, everything in creation, likewise has a place in Christ. Nonetheless, his humanity is important because humanity has become the fulcrum by which the whole creation is to be deified.
It was not sin which led to the incarnation. God established his creation with the intention of deifying it. God is all-deifying. It was his plan from the very beginning. God created in order to have others who could share the divine life with him. Thus, before all ages, he intended the incarnation, as St. Maximos the Confessor taught:
He who brought all visible and invisible creation into begin solely through the momentum of His will, had in His good counsel determined – before all the ages and even before the vey genesis of created beings – an ineffably good plan for His creations. And this plan was for  Him to be mingled, without change, with human nature through a true union according to hypostasis, uniting human nature, without alteration, to Himself, so that He would become man – in a manner known to Him – and at the same time make man God through union with Himself, and this He wisely divided the ages, determining that some would be for the activity of His becoming man, and others for the activity of making man God.[1]
The created other is not God by nature, because it is created, and God in accordance to his divine nature is not created. Nonetheless, what God creates he calls to be united with him, to participate in the divine life (through grace). God wants the created other to be one with him through a bond of love. The incarnation is the bridge which makes this happen. The incarnation unites heaven with earth, God with his creation, so that coming down from heaven, God can lift up the earth, that is, the whole of creation, so that it can and will find its proper place in eternity. This is what it means to be granted eternal life, to participate in and experience the divine life of God, that is, eternal life.
God, however, gave his creation free will. Through its will, creation detached itself from God and became attached to itself, losing the grace which it needed for God's plan to be fulfilled. God, in creating his creation, was not ignorant. He was not surprised and what his creation did. His love for his creation transcended what he knew his creation could and would do in resisting him and his love. His love not only led him to create, but to prepare the way for his creation so that, once it experienced the fullness of its own self-attachment away from God, it could turn back to God and be welcomed by him. Thus, his love is greater than our sin. Even when we sin, his love and mercy remains; he continues to send us his grace so that we can open ourselves up to him, fulfill his plan for us and be deified:
But God, who is rich in mercy, out of the great love with which he loved us, even when we were dead through our trespasses, made us alive together with Christ (by grace you have been saved), and raised us up with him, and made us sit with him in the heavenly places in Christ Jesus, that in the coming ages he might show the immeasurable riches of his grace in kindness toward us in Christ Jesus (Eph. 2:4-7 RSV).
God's vast grace is revealed to us in the various ways he acts and reacts with us, the various uncreated energies which we can receive unto ourselves. Through them, we can truly be said to be partakers of the divine nature through grace. As those energies are logically distinct from his essence, God's transcendent essence will remain transcendent; it is beyond what we attain in our deification. His nature is unlimited, and so his actions, his graces, his uncreated energies, are without limit. No matter how much of them we have partaken, there will be more for us to interact with and partake, making our theosis, our eternal life, one of beatitude without end.
Sadly, thanks to our own action, sin has corrupted us; its presence is demonic, and it needs to be cast out, so that the damage it has done to us can be healed. We can't heal ourselves, which is why we cannot save ourselves by works alone (cf. Eph. 2:8-9). We need Christ's help. The one who fashioned us can refashion us, repairing the harm done to us by sin. Then, once we have been restored to purity, we can be drawn in to him and receive the deifying grace which his plan meant for us to have from the very beginning.
God, therefore, did not find his divine plan ruined by our sin; he established a way to include the potentiality for our sin within his plan. He shows us that nothing, not even sin (which is metaphysical nothingness), can take away his love for us and hinder his plan for creation. Indeed, sin has always been limited in its power, and God has been at work with his creation, preserving it from within, so that we can always see that no matter how powerful sin and the forces of evil seem, there will always be a remnant of what is good and pure which stands against that evil and promotes God's plan for creation. We can see this in the way God's work with creation led to the birth of Mary, the Mother of God; his plan worked with humanity, filling it with grace, so that she could be conceived without sin, born and live a sinless life; likewise, that grace allowed her to always open to the ever-increasing blessings which God was willing to share with her, even as she was willing to share those blessings to all and she did so by giving birth to the God-man, Jesus. She shows to us what is possible, that is, what can and will happen to those who open themselves and say yes to God's deifying grace. Her assumption into heaven is the pledge of God to his creation: he tells us that he is willing take everyone up and deify them in eternity: "The presence of the Mother of God in heaven corresponds to Her perfect sanctification and deification, in which She will be followed by humankind in the glorified Church."[2]
God became man so that all humanity, all of creation, can be lifted up and participate in the divine life. The goal of history is found in him, for he is the God-man, and his humanity is deified humanity. The goal of history, the end of history, the eschaton, lies not only outside of history but partakes of it and is found within it so it can guide and direct history, making sure that the purpose of history can be achieved.
---
[1] St. Maximos the Confessor, On Difficulties in Sacred Scripture: The Response to Thalassios. Trans. Fr. Maximos Constas (Washington, DC: CUA Press, 2018), 150.
[2] Sergius Bulgakov, Bride of the Lamb. Trans. Boris Jakim (Grand Rapids, MI: William B. Eerdmans Publishing Company, 2002), 412.
Stay in touch! Like A Little Bit of Nothing on Facebook.
If you liked what you read, please consider sharing it with your friends and family!