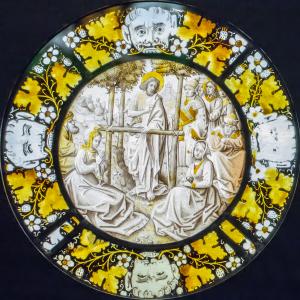 Jesus sanctified the world through his baptism; he brought his saving grace to creation. What was touched by his grace could and would spread that grace to others. Water, by itself, is just water; water filled with grace is far more. Just as we bathe in water in order to cleanse ourselves, we can now receive the water of baptism, filled with grace, and be spiritually cleaned.
That water can be filled with grace, making it holy water, shows us that the earth and all that is on it is not antithetical to grace. Everything can be given grace; anything can become a vessel of grace. We should not be surprised that the all creation is called by God to partake of and share in the glory of the kingdom of God. All things are called to the eschatological kingdom and so all things have a place in it. But, everything has their own way of engaging the kingdom, of being filled with grace.
We, being both spiritual and material beings, must engage the kingdom of God in both fashions, rejecting neither the body nor the spirit. We must repent, that is, we must stop, change our ways, and do what we can to repair the damage we have done to ourselves and to the world around us. John the Baptist understood this, to a limited degree, which is why he preached repentance, but when John's mission was over, when he was arrested, Jesus took up John's message, making it his own:
Now when he heard that John had been arrested, he withdrew into Galilee; and leaving Nazareth he went and dwelt in Capernaum by the sea, in the territory of Zebulun and Naphtali, that what was spoken by the prophet Isaiah might be fulfilled:

"The land of Zebulun and the land of Naphtali, toward the sea, across the Jordan, Galilee of the Gentiles — the people who sat in darkness have seen a great light, and for those who sat in the region and shadow of death light has dawned."

From that time Jesus began to preach, saying, "Repent, for the kingdom of heaven is at hand" (Matt. 4:12-17 RSV).
John knew the kingdom of God was at hand; Jesus revealed that those who were in his presence was in the presence of the kingdom of God. Both said the kingdom of God was at hand. Both taught repentance. But Jesus added a depth of meaning to those words. John knew the kingdom of God was coming, but with Jesus, the kingdom of God was truly in reach, for it had come into the world, allowing all those within the world the ability to participate in it for themselves.
Jerome tells us that the repetition of John's words through Jesus was Jesus' way of affirming the work of God with John: "But if the Savior preaches the same things that John the Baptist had previously said, he shows that he is the Son of the same God whose prophet [John] is."[1] The whole prophetic tradition, which coalesced in John, was taken up and affirmed by Jesus, and we, likewise, must look to that tradition with respect, taking it up ourselves. But can it also not be said that the truths which Jesus taught which have connections to and can be found in a variety of pre-Christian teachers also show that God affirms, at least in some fashion, the positive work of such teachers, showing that they and the truth which they discerned has a place in the kingdom of God? By the way Jesus picked up and affirmed what John said by adding to it a depth of meaning which John did not intend, so the affirmation of the truths found throughout the world, the inclusion of it and assimilation of it in Christ, likewise adds a depth of meaning to those truths which those before Christ could not have known. Such affirmation by Christ, and with it, the Christian faith, is never uncritical nor unreformed – it is always an affirmation with grace, a grace which purifies even as it elevates, taking what is good and making it better, indeed greater, than before.
Grace is given to us, not for our selfish interests, but rather, to make us better so that we can live the life God expects of us, a life of radical love to others. Each of us are given particular graces, particular gifts, which are to be used in helping make the world a better place. "But grace was given to each of us according to the measure of Christ's gift" (Eph. 4:7 RSV). Each of us have different personalities, and so different missions in the world, different ways we are to work with that grace and share it. "And his gifts were that some should be apostles, some prophets, some evangelists, some pastors and teachers" (Eph. 4:11 RSV). Grace is given to the world in order to help in the realization of the eschaton in the world. Grace elevates and unites all things so that through it, in the eschaton, God will be all in all. All things will be filled with the glory of God. We should not envy the gifts others have, but rather, we should try to discern those which we have and employ them properly, loving what God does in others even as we marvel at what God does in and through us.
Jesus continued to preach what John preached, but the grace he offered transcended what John was able to offer. John started the work, Jesus perfected it. This is how grace works. It perfects nature. It takes what is good and true and raises it up, making it better. Jesus entered the world and filled it with his grace. This is how and why Christians can embrace the truth wherever it is found; in doing so, they realize they can and should embrace good which was previously established but also that it can and will be made better with God's deifying grace. What is in need of purification, will be purified, but what remains after, will be taken up by God and truly realize its place in the kingdom of God.
---
[1] St. Jerome, Commentary on Matthew. Trans. Thomas P. Scheck (Washington, DC: CUA Press, 2008), 74.
Stay in touch! Like A Little Bit of Nothing on Facebook.
If you liked what you read, please consider sharing it with your friends and family!