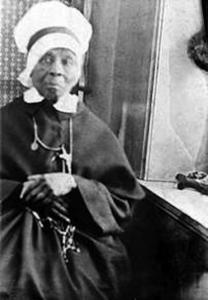 Black lives matter. Long before police brutality led to the need for this statement to be made, the reality of the statement was lived and experienced by many black Catholics in America. For far too long, their plight was ignored. Their lives were ignored. Their livelihood was ignored. They were not valued. They were not respected. The preferential option for the poor was ignored by the majority of the church.
Just as we find presently with the Black Lives Matters cause, black Catholics often had to do things for themselves to get noticed and have their rights as Catholics, and as Americans, affirmed. They had to speak out. They had to defend themselves and their livelihoods even from their fellow Catholics, even as they had to what they could to be heard by those who otherwise took little to no interest to their plight. Sometimes, as with the present situation, they did find allies who helped them, and even rarer, sometimes they found allies who took initiatives on their behalf, but normally, black Catholics had to rely upon themselves. Despite this, they still had faith, thanks to the grace of God working in and through them, a grace which is especially given to those who exist in the margins of society and are among the dispossessed.
It should not have been like this. It should not be like this. We should not need to be told to  respect the dignity of others. We should naturally work for the common good, looking for those who have been marginalized and abused, those who have had their rights taken away from them, and do what we can to fix the situation.
It should not have been like this, but it was. And yet, when we look to history, when we look to those who have worked hard to establish justice for those who have not been treated justly, we not only find they faced great resistance to their work, we find they are mistreated, abused, and even have their very lives put in jeopardy.
Those blacks who, despite all the challenges they faced, pushed on and did what they can do to promote the rights and needs of their fellow blacks should be remembered and honored as pioneers. Some of them worked in the secular sphere, but others, thanks to their faith, saw they need to act as religious leaders. This is exactly what we find with the work and accomplishments of Servant of God Mary Lange, OSP (1784-1882).
Mary Lange was the first to create an order, the Oblate Sisters of Providence, made exclusively for black Catholics. Its primary purpose was to aid black Americans. Writing on their goals, Mary Lange, with three other co-founders of the order, said:
The Oblate Sisters of Providence are a religious society of virgins and widows of color. Their end is to consecrate themselves to God in a special manner not only to sanctify themselves and thereby secure the greater glory of God, but also to work for the Christian education of colored Children.[1]
How did Mary Lange come to find the Oblate Sisters of Providence? During the revolution taking place in Saint Domingue, her family, as refugees, fled to Cuba. Later, early in the nineteenth century, she moved to the United States, to Baltimore, hoping to make for herself a better life.  She was raised in a family which had some means of its own, which meant, she had been educated and had enough money to take care of her own necessities. When she saw the life that other people of color, other refugees had in Baltimore, her heart cried out for them and she wanted to do what she can to help them. Thanks to her faith and love for God, she felt that she was called to do what she could to help them. When she founded her order, she made sure it would educate black children, take care of orphans, and do what  it could to help former slaves find their way in the world. She was given direction and help by Father Joubert, and through him, they were able to receive official status in the church for their order.
The need for the order was clear, and though they had several trials and tribulations, such as when Fr. Joubert died, so that it seemed like they might not last long, through the direction of Mary Lange, they were able to achieve success and establish an order which continues to this day. Their current creedal statement indicates how Mary served as their example even as they remain listening to and prompted by the Holy Spirit, so that the order does not find itself confined only to its foundations but able to deal with the changing needs of the times:
We, the Oblate Sisters of Providence, having discerned the Gospel origins of our Congregation, and after profound reflection on our founding and our history, declare the following as our most cherished beliefs:

We believe we are called to be radically transformed in order to face the challenges of confronting society and the church.

We believe in the prophetic role we must fulfill in our day to expose and to overcome every form of racism which continues to divide our society and our church and injure our families.

We believe the suffering that has been intrinsic to our Congregation from its beginning enables us to reach out to others with tenderness and compassion.

We believe our Oblate vocation calls and enables us to embrace all people equally with dignity and respect, free from any form of prejudice, discrimination or distrust.

We believe we are guided by the Holy Spirit to see Christ in each person, thus liberating, educating, and healing all, especially youth, the aged and the poor.[2]
Mary Lange, Servant of God, shows us that the call of Christ to the church includes the call to look after and respect the dignity of black lives. Her legacy can be summarized as by saying:  black lives matter to God. The church has not always done well with people of color. Many of them and their needs have not been properly met by the church. We need to heed the example of Mary Lange. The church needs to listen to and affirm people of color, not only by helping them, but by letting them lead and direct the church's efforts instead of regulating their needs to the margins of the church's social concerns. Those who have been denigrated, those who have been ignored, those whose lives have been treated as if they do not matter should be the ones lifted up and raised. Is that not one of the messages we find in the preaching of Jesus?
And he lifted up his eyes on his disciples, and said: "Blessed are you poor, for yours is the kingdom of God.  "Blessed are you that hunger now, for you shall be satisfied. "Blessed are you that weep now, for you shall laugh.  "Blessed are you when men hate you, and when they exclude you and revile you, and cast out your name as evil, on account of the Son of man! Rejoice in that day, and leap for joy, for behold, your reward is great in heaven; for so their fathers did to the prophets. "But woe to you that are rich, for you have received your consolation. "Woe to you that are full now, for you shall hunger. "Woe to you that laugh now, for you shall mourn and weep"(Lk. 6:20-25 RSV).
Black lives matter. The poor, the oppressed, those who are mistreated and systematically abused will receive the blessings of God, while those who rest on their wealth and power will find it taken from them and thus they shall mourn. While the phrase "Black Lives Matters" has arisen today due to great need, the meaning behind the words has motivated many great holy men and women of God throughout the ages. Do we want to stand in the way of the work of God, or we will work with it, doing what we can to break down all the structures of systematic racism?
---
[1] Quoted from the Black and Indian Mission Office page on Mary Lange.
[2] Oblate Sisters of Providence, Creedal Statement.
Stay in touch! Like A Little Bit of Nothing on Facebook.
If you liked what you read, please consider sharing it with your friends and family!