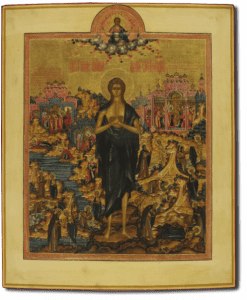 Jesus Christ, the divine lover of humanity, serves as the high priest of the universe, working for the good of all creation. His sacrifice is himself, and in that sacrifice, he gives himself to all things, so that through him and in him, all things can find their integrity restored before they are made greater than they were before. And thus, he makes us pure, so that we no longer have to be spiritually dead due to our sins:
For if the sprinkling of defiled persons with the blood of goats and bulls and with the ashes of a heifer sanctifies for the purification of the flesh, how much more shall the blood of Christ, who through the eternal Spirit offered himself without blemish to God, purify your conscience from dead works to serve the living God (Heb. 9:13-14 RSV).
If we are made free through Christ, why then are we expected to give some sort of service to God? Are we freed from the bondage of sin only to be made into slaves once again? No, we are set free so that we can love God. The service which we render to God is the service of love. In and through love, there is no slavery, only freedom. We will do what we do for the sake of our beloved, God. We will not act out of some legalistic expectation, or because God forces us to do so. Rather, because of our love for God, we will act in and through that love; we will not be forced to act contrary to our wishes or desires, but rather we will do what we want to do, which is to show our love, doing works of love.
We are made alive by love; through it all, that we do will be rendered as living works, as they will be works of love. Thus, Jesus not only purifies us from his self-sacrifice, he changes us, makes us better, giving us a life which resembles his own, a life of love. We are made into priests, with Jesus as our high priest, so that we serve God in the way he served God, offering ourselves and our whole lives as a living sacrifice of love.
The life of St Mary of Egypt is a prime example of this. When she was a wayward youth, she discovered the only way she could survive, or find some sort of joy in life, was through prostitution. She gave herself to others, sometimes for a price, but often not, because she enjoyed what she was doing. So long as she made enough to survive, she did not care how much she made. One day, she decided to join a group of pilgrims who were on their way to Jerusalem; in Jerusalem, she had a change of heart. Through the intervention of Mary, she felt called to change her ways. She fell in love with Christ, and with Mary, the Mother of God; because of this, she wanted to live out her life fulfilling that love by becoming a hermit in the desert. After confessing to a priest all her sins and receiving absolution, she fulfilled her call. Through the great love she had in her, she became very holy, transcending the holiness of many bishops, priests, and monks who lived lives of apparent piety because it was all external, not powered by love. By living alone in the desert, she shows us that such externals are not necessary, as she lived without them; she shows us that what is truly important is our relationship with God (which of course, does not deny the various tokens of God's love for us, such as the sacraments, which she received to her own joy).
We, then, must open ourselves up to Christ, to receive him into ourselves, allowing his love to pour over us so that it cleanses us from all that is unlove. Then we can go to God with a pure conscience, a conscience formed in and guided by love. All that we do should be done in and through such love. Love will not make us seek honor for ourselves. It will not make us seek lordship over others. It will rather make us imitate Christ, who serves all with his self-giving love. Those who would like to lord it over others still are on the side of dead works, so that even if what they demand is good in some sense, it is a good without life because it is not fueled by love. St. Mary of Egypt, in her deep, profound love, was greater than those who would have judged her through their own external piety, because she had truly received the love which enlivened her spirit, while they remained spiritually dead despite their piestic practices. Thus, Jesus himself told his disciples, that what was important was the service of love:
And Jesus called them to him and said to them, "You know that those who are supposed to rule over the Gentiles lord it over them, and their great men exercise authority over them. But it shall not be so among you; but whoever would be great among you must be your servant, and whoever would be first among you must be slave of all. For the Son of man also came not to be served but to serve, and to give his life as a ransom for many" (Mk. 10:42-45 RSV).
St. Mary of Egypt lorded it over no one, and so she was able to become truly great, remembered as one of the most beautiful souls of Christian history. She loved. Even before her conversion, it is quite possible what she did was motivated, in part, out of such love, and what was necessary was a transformation of that love into a pure love. What is clear is that she didn't care about externals. She lived in the desert, naked and alone, putting on clothing only when she was to encounter someone else. She was great because she did not look for greatness, but rather, she just looked to God in love and lived her live filled with that love without thinking of anything else. She sacrificed herself for God and in doing so she was truly alive, truly free, free in a way most of us will never experience in our temporal lives. Much of her life, and the experiences she had with God, remain hidden; through what we are told about her life, we are given but a few glimpses of those experiences, but those glimpses are enough; we can see she was a great woman with a love so great, she was able to transcend earthly norms. May, we, learn from her, not only from the way she converted but in the way she lived free after her conscience was made pure. Let us follow her example and live life with such a purity of love that we will not be contaminated by external pressures if they would divert us from a life of loving service to God.
Stay in touch! Like A Little Bit of Nothing on Facebook.
If you liked what you read, please consider sharing it with your friends and family!