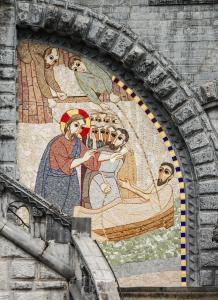 When Jesus rose from the dead, he conquered and overcame the powers of sin, and so, he overcame death itself, the final enemy. "For he must reign until he has put all his enemies under his feet. The last enemy to be destroyed is death" (1 Cor. 15:25-26 RSV). Before the resurrection, creation was paralyzed by the power of death and the sin which caused it. Sin disrupted creation, using the impermanence of temporality to try to destroy and annihilate whatever it seizes in its grasp. If sin had been left alone, it would have slowly destroyed all things, leaving in its wake the nothingness from which all things came. But the good news is that the darkness if sin is unable to overcome the light of glory, for that light overcomes the darkness and frees creation from the paralysis which sin cast upon it.
Not everyone knows or understands the grace which they have been given. The resurrection is a cosmic event, spreading transformative grace throughout all creation. The stranglehold which sin had upon creation has been completely and utterly overturned. All humanity, all creation, is now able to rise up, to go beyond the state which sin had established for it, and receive the share of glory which was meant for it.
We now live and experience the world in the light of the resurrection. Even those who do not yet know Christ and what he has done for them have benefited from his grace. Humanity has been granted its freedom, though this does not mean the remnants of sin will not influence us and conspire against us, trying to keep us down: they will, but they will never have the final say. The more we struggle against the powers of darkness, the more we will find grace building us up. Eventually, we will experience the freedom won for us by Christ. This is not to say everyone will initially know and understand the source of such grace; many are aided by it and only later encounter Christ; and when they do so, they will be led to understand what he has done for them, and they will acknowledge it and rejoice. If this seems odd, if we think we must first know and understand who Jesus is before we experience a share of his grace, we have only to look into the Gospels and see how this truth is represented in the way Jesus healed a paralytic man, a man who can be seen to allegorically represent us once we realize how sin has spiritually paralyzed us:
And at once the man was healed, and he took up his pallet and walked. Now that day was the sabbath. So the Jews said to the man who was cured, "It is the sabbath, it is not lawful for you to carry your pallet." But he answered them, "The man who healed me said to me, `Take up your pallet, and walk.'" They asked him, "Who is the man who said to you, `Take up your pallet, and walk'?" Now the man who had been healed did not know who it was, for Jesus had withdrawn, as there was a crowd in the place. Afterward, Jesus found him in the temple, and said to him, "See, you are well! Sin no more, that nothing worse befall you (Jn. 5:9-14 RSV).
Jesus told his disciples that people can be working with and in him, and therefore, in his grace, without knowing it (cf. Matt 25:40). They are like the paralyzed man, who was healed but did not know who it was that healed him. Indeed, throughout the world, may are being healed, spiritually and physically, from his grace, without knowing it. They are being freed from the bondage of sin and all of its oppression without knowing the way Jesus has helped them. But they will. Everyone will. In the end, we will all come to an explicit knowledge of Jesus and what he has done for us. Those who are grateful will rejoice and open themselves with love and in that love, they will be deified.
Christians, those who have truly come to know Jesus and what he has done for them, are called to get out of their bed, to rise up and act. They are to follow Jesus, and work in and with him, helping others get out of their stupor and rise up and experience the release from sin which Jesus has brought about to creation. Thus, in the Acts of the Apostles, Peter imitates Christ, helping those who are paralyzed to rise up and walk:
Now as Peter went here and there among them all, he came down also to the saints that lived at Lydda. There he found a man named Aeneas, who had been bedridden for eight years and was paralyzed. And Peter said to him, "Aeneas, Jesus Christ heals you; rise and make your bed." And immediately he rose. And all the residents of Lydda and Sharon saw him, and they turned to the Lord (Acts 9:32-35 RSV).
The fetters of sin no longer have dominion. The locks have been opened. The shackles can be taken off. We should help others see and understand this so that they can realize Christ's freedom for themselves. Whatever we should do, we should never push others down, making it harder for them to get back up, for all that would do is discourage them and make them think they have not received nor will receive any of Christ's grace for themselves.
The resurrection truly transforms all things. But we have been sick and fettered with sin for a long time. This means, though we are free to get up, it doesn't mean it will be easy. There will be a struggle. We must exercise our spiritual muscles, as it were, so that we overcome our spiritual atrophy. Being set free is only the beginning. What we do with the freedom is up to us.
Stay in touch! Like A Little Bit of Nothing on Facebook.
If you liked what you read, please consider sharing it with your friends and family!