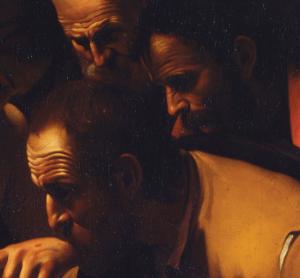 Jesus' disciples were shocked by his death. Their faith was shaken. All that they had seen and experienced seemed to be put to an end with his crucifixion. All that he seemed to be seemed to be contradicted by his death, for they did not even consider that he would soon rise from the dead. After his resurrection, they were able, to see how it was foreshadowed, and this reflection can be seen in the way the various Gospels were written, but in the time immediately following his death, they were still in shock and unable to process what was happening. It is likely many, if not most of them, came to doubt not only what they had made of themselves, but what was to come of them now Jesus was dead. Just as Jesus had gone into the grave, so they entered into a new state of being, where doubt ruled.
This doubt was hard for them to shake off. Everything seemed to be ruined. This is why, when, in turn, someone told one of them that Jesus had risen from the dead, they did not believe. Doubt was the common response. Thus, when the earliest witnesses of the resurrection, the women who came to his tomb, were told to share what they had experienced with the rest of the disciples, many of them, including those among the apostles, did not take taken them seriously:
Now it was Mary Magdalene and Joanna and Mary the mother of James and the other women with them who told this to the apostles; but these words seemed to them an idle tale, and they did not believe them (Lk. 24:10-11 RSV).
St. Albert the Great tells us that the reason why the women were first called to be evangelists, to preach of the resurrection, is that though they too, had their doubts, their doubts were less than the rest: "Indeed, everyone but his mother doubted, but the women less than the apostles. And for this reason they deserved to be the messengers of the Resurrection first."[1] The women were the apostles to the apostles because they, in their love, still centered themselves upon Christ and would not let his death be in vain. They wanted to be with him and show him their love by taking care of his body. Their doubt did not detour them from their love, and so, because of their love, they were given one of the greatest honors they could have received by being the first to be witnesses of the risen Savior.
We are told that after his encounter with the women at his tomb, Jesus showed himself to the all of the apostles except Thomas. Thomas only heard about the resurrection from his fellow apostles, and he didn't believe what he had been told:
Now Thomas, one of the twelve, called the Twin, was not with them when Jesus came. So the other disciples told him, "We have seen the Lord." But he said to them, "Unless I see in his hands the print of the nails, and place my finger in the mark of the nails, and place my hand in his side, I will not believe." Eight days later, his disciples were again in the house, and Thomas was with them. The doors were shut, but Jesus came and stood among them, and said, "Peace be with you." Then he said to Thomas, "Put your finger here, and see my hands; and put out your hand, and place it in my side; do not be faithless, but believing." Thomas answered him, "My Lord and my God!" Jesus said to him, "Have you believed because you have seen me? Blessed are those who have not seen and yet believe" (Jn. 20:24-28 RSV).
Matthew indicated when he met with his apostles, Jesus told them to collect the faithful and take them to Galilee to wait for him (cf. Matt. 28:10). Once again, we find that many of his disciples doubted what they were told: "Now the eleven disciples went to Galilee, to the mountain to which Jesus had directed them. And when they saw him they worshiped him; but some doubted" (Matt. 27:16-17 RSV). But, because even those who doubted, still loved Jesus and wanted to continue on with what they had learned from him, they followed the apostles to Galilee, where Jesus showed himself and his glory:
And Jesus came and said to them, "All authority in heaven and on earth has been given to me. Go therefore and make disciples of all nations, baptizing them in the name of the Father and of the Son and of the Holy Spirit, teaching them to observe all that I have commanded you; and lo, I am with you always, to the close of the age" (Matt. 26:18-20 RSV).
Doubt is a part of the Christian journey. Doubt is not the same as unbelief, or the lack of faith. Doubt comes out of confusion, where we find what we thought we understood is not exactly the way things are. In the middle of such confusion, we begin to doubt all that we believed, trying to understand where we went wrong. In this regard, it serves a necessary part of the journey of faith because it helps purify our faith, making sure we do not become too attached to our thoughts and ideologies. Doubt, certainly, can destroy faith if we are too attached to the way we thought things were, and so find ourselves unwilling to accept we were wrong about the faith. On the other hand, if we acknowledge our mistakes, doubt allows our faith to be transformed and made greater. It helps our faith grow. The more we think we comprehend the truth, the more doubt will lead to a crisis of faith, causing us either deny the faith or to deny ourselves and truly allow ourselves to grow and realize how limited our understanding really was. Then, having overcome our error, we will be able to meet the Lord in his glory with the spirit which is willing to learn from him instead of presuming he has nothing more to show or teach us.
Therefore, when we have doubts, and we will have them, let us not give way to despair. Let us see in them the truth of the transcendent glory of God, where we realize our own limitations, including and especially, the limitations of our thoughts and the expectations which flow from them. Let us be willing to let God be God, not constrained by our ideas, so that in and through faith, we will be able to transcend ourselves and what we thought we knew.
---
[1] St. Albert the Great, On Resurrection. Trans. Irven M. Resnick and Franklin T. Harkins (Washington, DC: CUA Press, 2020), 133.
Stay in touch! Like A Little Bit of Nothing on Facebook.
If you liked what you read, please consider sharing it with your friends and family!