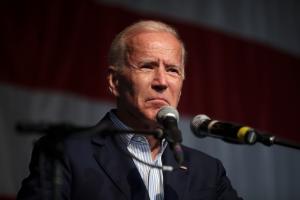 President Biden opposes the death penalty. But he doesn't want to act unilaterally, like a dictator, that is, he doesn't want to act like Trump. This is why he hasn't written an executive order putting an end to federal executions; he thinks it would be better if Congress passed laws which would put an end to federal executions. That way, it would be much more difficult for some future president to do what Trump and his Attorney General did, not only reimplementing capital punishment on the federal level, but rushing executions so that as many people were killed by the government as was possible.
Biden has made it clear, unlike Trump, he expects the Justice Department to act with some independence from the presidency. This means, because the Justice Department continues to follow rules established under the Trump administration, federal prosecutors will often seek the death penalty, as can be seen in the arguments being made for the execution of Dzhokhar Tsarnaev:
President Joe Biden's administration is urging the U.S. Supreme Court to reinstate the death sentence for Boston Marathon bomber Dzhokhar Tsarnaev despite the president's vocal opposition to capital punishment.[1]
Biden has indicated his disapproval, but he is not forcing his hand; he is letting the Justice Department act without his personal interference:
White House spokesperson Andrew Bates said in an email that the Justice Department "has independence regarding such decisions." But Bates said the president "believes the Department should return to its prior practice, and not carry out executions." [2]
This is not to say that there are no changes coming from the Justice Department. There are. In some situations, prosecutors are no longer seeking the death penalty (such as in the case surrounding William Wood). But we must also keep in mind, even if prosecutors are able to get the death penalty reinstated for Tsarnaev, this does not mean he will actually be executed. There has been no push to actually execute anyone, and it is likely, there will not be while Biden is president. But this is not good enough. No one truly knows what will happen so long as capitol punishment remains an option.
Biden and the Justice Department should make their policies clear; no one should needlessly suffer from the fear and anxiety which will come as a result of such ambiguity. One of the many horrors of the death penalty lies with the psychological harm it causes, not just to those who will be executed, but to their families as well; such torture is not justified, but that is the kind of torture which will remain so long as no clear policy decision is made. Biden can and should make sure the Justice Department reverses Barr's policies. It is understandable, to some degree, with all that Biden has had to deal in the aftermath of the Trump administration, Biden has to pick and choose his priorities, but it would not be hard for him and his administration to make the push and use an executive order to make sure there are no executions while he is president. This does not mean, indeed, it should not mean, it would be the end of his quest to rid the United States of the death penalty; it would only serve as an opening salvo before he addresses Congress so as to make such changes permanent. Perhaps, beyond his attempt not to be like Trump, the reason why Biden has not gone this route lays with his past, that is, because most of his political career he worked in the Senate and wants to reinforce the power of Congress. Thus, John Gould's analysis of Biden is important:
Biden is said to be a "creature of the Senate" and necessarily looks for comity between the executive and legislative branches. However, if he is serious about ending the federal death penalty, he has the power to act unilaterally. The Department of Justice controls the spigot of federal capital cases, and Biden can halt the federal apparatus of death by simply refusing to carry out further executions on his watch and ending the practice of capital charges in federal cases. Ideally, as Biden himself acknowledges, this decision might "incentivize states to follow the federal government's example."[3]
Relying solely on Congress to act, when Congress also has its problems, as the Republicans plan to obstruct Biden every step of the way, means that many needed changes will not be enacted, and the opportunity Biden had to at least temporarily make the situation better, will be lost. Biden needs to break with his past. Republicans have made it clear, they are not concerned with bipartisanship, as can be seen by their actions and words.
Certainly, it is right for Biden to wish to do more than sign executive orders, but that does not mean he cannot use executive orders until more substantial changes can be put in place. He should also realize that there is a big difference between capital punishment and abortion, both of which he said he is personally against, because capital punishment is done by the government, making the government formally cooperating with the act. This is why his engagement with the death penalty should be different from that with abortion. He must make sure no one is executed while he is president while working to make such changes permanent, and this means, he should do what he can for the short term while working with Congress to pass his proposed changes to the criminal justice system. He must be practical and not just idealistic. And, for this reason, to help him make the right decision, we must encourage him, with letter writing campaigns and petitions, letting him know he is not acting like Trump if he uses executive orders for the sake of justice, and therefore, for the common good.
---
[1] Allana Durkin Richer, "US Urges Court To Reimpose Boston Bomber's Death Sentence," in APNews (6-15-2021).
[2] Allana Durkin Richer, "US Urges Court To Reimpose Boston Bomber's Death Sentence."
[3] John B. Gould, "Putting the Federal Death Penalty on Life Support" in University of Illinois Law Review Vol 2021 (2021):75.
Stay in touch! Like A Little Bit of Nothing on Facebook.
If you liked what you read, please consider sharing it with your friends and family!