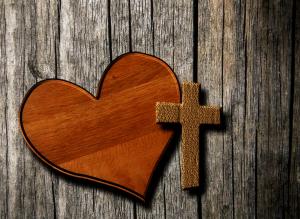 Salvation is established by love. When we abide in love, we become united with God. "So we know and believe the love God has for us. God is love, and he who abides in love abides in God, and God abides in him" (1 Jn. 4:16 RSV). It is love which purifies us and makes us whole. "Hatred stirs up strife, but love covers all offenses" (Prov. 10:12 RSV). Love heals the wounds of strife, restoring the bonds of unity which hatred broke. If we want to be saved, we must grow in love, doing all things in and through love. In this way will our faith be made strong.
Abba Pambo, once a disciple of St. Antony, was later recognized for his own spiritual mastery and wisdom. He understood the need we have to love others. He indicated that as long as we have something which we can love, something which we can hold to and desire from our heart, we have a heart, and if we have a heart, we can be saved. "Abba Pambo said, 'If you have a heart, you can be saved."'[1]
Many spiritual masters tell us that it is the heart, not the mind, which lies at the center of our spiritual being. Its desires motivate and direct us so that we are often willing to engage all kinds of struggles to obtain what it desires, showing us how and why it is an invaluable part of our whole being. But, despite the strength which it can give us, the heart often proves to be a delicate instrument; it is easily wounded or broken, as we can see when a lover feels betrayed or abandoned by their beloved. The pains and sorrows which emerge from a broken heart do not easily heal, indeed, they often become scar tissue which corrupts the heart, so that it betrays us, making us desire things which are not for our own good. At such a time, the heart is said to be deceitful, and because so many of us only know the heart in such a condition, the prophet Jeremiah said: "The heart is deceitful above all things, and desperately corrupt; who can understand it?" (Jer. 17:9 RSV).
We need our heart. It encourages us to seek after and do all the things which we need to do in order to attain our desires. Thus, Jesus said, "For where your treasure is, there will your heart be also" (Lk. 12:34 RSV). When what we treasure is good and pure, then our heart will guide us and direct us to what is good and pure. When what we desire is not so good, our heart, with its love, will direct us to some lesser good, and it is then we see it deceiving us as it encourages us to believe that lesser good is a greater good than it actually is.
This means, the real problem we have is not with the heart itself, but a misguided heart. The heart was given to us as a tool for us to use, but as with all tools, it must be used appropriately. We must be watch over our heart and the desires which are placed in it. "Be watchful, stand firm in your faith, be courageous, be strong. Let all that you do be done in love" (1 Cor. 16:13-14 RSV). With love, we can begin to purify our heart. When we turn over to love, and not selfish desires, such love motivates us to promote all that is good and true.
The more we purify our motivations, the more we will purify our heart. To do this properly, we must embrace compassion and mercy. For this reason, Pambo told us that we should have pity on all:
Abba Theodore of Pherme asked Abba Pambo, 'Give me a word.' With much difficulty he said to him, 'Theodore, go and have pity on all, for through pity, one finds freedom of speech before God.' [2]
Freedom of speech before God is found in and with our prayer, when our prayer comes from a pure heart. Those who have developed their hearts so they are full of pity for others have begun to develop the love which they need in order to receive God and abide in God. Even before such unity, however, we can and should be encouraged to speak to God, knowing that God will listen. As we progress in our love, our words will change to reflect that progression. This is because our words will reveal what is in our hearts as we speak. The more we pity others, the more we will care for them and their well-being; the more we care for their well-being, the more we will lift them up to God, until at last, we will pray without selfishness and we will speak with God with the freedom which is had by pure love. And when we have that freedom, we will find there is nothing which separates us from God, as we will hold nothing of ourselves back from God. Our love will merge with God's love. We will become one with God, so that through love, we will be able to experience the glory of the divine life for all eternity.
---
[1] The Sayings of the Desert Fathers. trans. Benedicta Ward (Kalamazoo, MI: Cistercian Publications, 1984), 197 [Saying Abba Pambo 10].
[2] The Sayings of the Desert Fathers, 198 [Saying Abba Pambo 14].
Stay in touch! Like A Little Bit of Nothing on Facebook.
If you liked what you read, please consider sharing it with your friends and family!