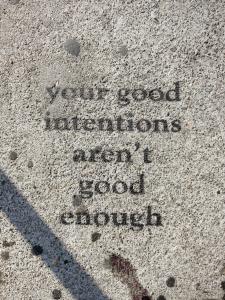 Actions speak louder than words. Likewise, deeds are more important than intentions. A good intention is important, but without putting that intention into effect, and with a good means, we do not possess its virtue. Nonetheless, good intentions are important because through them, we can be inspired to act. Similarly, evil intentions can cause us problems because they influence us and our will, encouraging us to act contrary to the dictates of justice. Intentions are not nothing. But it is important that we realize what is attributable to a person is what they have done, not what they intend to do and yet do not do it. This point was understood by Abba Poemen when he answered a question given to him:
A brother asked Abba Poemen, "Abba, there were two men, one a monk and the other a secular. One evening the monk decided to put off the habit the next morning and the secular decided to become a monk. Now both of them died in the night. How will they be judged?" The old man said to him, 'The monk died a monk, the secular died a secular; in fact they died in the state in which they found themselves.'[1]
Intending to become a monk is not the same as becoming a monk. Intending to renounce one's religious vows is not the same as renouncing them. Just because someone intends to do something does not mean they will follow through with those intentions. Although in the question given to Poemen, the reason why those who intended to do something but did not was because they died, this certainly is not the only reason why someone might not do as they intended. For it is possible that someone can one day intend something and change their mind the next. A monk could intend to renounce his vows, but then realize the reasons why he considered doing so were wrong, and so keep his vows, just as someone who intends to become a monk might, before the intention is realized, change their mind and not take up a religious vow. In the instance related in the Sayings of the Desert Father , the monk died as a monk, and the secular died as a secular. Their intentions were not realized. But this does not mean such intentions meant nothing. Everyone will enter the state of death, not only with the objective state of their lived experienced, but also with the subjective state influenced by their intentions. We do not know what that state is for anyone is, which is why we should never try to guess and judge them for it. All we know is their objective state, and so like Abba Poemen, all we can do is discuss what we know, which is why in the situation discussed in this story, we know the monk died as a monk, and the other man died in a secular (non-monastic) state.
As our intentions influence and shape our internal, subjective state, it is important for us to ponder all our intentions, and purify them so that we will find ourselves less and less influenced by bad intentions. One way to do this is, of course, to act out on all our good intentions, to follow through and execute them in as virtuous manner as possible. What we do will influence us. Even our internal state, with all the intentions which develop in it, is influenced by our actions. For they establish the conditions which we live in, conditions from which our thoughts and desires emerge. If we want to purify our mind from evil intentions, and promote what is good within, we must also do what is the good when we have the opportunity to do so. On the other hand, if we know what is good, if we have the intention to do it, but then stop ourselves from doing it, our subjective spiritual development will be hindered, for we will find ourselves holding onto and desiring that which we should not desire, allowing it to influence us and our actions. We will end up sinning by not doing what we know we should do:
Come now, you who say, "Today or tomorrow we will go into such and such a town and spend a year there and trade and get gain"; whereas you do not know about tomorrow. What is your life? For you are a mist that appears for a little time and then vanishes. Instead you ought to say, "If the Lord wills, we shall live and we shall do this or that." As it is, you boast in your arrogance. All such boasting is evil. Whoever knows what is right to do and fails to do it, for him it is sin (Jas. 4:13-17 RSV).
Not only should we love what is good and true, we should act out on that love. "Little children, let us not love in word or speech but in deed and in truth" (1 Jn. 3:18 RSV). Intending to do good is a good start. Once we have begun our pursuit, we must continue on with it, engaging it with love, so that in the end, we actualize our intention. Of course, it is possible to desire some good which is not appropriate for us, and if we try to pursue it, we will end up doing ourselves (or others) more harm than good. It is good to become a monk, but not everyone is called to be one. It is good to have a family, but not everyone should have children. It is good to give one's money to the poor, but if someone has a family and do not consider the needs and obligations of their own family, giving all that they have to the poor can end up having dire consequences for their loved ones. This is why good intentions are important, but we must remember, not all potential goods are right for us. We must understand the circumstances of our lives and pursue those intentions which fit what is possible for us to do. Similarly, we must remember that for most of us, our intentions are not perfectly good, but often mixed with and contain within them some sort of evil. Pride is a prime example. We can do all kinds of good with pride, but because we embrace that pride, it will corrupt and influence us so that even if we objectively do some good, subjectively we become worse as a result of what we do. This is why James tells us not to boast in what we do; he knew that such boasting will only corrupt our intentions and make sure we find ourselves far away from the justice and charity God wants us to have within ourselves.
Intentions influence the will, and through the will, influence the character of those who hold onto them. As long as an intention is not executed, it will only influence the subjective character of the person who has it. Objectively, only what is accomplished can be said to be attributable to the person who has accomplished them. Good intentions are not good enough. We must properly engage them if we want to reap their full reward.
---
[1] The Sayings of the Desert Fathers. trans. Benedicta Ward (Kalamazoo, MI: Cistercian Publications, 1984), 192 [Saying of Abba Poemen #182].
Stay in touch! Like A Little Bit of Nothing on Facebook.
If you liked what you read, please consider sharing it with your friends and family!