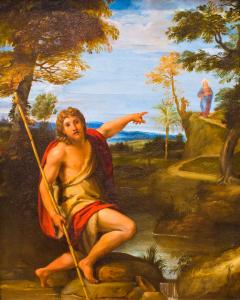 All Christians have been given a charism thanks to the grace imparted to them in their baptism (and chrismation or confirmation). It is this charism which gives them their own particular mission in life. Not everyone has the same mission, not everyone has the same work to do. Nonetheless, all have something invaluable to contribute to the world. All missions complement each other. Thus, no matter what one's mission is, what one's charism is, if they live it out properly, they will find themselves receiving not only grace, but great personal satisfaction, as they will have realized who they are meant to be in Christ. For it is through that realization they will be able to truly see themselves in Christ, and Christ in themselves, and in this manner, like Paul, they will know all that they do has Christ working in and through them. Their lives have value because their lives make them one with Christ. Everything in the world will be seen in and through the lens of that unity, in and through their union with Christ. Thus, Christians are to make the most of their lives by taking the charism given to them and living it out, for when they do so, they will find themselves filled with glory, the glory of Christ, which is the glory of God. However, like Christ, they should know that such glory is not meant to be something selfishly guarded and used solely for their own benefit, but rather, it is something to be shared with others. To live out one's mission, to fulfill it, one must be grounded in love, to realize it is not about rising up and becoming a spectacle in the world for others to love and respect, but rather, it is about loving and respecting others, lifting them up so that they too can be that they are meant to be.
All proper Christian missions, therefore, promote service to others, because they are charisms coming out of Christ and the Spirit of Christ. They have Christians imitate Christ, especially in the way his life was lived for the sake of others, indeed for the sake of the whole world. It is only in such service that true glory is found, and when it is found, it is shared. Then something mysterious happens, for in that sharing, it becomes even greater. Such work is, of course, also done out of love for God. Indeed, the one who loves God will not seek for personal gain, for such thoughts will not cross their mind. Their thoughts will be on loving God, acting the way God wants them to act, which means loving and supporting their neighbors the best they can with the gifts which they have been given. Every Christian, when properly living out their mission, lives for others, working to make sure that the next generation will have the best guidance possible so that they, too, can live out their mission and be as God desires them to be.
In Second Timothy, therefore, we read how the work of the evangelist is to lay down the foundation for the next generation. Timothy is told that he is to fulfill his own ministry by turning himself into a living sacrifice of love for the sake of others, for in this fashion they will be lifted up and have what they need to live out the faith for themselves:
As for you, always be steady, endure suffering, do the work of an evangelist, fulfil your ministry. For I am already on the point of being sacrificed; the time of my departure has come. I have fought the good fight, I have finished the race, I have kept the faith. Henceforth there is laid up for me the crown of righteousness, which the Lord, the righteous judge, will award to me on that Day, and not only to me but also to all who have loved his appearing (2 Tim. 4:5-8 RSV).
By living out and fulfilling his duty, by acting out of love, not selfishness, Timothy was told he could receive what is promised to those who properly live out their charism; thus, if he fought the good fight to the end, he too could and would receive the crown of righteousness, the glory of the Lord, in the eschaton. We learn, through this exhortation, that only by giving of the self, overcoming the self,  that is dying to the self and abandoning all attempts of self-glory, can we truly rise up in Christ and receive eternal beatitude, a beatitude which is shared by all who find themselves one in Christ.  John the Baptist understood this; he had been given a great mission, one which made him the "last of the prophets," a mission which made him so great that Jesus said no man born of a woman was greater than he. Yet, despite how great that mission was, John knew its fulfillment could only be found when he gave it up, handing all the glory he had attained over to Jesus so that Jesus could be highlighted by him. John's mission was to prepare the way for the kingdom of God, and once Jesus came to him, he knew the time of that mission was over, and the revelation of the kingdom of God through Jesus Christ was about to begin. He did not selfishly prop himself up, nor did he allow others to do so for him; rather, he always made sure his audience knew that his mission, as great as it was, was a limited one:
As it is written in Isaiah the prophet, "Behold, I send my messenger before thy face, who shall prepare thy way; the voice of one crying in the wilderness: Prepare the way of the Lord, make his paths straight — "  John the baptizer appeared in the wilderness, preaching a baptism of repentance for the forgiveness of sins. And there went out to him all the country of Judea, and all the people of Jerusalem; and they were baptized by him in the river Jordan, confessing their sins. Now John was clothed with camel's hair, and had a leather girdle around his waist, and ate locusts and wild honey. And he preached, saying, "After me comes he who is mightier than I, the thong of whose sandals I am not worthy to stoop down and untie.  I have baptized you with water; but he will baptize you with the Holy Spirit" (Mk. 1:2-8 RSV).
John showed us the pattern. We are to live out our mission. We should not glorify ourselves, nor should we let others glorify us. We should not seek out praise, nor should we unnecessarily promote ourselves with boasts, hoping that through them we will attract an audience who not only will listen to us, but give us praise. This is not to say we cannot appreciate it when we find what we do is helpful for others; we can and should rejoice when we see our mission brings such fruit, but we should do so, not because we want to prop ourselves up, we find some satisfaction when we see others truly are made better and happier as a result of what we do. Such humility can be difficult, but it is important. Without it, we will likely go astray. Therefore, in taking up the charism which we have been given, we should imitate John, knowing that our mission is to prepare the way, pointing the way forward, and never about ourselves. Then, when people challenge us, we will not be depressed, for such depression comes out of pride, a pride which thinks we should be above all such challenges. Such challenges serve as tests, helping us to see how far we are from perfection ourselves. This is why we often fail those tests, but even if and when we do, e will have another test, a chance to recognize our failure. To pass that test, we must be willing to humble ourselves. To do so, we must once again embrace self-giving love as the foundation of our activity. It is important to remember that our mission comes from Christ. Our charism is a way for us to share in and participate in his work. Thus, we must always coordinate our actions with Christ, letting him lead. That means, like John, we  must always be willing to decrease so that the work of Christ can increase.
Stay in touch! Like A Little Bit of Nothing on Facebook.
If you liked what you read, please consider sharing it with your friends and family!