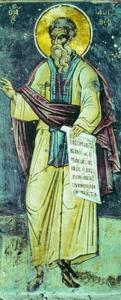 Ministry is important, but we must remember, there are many different ways to be ministers. All baptized and confirmed Christians are priests due to their incorporation into Christ, even if not all of them are ordained clergy. All Christians are expected to have their own particular ministry, their own way of practicing their priesthood in Christ. We must use the skills which we have, the gifts which have been given to us, not just for our own sake, but for the sake of others. If we have knowledge, we should share it. If we have some great skill which could be used to help others, we should exercise it as a part of our Christian calling. What is important for all of us, as Christians, is to understand that our ministry in Christ must be exercised properly, and that means, not for our own sake, not for our own glory, but for the glory of God. Likewise, because we are called to love our neighbor, our ministry should demonstrate that love; we should be compassionate towards others, for in that way, they will be able know what we do is out of true concern for them and not as some sort of virtue signaling exercised to make ourselves look better.
If what we do in our ministry is for our own glory, then what we do is in vain. This is not to say  no good will come from it, because, of course, some, if not much good, will be done. Nonetheless, if we act with a bad motive, then the good we accomplish will be far less than what it could and should be if we did everything out of love. "Let love be genuine; hate what is evil, hold fast to what is good; love one another with brotherly affection; outdo one another in showing honor.  Never flag in zeal, be aglow with the Spirit, serve the Lord" (Rom. 12:9-11 RSV).
Dorotheos of Gaza, therefore, said we should be moved to ministry due to the sympathy we have with those we serve. We should not be too concerned if the person is rude or obnoxious. We should not be concerned with how they treat us in return. If we helped someone only because of how they treated us, we would not be serving them out of love but for some other reason. And so, by serving someone who is difficult, we find they, in some ways, help us, because they test and try our love, helping us to purify it and make it better than it was before:
A man who ministers with knowledge ministers because he is moved by sympathy [ for the sufferer], because his heart is moved with pity. If anything happens externally that troubles him, or if the sick man is cantankerous with him, a man who aims at expressing this pity will bear with it without being put out, because he sticks to his own intention and knows that the sick man  is doing him more good than he is the sick man. You must believe that a man who ministers to the sick with knowledge is relieved of many evil tendencies and the battles they cause.[1]
When ministering to someone who is sick, we need to realize they could have one of many kinds of sickness, from some physical ailment, to some psychological or spiritual one.  We must deal with them properly, recognizing that there is not just one way for us to minister to their needs. We might find some of them will resist us. They might not want to acknowledge their needs. They might not want to acknowledge what they have to do to get better. People often resist sound advice, if for no other reason than to be contrarian. That should not stop us from doing our duty. If we are truly concerned about them, we will patiently work with them, showing compassion and understanding; the more we do that, the more likely they will realize that what we tell them is for their own good, that is, they will stop their resistance to our help. If we do this, then, we will not only be good ministers, we will find ourselves transformed in the process. We will become better Christians, meditating on the law of God. For, as Jerome indicated, acting upon God's expectations for us is a way for us to meditate on God's law:
Meditation on the law does not consist in reading, but in doing as the Apostle says in another place: 'Whether you eat or drink, or do anything else, do all for the glory of God.' Even if I merely stretch forth my hand in almsgiving, I am mediating on the law of God; if  I visit the sick my feet are meditating on the law of God; if I do what is prescribed, I am praying with my whole body what others are praying with their lips.[2]
Thus, serving as God's ministers in the world, using our gifts for the common good, is itself a way to meditate upon the law, and indeed, it is an important one, for it means we put the law into action instead of holding it as some sort of ideal which has no real significance to our lives. We move beyond the realm of speculation and supposition and into the realm of actual engagement with the law. In this fashion, we learn about love, and through our understanding of love, we grow in our apprehension of God. We understand better how God loves us. For, we will understand better why God does not abandon us when we sin, for we find ourselves not abandoning others despite the way they react towards us. We will see how our love keeps us close to them, and so God's love for us keeps God close to us. To meditate on the law of God, therefore, is to act on the expectations of love, and this is exactly what we are called to do as Christians.  We are called to be ministers and priests of the new covenant. We realize that responsibility through by acts of love.
---
[1] Dorotheos of Gaza, "On Building Up Virtues," in Discourses & Sayings. Trans. Eric P. Wheeler (Kalamazoo, MI: Cistercian Publications, 1977), 205.
[2] St. Jerome, The Homilies of Saint Jerome: Volume I (1-59 On the Psalms). Trans. Marie Liguori Ewald, IHM (Washington, DC: CUA Press, 1963), 6 [Homily 1].
Stay in touch! Like A Little Bit of Nothing on Facebook.
If you liked what you read, please consider sharing it with your friends and family!