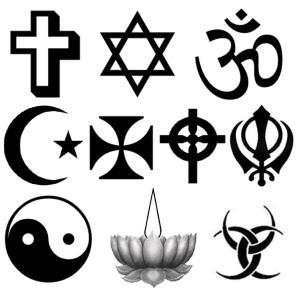 Religions can and should be forces of good. Most of them have principles which promote justice over injustice, the common good over private, selfish desires. Religion should lead people to act for the betterment of all instead of trying to escape the world in some sort of quietest retreat. It is imperative that religion is not used for selfish purposes, for when that happens, religion, far from being a source of justice and goodness in the world, easily becomes a source of evil, leaving the religion used in such a fashion defiled. This is why James says Christians should be doers, promoting the needs of those around them while not letting various temptations (such as avarice) get the best of them:
But be doers of the word, and not hearers only, deceiving yourselves. For if any one is a hearer of the word and not a doer, he is like a man who observes his natural face in a mirror; for he observes himself and goes away and at once forgets what he was like. But he who looks into the perfect law, the law of liberty, and perseveres, being no hearer that forgets but a doer that acts, he shall be blessed in his doing. If any one thinks he is religious, and does not bridle his tongue but deceives his heart, this man's religion is vain. Religion that is pure and undefiled before God and the Father is this: to visit orphans and widows in their affliction, and to keep oneself unstained from the world. (Jas. 1:22-27 RSV).
Sadly, it seems that many Christians have now turned their faith upside-down and inside-out, as they use Christianity for the pursuit of private gain, showing no care for those whom they hurt. They justify if through religious freedom, saying no one should stop them doing following their faith as they see fit. Religious liberty is not meant to be used to reject the common good or promote injustice in the world. Those who would use religious liberty as an excuse to ignore their responsibility to the world abuse it. They defile religion when they use it to get out of their duty to society. It is even worse when it is being used to justify all kinds of evils, such as when Christianity was used to defend slavery. If someone were to say their religion promoted and required the use of slaves, and so say their religion demands the violation of rights of others, it is not a violation of religious liberty to deny them their claim, which is why Dignitatis humanae said: "Furthermore, society has the right to defend itself against possible abuses committed on the pretext of freedom of religion. It is the special duty of government to provide this protection."[1]
If some grave injustice is being promoted by society, such as an unjust war, religious liberty means people of faith should not be forced to participate in such a war. This is true, not only in respect to Putin's invasion of Ukraine, but also, the United States' invasion of  Iraq; such liberty should be respected, not only for civilians, but for those who joined the military, wanting only to defend their country instead of invading other countries. Soldiers are expected to follow the military chain of command and obey all lawful orders, but criminal or innately evil orders, on the other hand, are to be disobeyed, and that would include orders which violate basic principles of justice, principles which are violated when a war is not justified. On the other hand, being demanded to do something they do not want to do, but which is not illegal, indeed, which is just and promotes the common good, cannot be said to violate religious liberty (which is why soldiers can be ordered, and have routinely been ordered, to take vaccinations).
Religious liberty is an important principle which should be respected by the rule of law, but it has particular applications, and it is not a claim which is to be invoked to allow anyone to do anything they want to do or to avoid doing anything they don't want to do. If all it takes for someone not to be held responsible by society is to claim religious liberty, this would mean they do not have to obey the norms of society: a mass murderer could say God has told them to kill and no one should violate their religious liberty by preventing them from killing as they see fit, and if the principle is absolutized, their death-dealing would not be able to be punished. This is why what is being done in the name of religion must also be examined before seeing if in issue is truly one of religious liberty or an attempted abuse of it.
Sadly, religious liberty is often abused. The same people who denied American soldiers religious liberty, telling them they must join in with the war effort in Iraq, even if their religious tradition says the war is unjust, often are the same people who say religious liberty means they don't have to do things they don't want to do such as take a vaccine. The soldier who has legitimate reasons to doubt the legitimacy of a war, especially if religious leaders decry such a war, should have more religious liberty rights than those who will deny vaccines and promoted by their religious traditions (which is why Catholics claiming it is a religious liberty violation to mandate COVID19 vaccinations are ridiculous, and abuse the notion of religious liberty, because the Vatican itself has such a mandate).
Religious liberty must not be seen as a ticket to do anything anyone wants, but sadly, that is what many who speak of it mean, but only for themselves (as they will deny it to others, even if those others have a better claim to it). They find ways to justify denying it to others, such as when saying  Islam is not a religion as a way to deny basic religious rights to Muslims. What they want is a tool for themselves, a tool to justify whatever they want to do, a tool which they can use to enforce their desires upon others, which is the exact opposite of how religious liberty meant to be employed, for religious liberty is about letting others have freedom to do as they believe so long as what they do does not harm society as a whole (and so does not promote injustices which harm the common good).
Religion must be put into action, but the action must be for justice, not injustice, which is why James said that religion should be used to help the afflicted, and that religious people should control their tongues, making sure their speech is just and charitable and not filled with malice. If we do not bridle the tongue, if we do not make sure our speech, like our actions, works for truth, justice, and through them, the common good, our religious faith is in vain. Sadly, because the way so many use and employ their religion is far from what James has suggested, religion is often mocked and rejected, and rightly so, because what is being mocked is not religion per se, but the presentation of it in a defiled, and therefore, unjust or sinful form. Religious liberty should not be used by people to beat others into submission to their desires, but it is should be about finding a way to bring society together, to work for the common good, recognizing people can and will have different faiths, different beliefs and practices, which must be accepted so long as society is not harmed.
---
[1] Dignitatis humanae. Vatican translation. ¶7.
Stay in touch! Like A Little Bit of Nothing on Facebook.
If you liked what you read, please consider sharing it with your friends and family!