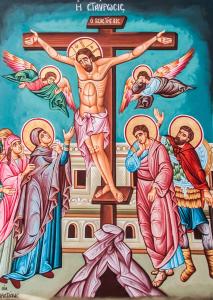 "The logos is about to say something, and I say that Christ sought God with the hands, on behalf of the whole cosmos, stretching them on the wood and making them fast so that, at that time, he would pray to him with stretching hands and when the whole body and soul were stretched together, not ever the body, but over the whole cosmos, on behalf of the whole cosmos." [1] The Logos, Jesus, spoke of forgiveness from the cross; let us listen and understand what he meant when he said: "And Jesus said, 'Father, forgive them; for they know not what they do.'" (Lk. 23:34a RSV). We are accustomed to think that he said this about the soldiers and all others who worked to crucify him, and of course, he did. But he said this for more than them, but for all of us.  We are all connected and united together in our sins, and the soldiers only represented and manifested that combined evil. And so on the cross, Jesus emptied himself in such a way to let humanity express its worst side, its sin, its unlove, its injustice and to do so, showing the height of its malice, thrusting the full fury of its hate upon him.
We cannot separate the cross from the rest of the incarnation. We should see it as a sign and expression of the incarnation itself. For with the incarnation we have the self-emptying of the Word of God, the Logos, Jesus. Jesus embraced such self-emptying, such kenosis, so as to reveal his love for us and all creation, a love which would have him go as far as to death and hell itself.
Humanity as a whole was ignorant of all it had done. Often, though we did things in the world which we thought were good and just, we often embraced some evil in the midst of such activity, allowing the good which we intended to become corrupted. In this manner, even when we desired to do what was good, our ignorance allowed us to embrace some evil and harm others or ourselves with our sins. Jesus embraced humanity with his love; he willing accepted whatever we would do to him, and this is what we find his words from the cross really mean. In the middle of his passion, in the middle of all the pain and suffering he was experiencing, he expressed his heart's desire for us by speaking of our forgiveness.
Having come to know what he said from the cross, having come to see the love which he had, a love which allowed him to go as far as hell in order to show us that nothing we could do would have him no longer love us, we no longer need to continue in our ignorance. We should no longer act in and with the unlove which led to his death, the unlove which only leads to pain and suffering (for ourselves as well as with others). Instead, we should embrace love and join in with Jesus, becoming representatives his love who, with grace, transform the world and make it better without letting the evil of unlove corrupt what we do.
In this way, it can be said what happened on and with the cross encapsulate Jesus' earthly message, making it the culmination of his earthly ministry. Throughout his preaching, he told us various ways to change, to do better, to live our lives following the example of God. But with his willingness to embrace the cross he showed us that he was not just telling us what to do without living out those words himself, but rather, he lived them out to the fullest. He gave us himself as an example, showing that what he preached can be and should be put into action:
You have heard that it was said, `An eye for an eye and a tooth for a tooth.' But I say to you, Do not resist one who is evil. But if any one strikes you on the right cheek, turn to him the other also; and if any one would sue you and take your coat, let him have your cloak as well;  and if any one forces you to go one mile, go with him two miles. Give to him who begs from you, and do not refuse him who would borrow from you (Matt. 5:38-42 RSV).
Jesus did not resist when he faced the hate of sin manifested in those who desired to have him executed; rather, he went with them, letting them show forth their malice. Along the way, unlove, the evil which contaminates and destroys humanity, indeed, the evil which contaminates and destroys creation, did all it  could do to him, ridiculing and dishonoring him the best it could before taking his life away. In this way, evil shows us what it desires to do whenever it finds some good getting in its way. The prophet Isaiah indicated that this would happen, that the righteous one would be beaten and abused while he would not strike back at his abusers: "The Lord GOD has opened my ear, and I was not rebellious, I turned not backward. I gave my back to the smiters, and my cheeks to those who pulled out the beard; I hid not my face from shame and spitting (Isa. 50:5-6 RSV).
Jesus, in his humanity, lived the just life, showing what is expected for us is indeed possible, and in that way, prepared the way not only for his own vindication (in the resurrection which was to come), but ours as well (because we share the same humanity with him, our humanity is vindicated in and through him; he has opened up the way so we can join with him and receive that vindication for ourselves). And in this way, because we were weak, Christ died for us to vindicate us, to vindicate creation before God and show how just and good it is in its nature. All the enmity between God and creation, established by what we have done (and so, not by God), is overturned by Christ; though we acted as enemies and treated Christ with our unlove, he still loved us and died for us, allowing us to do all we want to do to him while forgiving it all. With that forgiveness, we do not have to be stuck with the consequences of our hate. We can transcend them, and in such a way, we can join ourselves with Christ in the glory of his resurrection. "Since, therefore, we are now justified by his blood, much more shall we be saved by him from the wrath of God.  For if while we were enemies we were reconciled to God by the death of his Son, much more, now that we are reconciled, shall we be saved by his life.  Not only so, but we also rejoice in God through our Lord Jesus Christ, through whom we have now received our reconciliation" (Rom. 5:9-11 RSV). Truly, Jesus on the cross works to undermine our evil, and in doing so, overcome the consequences of such evil, poetically called the wrath of God, so that we – and all creation – can have our evil forgiven. That is, now, thanks to what he has done, we can find our natural friendship and union with God restored and made greater than it ever was.
---
[1] Origen, Homilies on the Psalms: Codex Monacensis Graecus 314. Trans. Joseph W. Trigg (Washington, DC: CUA Press, 2020), 243-4 [Homily 1 on Psalm 76].
Stay in touch! Like A Little Bit of Nothing on Facebook.
If you liked what you read, please consider sharing it with your friends and family!