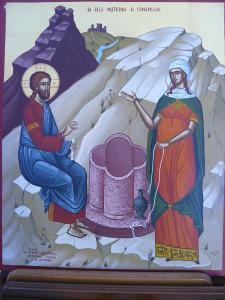 God's grace is for everyone; everyone is called to drink from the spiritual well and have their thirst quenched. Christ wants to share the Holy Spirit, and all the gifts of the Spirit, with everyone; Jesus is the anointed one; we can and should be united with him, and through that unity, become anointed as well.  Man, woman, Jew, Gentile, sinner, would-be saint, all can come to Christ and have their spiritual thirst quenched. All are called; we should not try to put barriers between the Holy Spirit and those who are in need of the Spirit's gifts, because in doing so, we likely will be the ones to be cut off as the Spirit. For, in truth, the Spirit blows where it wills, and it will not be stopped by us.
What we should do is recognize and accept the work of the Spirit where it is found. We should strangle the Spirit, that is, we should not act against the work of God in the world. The Holy Spirit will not be constrained. Peter, as the chief of the apostles, was always learning from God, always finding his beliefs and understandings were being challenged and transcended by what God was doing in and through him. As he learned,  Peter developed his understanding, and in doing so, he developed the church's understanding as to the implications of what Christ has taught it Peter began the long process of doctrinal development, a development which continues to this day, development which should and will bring changes to the church. A great example of this can be found in the way he learned that God was calling the Gentiles, and not just the Jews, to his church:
As I began to speak, the Holy Spirit fell on them just as on us at the beginning. And I remembered the word of the Lord, how he said, `John baptized with water, but you shall be baptized with the Holy Spirit.' If then God gave the same gift to them as he gave to us when we believed in the Lord Jesus Christ, who was I that I could withstand God?"  When they heard this they were silenced. And they glorified God, saying, "Then to the Gentiles also God has granted repentance unto life" (Acts 11:15-18 RSV).
Peter came to understand a truth which had its foundation in Jesus' ministry. but one which it took him time to understand and accept. The development of Christian doctrine is always like this. Once such development occurs, it becomes clear, though it can and will criticize elements which were once believed, it stands on tradition and is in continuity with it, as its basis is contained in tradition (even if it shows itself changing how tradition is interpreted and understood).  Indeed, after such development, those elements will often be much more apparent than they were before, especially as, in many occasions, those elements were often as confusing and so were often not as engaged as they should have been until the development occurs. This is likely what happened with Peter and the rest of the apostles when they initially reflected upon Jesus' encounter with St. Photina, the Samaritan woman near Jacob's well:
There came a woman of Samaria to draw water. Jesus said to her, "Give me a drink." For his disciples had gone away into the city to buy food. The Samaritan woman said to him, "How is it that you, a Jew, ask a drink of me, a woman of Samaria?" For Jews have no dealings with Samaritans.  Jesus answered her, "If you knew the gift of God, and who it is that is saying to you, `Give me a drink,' you would have asked him, and he would have given you living water." The woman said to him, "Sir, you have nothing to draw with, and the well is deep; where do you get that living water?  Are you greater than our father Jacob, who gave us the well, and drank from it himself, and his sons, and his cattle?" Jesus said to her, "Every one who drinks of this water will thirst again,  but whoever drinks of the water that I shall give him will never thirst; the water that I shall give him will become in him a spring of water welling up to eternal life" (Jn. 4:7-14 RSV).
Jesus offered the Samaritan woman the gift of the Holy Spirit, and she was just as confused as everyone else as to why Jesus would talk to her like he did.  Through her discussion with him, she came to realize he was the messiah. He showed how much he knew her, and yet, despite knowing all that he knew about her,  knowing intimate details which no one else should have known, he still cared for her, indeed, he loved her, and was willing to give her what she thirsted for inside. And she was told that the messianic age would bring a transformation to the world, so that people from all walks of life, from different cultures and backgrounds, man and woman alike, would find themselves united, worshiping God together in spirit and in truth:
Jesus said to her, "Woman, believe me, the hour is coming when neither on this mountain nor in Jerusalem will you worship the Father.  You worship what you do not know; we worship what we know, for salvation is from the Jews. But the hour is coming, and now is, when the true worshipers will worship the Father in spirit and truth, for such the Father seeks to worship him. God is spirit, and those who worship him must worship in spirit and truth" (Jn. 4:21-24 RSV).
Jesus, while affirming the special place of the Jews in salvation history, provided the foundation by which Peter and the other apostles would be able to understand how and why, in light of Jesus' resurrection from the dead, the Spirit would be offered to all, and not just to the Jews. The special place that the Jews had in salvation history would not be denied, for, as Jesus said, salvation came from the Jews, but the way to understand the significance of the Jews and their covenantal relationship changed. It was not to be diminished, but increased.  The gifts given to the Jews were not meant to be theirs alone, but something which would be shared with all those who came together to worship God in spirit and in truth. Peter, therefore, would have what he needed to understand the working of the Spirit in and with the Gentiles through Jesus' encounter with the Samaritan woman, though of course, at the time, he and the other disciples did not see it that way, indeed, they only wondered what Jesus was doing when they saw him with Photina (cf. Jn. 4:27). This is how it is with doctrinal development; it is founded on a truth which was given and is already there but yet not properly understood until later. And then, when such changes happens, we find a new difficulty arises, for then what we learn must be put into action, something which is not easy as old habits are hard to break.
Stay in touch! Like A Little Bit of Nothing on Facebook.
If you liked what you read, please consider sharing it with your friends and family!