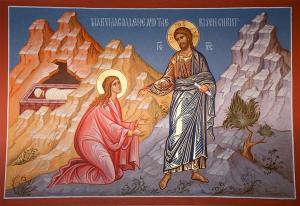 Christ established the church as the place where humanity could and should come together as one, reflecting the unity of the Trinity. The church, in its nature, exemplifies that unity. But the church subsists in a historical presence, a historical form, one which does not entirely demonstrate the harmony which Christ intended for it. Sadly, this means, throughout church history, Christians have been in conflict with each other, fighting instead of working together. While this likely will continue until the end of time, this does not mean that Christ will not be successful.  In the eschaton, we will see the unity and harmony Christ intended, and it will occur in and with the church. And because it is true in the eschaton, it means, insofar as the historical manifestation of the church participates in the eschaton, we can and will see manifestations of that unity appearing, from time to time; even if it is temporary, it will be enough to point to and anticipate what is to come. This is why we find many instances in history in which hostilities were overturned by the church, and those who were thought to be enemies were made compatriots and friends. That means, while we should expect no utopia, there will be various times when we see the church as holding an important place in the lessening or elimination of various prejudices and biases, so that society itself becomes more harmonious (though, this requires Christians to cooperate with grace, and when they do not, sometimes, sadly, they can and do reinforce those biases, making things worse for a time).
Whether it is the conflict between various nations, or the conflict between the sexes, Christians are meant to see each other in Christ, not in the divisions of humanity, and so reconcile with each other, loving each other, and so transcending all distinctions which would have them fight or show antagonism toward each other. Christ himself was always working for this, both in his historical ministry, and in his work after his resurrection from the dead. Perhaps this is why it was women, not men, who were the first to see him resurrected from the dead, and why it was women, not men, who were first given the charge to preach about the resurrection itself, for in  doing this, he showed us that women should be promoted by Christians, that they should be listened to and believed:
And when the sabbath was past, Mary Magdalene, and Mary the mother of James, and Salome, bought spices, so that they might go and anoint him. And very early on the first day of the week they went to the tomb when the sun had risen. And they were saying to one another, "Who will roll away the stone for us from the door of the tomb?" And looking up, they saw that the stone was rolled back; — it was very large. And entering the tomb, they saw a young man sitting on the right side, dressed in a white robe; and they were amazed. And he said to them, "Do not be amazed; you seek Jesus of Nazareth, who was crucified. He has risen, he is not here; see the place where they laid him.  But go, tell his disciples and Peter that he is going before you to Galilee; there you will see him, as he told you" (Mk. 16:1-7 RSV).
It seems that the women were at first very afraid and remained silent. "And they went out and fled from the tomb; for trembling and astonishment had come upon them; and they said nothing to any one, for they were afraid" (Mk. 16:8 RSV). Eventually, however, they would find their voice, go to Peter, and tell him and the other apostles what they had seen. Sadly, though not surprisingly, they were not believed:  "Now it was Mary Magdalene and Joanna and Mary the mother of James and the other women with them who told this to the apostles but these words seemed to them an idle tale, and they did not believe them. But Peter rose and ran to the tomb; stooping and looking in, he saw the linen cloths by themselves; and he went home wondering at what had happened." (Lk. 24:12 RSV). Peter was the only one who listened to the women and carefully considered what they said, and in doing so, decided to investigate for himself what they had told him. He didn't entirely believe them, but he did not entirely dismiss them either. This was the way Peter would act as leader of the church; time and time again, he would learn something new, hesitate to act, but then he would act, and in doing so, bring about needed change to the Christian community. Often, what Peter and the church had to learn was to find a way to accept others in their community, to open up their hearts, and go beyond the prejudices they had. From day one, Christians had to accept that the newness of the resurrection raised everyone up and made everyone equally worthy of respect, equally worthy of having their voices heard.
Sadly, Christians, despite all the good which was given to them, despite the way Christ told them to unite with each other through love, often found themselves going against Christ's expectations, and so did not show the love and harmony they were intended to engage. Women, despite being raised in dignity by Christ himself, were often silenced and ignored, even as historical, cultural conflicts time and again threatened the unity of the church, starting with the conflict between the Hellenists and Hebrews:
 Now in these days when the disciples were increasing in number, the Hellenists murmured against the Hebrews because their widows were neglected in the daily distribution. And the twelve summoned the body of the disciples and said, "It is not right that we should give up preaching the word of God to serve tables. Therefore, brethren, pick out from among you seven men of good repute, full of the Spirit and of wisdom, whom we may appoint to this duty. But we will devote ourselves to prayer and to the ministry of the word." And what they said pleased the whole multitude, and they chose Stephen, a man full of faith and of the Holy Spirit, and Philip, and Prochorus, and Nicanor, and Timon, and Parmenas, and Nicolaus, a proselyte of Antioch. These they set before the apostles, and they prayed and laid their hands upon them. And the word of God increased; and the number of the disciples multiplied greatly in Jerusalem, and a great many of the priests were obedient to the faith (Acts 6:1-7 RSV).
Nationalistic ideologies to this day fight against the unity which the church is supposed to have and possess; the transcendence of humanity in Christ, a transcendence which  knows no division between genders or cultures, often finds itself ignored by Christians. Sadly, this means, far from being seen as workers of peace and reconciliation, Christians often the instigators of conflict and division. Many Christians have embraced some form of nationalism that they seem to prop up their own nationality, their own culture, above and beyond Christian unity, and so they end up critical of, or even hostile to, people of other nationalities. Such an embrace of nationalism has led many Christians, often in the name of Christ, to go against the nature and mission of the church. Such blasphemy, of course, is heretical, but it is difficult to overturn the stain of nationalism once it has been embraced.  Though they might still be Christians, their lives, beliefs, and actions are deficient. Once again they find themselves needing the grace of Christ.
Even though it is quite clear that throughout history Christians often fail to come close to the unity and love they are meant to have, this should not be seen as proof that the church has entirely failed its mission. The church still offers grace, and with it, there remains within it a core who works for and brings about greater unity and love in the world. That is, there continues to be those whom Christ raises up to speak, voices like the women  he sent out after his resurrection, voices which many will not listen to and ignore, and yet voices which some will examine and slowly heed. Eventually, those voices will be accepted by someone like Peter, someone who will be able to embrace the truth spoken by them, and make changes in the church in order to reflect what those voices say. Then, Christians will take those changes into the world, and find a way to help the world change for the better as well. After all, is this not what happened in history, when women had their status in society changed, that they were elevated and given more dignity and respect, thanks, in part, to the way Christ chose women to be the first to  preach about his resurrection from the dead? While, it is clear, many fought against this, and so some of the elevation they initially had were lost to them, they had been given enough that they would never have their voice entirely taken away from them again, and each time someone would try, women, saintly women would rise up and resist, making sure that Christians, in the end, would realize the mistakes they made and once again accept that women had voices which the church needed, that they had experiences which everyone should believe.
Stay in touch! Like A Little Bit of Nothing on Facebook.
If you liked what you read, please consider sharing it with your friends and family!