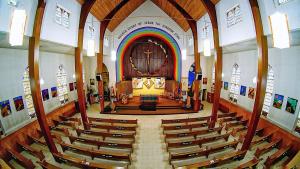 No matter how independent, how individualistic, someone would like to be, no one is an island all unto themselves. Everyone has a past, a past which goes beyond their own individual lives, a past which connects them to their ancestors, even as everyone has a future which will go beyond their temporal lives. We have inherited much from our ancestors and we will give over what we have made of ourselves and the world around us to those who come after us.
All of us should be concerned about finding our place in the world, recognizing that it means we should understand from whence we have come and where it is we are going. This means, of course, we should see how the past affects us today. We should recognize and honor our ancestors because they provide us our own foundation for our place in history. We have received from them a great amount of good, even as, of course, we bear the burdens of what they have done wrong. We honor them, not only when we recognize and present the good which they have done, but also when we recognize the bad, for in doing this we recognize them for who they are and what they have done. And of course, we honor them when we preserve the good which they have done, even as we honor them when we try to heal the damage they caused to the world, because by making reparations for them, we help them find peace. We should strive to do this in such a way that we look forward to the future, making sure that those who come after us inherit more good than bad, indeed, that we make sure things are better for them than they were for us. All of this can be seen in the way Pope Francis has engaged the Native American  peoples of Canada, apologizing to them for all the abuse which they suffered at the hands of Catholics (those interested in how well he has done should listen primarily to Native American voices, not others, who would like to use this meeting for their own agenda, and in doing so, continue to use and abuse Native Americans, albeit in a new way). He has done this, not only by specifically working with the Native Americans, hoping to bring some healing for all the harm they have suffered, but also by showing us how we should learn from our engagement with all the cultural heritages found in the world, working to preserve the good found in them instead of suppressing them for the sake of our own cultural norms. Pope Francis connected this with the way he explained to Catholics how they should seek to honor and respect all their ancestors in a homily he delivered on the feast of Sts Anne and Joachim:
First: we are children of a history that needs to be preserved. We are not isolated individuals, islands. No one comes into this world detached from others.[1]
We cannot ignore the past; in order to truly come to understand who we are, we must see the great tree of life, to see where we are on it, recognizing that the branch we come from truly informs us and helps establish who we are. We need to find a way to accept our heritage, for that will help us accept who we are in the world:
In order to accept who we really are, and how precious we are, we need to accept as part of ourselves the men and women from whom we are descended. They did not simply think about themselves, but passed on to us the treasure of life. We are here thanks to our parents, but also thanks to our grandparents, who helped us feel welcome in the world. [2]
As his homily was given in the midst of his apology to indigenous peoples of Canada, it must be read in connection to what he said to them. It universalizes a lesson he has learned from his own encounter with Native Americans, a lesson which he learned because he listened to them and their grievances, allowing them to speak of who they are and the difficulties they faced accepting their own place in the world because of the way they had been treated by others. He knew that they had learned something which we should all have learned, that everyone has to learn to appreciate their cultural heritage, but it was something which, sadly, Christians tried to have Native Americans doubt as they tried to have Native Americans reject their own cultural traditions. Native Americans fought long and hard against such cultural attacks, and they persevered, though sadly, with a lot of wounds thanks to the Christians who fought against them.
Pope Francis' apology, therefore, goes beyond sorrow for what has been done, but points out what Catholics should have always recognized, that their family bonds provided the Native American peoples a culture and way of life which offered much which should have been respected and preserved, instead of being suppressed, as it had been in recent history. Thus, when talking about the good that is to be had with family bonds, about the respect we should have for our ancestors, he was emphasizing a theme which he spoke of in his meeting with Native Americans:
To remember: brothers and sisters, you have lived on these lands for thousands of years, following ways of life that respect the earth which you received as a legacy from past generations and are keeping for those yet to come. You have treated it as a gift of the Creator to be shared with others and to be cherished in harmony with all that exists, in profound fellowship with all living beings.  In this way, you learned to foster a sense of family and community, and to build solid bonds between generations, honouring your elders and caring for your little ones. A treasury of sound customs and teachings, centred on concern for others, truthfulness, courage and respect, humility, honesty and practical wisdom![3]
The world can learn much from Native Americans and their traditions. Their myths and symbols have much which in them that not only will provide us lessons as to how we can help protect all life on earth, but symbols which Christians can see have resonance with the Christian faith:
You, my dear indigenous brothers and sisters, have much to teach us about the symbolism and vital meaning of the tree. Joined to the earth by its roots, a tree gives oxygen through its leaves and nourishes us by its fruit. It is impressive to see how the symbolism of the tree is reflected in the architecture of this church, where a tree trunk symbolically unites the earth below and the altar on which Jesus reconciles us in the Eucharist in "an act of cosmic love" that "joins heaven and earth, embracing […] all creation" (Laudato Si', 236). This liturgical symbolism reminds me of the magnificent words spoken by Saint John Paul II in this country: "Christ animates the very centre of all culture. Thus, not only is Christianity relevant to the Indian people, but Christ, in the members of his Body, is himself Indian" (Liturgy of the Word with the Native Peoples of Canada, 15 September 1984). On the cross, Christ reconciles and brings back together everything that seemed unthinkable and unforgivable; he embraces everyone and everything. Everyone and everything! The indigenous peoples attribute a powerful cosmic significance to the cardinal points, seen not only as geographical reference points but also as dimensions that embrace all reality and indicate the way to heal it, as embodied by the so-called "medicine wheel". This church appropriates that symbolism of the cardinal points and gives it a Christological meaning. Jesus, through the four extremities of his cross, has embraced the four cardinal points and has brought together the most distant peoples; Jesus has brought healing and peace to all things (cf. Eph 2:14). On the cross, he accomplished God's plan: "to reconcile all things" (cf. Col 1:20). [4]
To be sure, if this is not done properly, Catholics can abuse Native American traditions, because Catholics could engage them only as a tool for proselytism. Christians need to see the good in those traditions, the value in them, apart from such endeavors, so then they can understand not only why they should be preserved, but see even more, the harm they have done. Christians should take the time to listen to Native Americans and learn from them, to be silent as Native Americans teach them their wisdom, and then, they should work with Native Americans to help preserve those traditions so that they could be passed down to future generations. Of course, when doing this, Christians will likely learn how those traditions can and will enrich their own faith, just like other cultural heritages and traditions have helped shape Christianity and enriched the lives of Christians around the world. This should not be the focus of such engagement, but it can be one of its fruit. What is important is that Christians need to recognize that Native American  culture needs to be allowed to continue in the world, and that means, Christians should work with Native Americans to preserve the languages, myths, histories, and cultural practices of the Native American peoples. And so, as Pope Francis has indicated, more needs to be done in the future. His apology should serve as the foundation for future action. Catholics, indeed, all Christians, need to work on behalf of the Native Americans, allowing themselves to act as servants to the Native American peoples, engaging them in accordance to their guidance and wishes:
Dear brothers and sisters, many of you and your representatives have stated that begging pardon is not the end of the matter. I fully agree: that is only the first step, the starting point. I also recognize that, "looking to the past, no effort to beg pardon and to seek to repair the harm done will ever be sufficient" and that, "looking ahead to the future, no effort must be spared to create a culture able to prevent such situations from happening" (Letter to the People of God, 20 August 2018). An important part of this process will be to conduct a serious investigation into the facts of what took place in the past and to assist the survivors of the residential schools to experience healing from the traumas they suffered.[5]
We must inquire about the past and learn from it. The abuses the Native Americans experienced must be made fully known so that restitution can be made. But they must also be made known so that we do not repeat them in the future. We must learn from history. We must inquire from those who lived through it, learning from them the good and the bad. "Remember the days of old, consider the years of many generations; ask your father, and he will show you; your elders, and they will tell you" (Deut. 32:7 RSV). Of course, this is especially true with those who have suffered the most in the past. We must hear their cries. We must lift them up to God, doing what we can to appease them and make sure that the crimes of the past do not continue to unjustly influence the shape of the future. We must honor the people of the past, for the good which we find them have done, but also we must remember all the pain and sorrow they suffered in the past, to never forget, otherwise, it is clear, the errors of the past will repeat themselves, causing more wounds in a world which needs much healing.
---
[1] Pope Francis, "Homily For the Feast of Sts Joachim and Anne" (7-26-2022).
[2] Pope Francis, "Homily For the Feast of Sts Joachim and Anne."
[3] Pope Francis, "Meeting with Indigenous Peoples: First Nations, Métis and Inuit." Vatican translation (7-25-2022).
[4] Pope Francis, "Meeting with the Indigenous Peoples and Members of the Parish Community of Sacred Heart." Vatican translation (7-25-2022).
[5] Pope Francis, "Meeting with Indigenous Peoples: First Nations, Métis and Inuit."
Stay in touch! Like A Little Bit of Nothing on Facebook.
If you liked what you read, please consider sharing it with your friends and family!