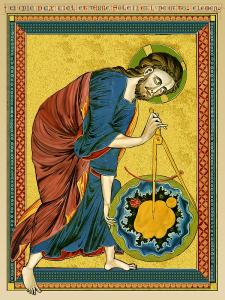 God is love, and so what God does, is love. Love is kind and generous, self-giving, yes, but it is also productive, and in that productivity, there is creativity. In this fashion, we can see love is at the foundation of God's creative activity, for, being so full of love, God wanted to share that love with others. God made creation, and with it, creatures who could and would freely share in and participate in the love God gives to them. It is also by such love that God sustains creation, for even if and when creatures act contrary to God's desires for them, God does what is needed for them to be sustained, so that their actions do not lead to their own self-annihilation. Finally, as creation is intended to receive and participate in God's love, the purpose or end of creation can be said to receive that love and be deified by it. For the more creation engages God's love, the more God's love will dwell in them, raise them up, and experience more and more of the divine glory for themselves. Thus, it can be said that love is the source, foundation, and end of creation.
Love is generative. Love is creative. Love is fascinating. Love is charming. Love is inspiring. If we welcome it into our lives, we will find it making our lives better thanks to its presence. When we act upon it, when we engage it, that love will show, as it will be reflected in all that we do. In this way, love will make us generative. It will inspire us and make us be creative. The more we embrace it, the more we will be able to see that love is at the center of our being because we were made in the image and likeness of the God who is love.
This is why it can be said that our engagement with the arts comes from and finds itself fulfilled in the love which lies at the center of our being. The more we embrace such love, the more creative we can and will become. The more we engage our inherent creativity, the more we will find love grows, not only in us, but in the world around us. The more we do this, the more we will find ourselves drawn into the love which is God, bringing to us all the graces that love brings with it. And then we will find ourselves wanting to act even more up the love which we have received, and help others share in it with ourselves. We will enrichen the world by what we do.  We will begin to experience for ourselves the creative aspects of love. The arts, which come out of such creativity, will be shown to be glorious because they will reflect the generative aspect of love which led God to bring forth creation. Love seeks to create and elevate, not destroy, which is why it can be said that when we desire to create, when we desire to elevate the world with works of beauty, we are but embracing the image and likeness of God which is found deep within us. Sergius Bulgakov, reflecting upon this, exclaimed endeavors can be and will be a part of our own eternal liturgical celebration:
How lofty and holy is this work! The Lord gives strength. He sends inspiration, and by the Holy Spirit beauty is imprinted. Human art brings Him satisfaction, and blessed is he who can and who wishes to  devote this art to Him. And if this creative work – done in a small corner and imperceptible to the world – pleases the Lord, then what blessedness will come if people begin to do all things in the Lord, if the eternity of life becomes praise, becomes liturgy. [1]
The creative nature of God's love is manifest in the way God made all things good, and therefore, beautiful. Everything was made out of love. Everything has been given what it needs to fulfill is purpose, which is, in part, to reflect the goodness and beauty of love. Thus, when we read how God saw everything was good,  we can see that meant God saw how everything was beautiful as it had its proper place in the kingdom of God.
'And God saw that it was good.' It is not to the eyes of God that things made by Him afford pleasure, nor in Hus approbation of beautiful objects such as it is with us; but, beauty is that which is brought to perfection according to the principle of art and which contributes to the usefulness of its end. He, therefore, who proposed to Himself a clear aim for His works, having recourse to His own artistic principles, approved them individually as fulfilling His aim.[2]
St. Basil, therefore, indicated that God saw all things in accordance to the principle they were made, a principle which is shown by its innate beauty, a beauty revealing that everything has its own artistic nature and quality. The more we engage the arts, the more we produce works of beauty in the world, the more we embrace the generative quality of love associated with the creation of the world, and so the more we can be said to fulfil our nature as we reflect the image and likeness of love in ourselves. The more we create, the more we beautify the world through our creations, the more we lift things up, the more we give our love back to God, praising God in and through the beauty which we establish. The more we do so, the more we become like God, because we end up participating in God's creative love. It is through our engagement with that creative love, we can be said to participate in the one great eternal liturgy, the one great song, so that even without words, even in silence, as St. Maximos the Confessor said, we sing praise to God (which, of course is doubly true to those who bring and establish music for others to hear and listen to):
For all the creations that fill the world sing hymns of praise to God and glorify Him in words of eloquent silence. And their hymn becomes ours, 'since it is from them that I take my hymn of praise,' says Gregory, who bears the name of Theologian.[3]
Love is truly at the core of our faith, which is why faith without love is not proper faith. We are to draw out the love found within ourselves, and embrace it, engaging all of its aspects. Certainly, some of us will find various aspects of it easier to embrace than others, and this, it can be said, represents our own unique personality and appropriation of love. But we should find that all we do in and through love connects with every other aspect of love in some way. All forms of love, all the ways it can be expressed, have value and help make the world better. All of its forms are important and need to be expressed so that the world can manifest and reveal the plentitude of God's love. We need all of  its forms in the world so that the world can be full of love. We might not have musical talent. We might not have artistic talent in the conventional sense. But we continue to beautify the world with love if we act upon it. In that sense, we are all artists, but some of us are called to specialize in the arts, to make their lives one which embraces the arts, and we should embrace them, helping them realize their innate talent, glorifying in and with them the way they beautify the world, and through it, provide a form and quality of love which we all need.
---
[1] Sergius Bulgakov. Spiritual Biography. Trans. Mark Roosien and Roberto J. De La Noval (Brooklyn, NY: Angelico Press, 2022), 57, [5/18.IV.1924].
[2] St. Basil the Great,  "Hexaemeron" in Saint Basil: Exegetic Homilies. Trans. Agnes Clare Way, CDP (Washington, DC: CUA Press, 1963), 53.
[3] St. Maximos the Confessor, On Difficulties in Sacred Scripture: The Responses to Thalassios. Trans. Fr. Maximos Constas (Washington, DC: CUA Press, 2018), 313.
Stay in touch! Like A Little Bit of Nothing on Facebook.
If you liked what you read, please consider sharing it with your friends and family!