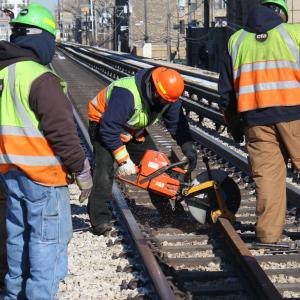 Despite the ever-increasing profits made by railway companies, American rail workers have to endure ever-worsening work conditions. They are over-worked, as their employers, the rail companies, have decided to reduce the number of workers they employ desire the fact that their profits have not declined, but instead, has been consistently growing. And so, many rail workers, feeling themselves to be mistreated by their bosses, because rail companies are more interested in the bottom dollar than anything else, are planning to go on strike. When listening to their spokespersons, such as Ross Grooters, explain what they want, it is clear they have a just cause for going on strike:
Labor cuts, lack of paid days off, precision scheduling systems to reduce headcounts, disciplinary attendance policies that issue points against workers for any time taken off and unfair and punishing on-call schedules have made it more difficult to continue working in the railroad industry, said Grooters, and workers claim these issues aren't being addressed in proposed new union contract agreements. [1]
Rail workers are finding that they are being denied basic rights; they are being denied the ability to take time off to deal with sickness or to go to the funeral of a loved one. If they do take time off, they risk being fired:
One conductor said he nearly missed his wife's funeral because he couldn't get time off. An engineer said he was put on a disciplinary path after having to stay home to fix a broken water heater. Other freight train workers blamed the industry's on-call, 24/7 scheduling requirements for health problems and divorces — a lifestyle they said had turned one of the best-paying blue-collar jobs in the country into one marred by misery and neglect.[2]
The rail workers are right. They should be given these things. They should be able to have a day of rest without being worried that they are on call, making it impossible for them to do what they need to do for themselves. This, after all, is one of the many lessons we are meant to get from Scripture, for in it, we find God rested on the seventh day as a way to indicate we should all get such rest.
"Woe to him who builds his house by unrighteousness, and his upper rooms by injustice; who makes his neighbor serve him for nothing, and does not give him his wages" (Jer. 22:13 RSV). While money should be a part of those wages, it should not be seen as the only thing workers are given for their labor. Workers should be shown human dignity, dignity which guarantees them basic rights and when those rights are violated, they not only should complain, but if need be, to orchestrate a strike:
One method used by unions in pursuing the just rights of their members is the strike or work stoppage, as a kind of ultimatum to the competent bodies, especially the employers. This method is recognized by Catholic social teaching as legitimate in the proper conditions and within just limits. In this connection workers should be assured the right to strike, without being subjected to personal penal sanctions for taking part in a strike. While admitting that it is a legitimate means, we must at the same time emphasize that a strike remains, in a sense, an extreme means. It must not be abused; it must not be abused especially for "political" purposes. Furthermore it must never be forgotten that, when essential community services are in question, they must in every case be ensured, if necessary by means of appropriate legislation. Abuse of the strike weapon can lead to the paralysis of the whole of socioeconomic life, and this is contrary to the requirements of the common good of society, which also corresponds to the properly understood nature of work itself. [3]
The fall-out of a rail worker's strike would, for sure, but great, as the supply chain in the United States would be disrupted: "A shutdown of the nation's rail system could cost $2 billion a day, according to an industry estimate, and we've already seen what backed up ports do to the economy."[4] But, because they have not worked with a proper contract for years, and they find that, despite constant attempts to get their work situation improved, their complaints have been routinely ignored, it can be said rail workers truly have no other options but to strike. If a strike happens, their employers are at fault, and should be expected to pay the price.
To be sure, what happens with the rail workers will have consequences beyond them; if they lose their rights, if they are not victorious here, other companies will follow the example given by the rail industry and will use workers in the same way, denying them also their basic right. Pressure must be applied to rail companies to rectify the situation, and the sooner, the better. This is one of the many ways we can follow through with what Pope Francis said we should do in wake of the COVID-19 pandemic:
In our haste to return to greater economic activity, at the end of the Covid-19 threat, let us avoid the past fixations on profit, isolation and nationalism, blind consumerism and denial of the clear evidence that signals discrimination against our "throwaway" brothers and sisters in our society. On the contrary, let us look for solutions that will help us build a new future of work based on decent and dignified working conditions, that originate in collective negotiation, and that promote the common good, a phrase that will make work an essential component of our care for society and Creation. In this sense, work is truly and essentially human. That is what it is about, being human.[5]
This, sadly, is the opposite of what the rail companies have tried to do. They have made record profits; instead of seeing that means they hold a greater responsibility to take care of their workers, they have used the power of their wealth to further hinder their workers' rights. If things are not worked out soon, the strike is necessary, if only to rectify the imbalance which has been set up between rail companies and their employees. If they don't strike, or if they are not successful with their strike, the situation will only get worse, and we will see economic gains only lead to worsening labor conditions, not just for them, but everyone.
Unions serve society by protecting workers from economic exploitation, and now, more than ever, unions need to form and address the changing economic landscape. We, as a society, need to stand with unions. While we should care for others, and that should be reason enough to stand in support with the rail workers and their unions, for those who need other reasons to do so, all they need to see is that if they do not stand in support of unions now, then they might have to face the fact that they could be the next ones to be dehumanized. Thus, as Pope  Francis said, social protections help deal with the challenges of the times, and unions help promote such protections:
Social protection systems have been called upon to meet many of the challenges of the crisis, and at the same time their weak points have become more evident. Lastly, protection of workers and of the most vulnerable must be ensured through the respect of their fundamental rights, including the right to unionize. That is, joining a union is a right. The Covid-19 crisis has already affected the most vulnerable, and they should not be negatively affected by measures to accelerate a recovery that is focused solely on economic indicators. Or rather, here we also need a reform of the economic system, a deep reform of the economy. The way of advancing the economy must be different, it must also change. [6]
COVID19 has certainly shown us how interdependent society is. Sadly, many have taken advantage of the pandemic and used it as a means to get rich on the suffering of others. The rail companies are an example of this. Their workers have legitimate grievances. Let us support them, making sure that they get contracts which recognize their basic rights. Let us promote contracts which will highlight the changes which need to be made, not just with the rail companies, but in society in general.
What Pope St. John Paul's II  said in Laborem Exercens remains as true today as they were when he first wrote them:
For this reason, there must be continued study of the subject of work and of the subject's living conditions. In order to achieve social justice in the various parts of the world, in the various countries, and in the relationships between them, there is a need for ever new movements of solidarity of the workers and with the workers. This solidarity must be present whenever it is called for by the social degrading of the subject of work, by exploitation of the workers, and by the growing areas of poverty and even hunger. The Church is firmly committed to this cause, for she considers it her mission, her service, a proof of her fidelity to Christ, so that she can truly be the "Church of the poor". And the "poor" appear under various forms; they appear in various places and at various times; in many cases they appear as a result of the violation of the dignity of human work: either because the opportunities for human work are limited as a result of the scourge of unemployment, or because a low value is put on work and the rights that flow from it, especially the right to a just wage and to the personal security of the worker and his or her family.[7]
The plight of the rail worker is the plight of every worker. Their needs are our needs, even as our needs are their needs. Their complaints are just. Let us work with them to make sure that their just demands are truly met.
—
CNBC: UPDATE (9-15-2022) 5:15 AM President Biden Says A Tentative Agreement Has Been Made. Hopefully, this deal gives the workers what they need and it sticks. If it does, this is a good thing, but all that was written in support of the rail workers, the reasons why they might go on strike, remain valid, and need to be remembered in the future. These issues will remain with us until we, as a society, truly get behind the workers and their rights.
---
[1] Michael Sainato, "US Railroad Workers Prepare For Strike As Rail Companies See Record Profits" In The Guardian (9-14-2022).
[2] Eli M. Rosenberg, "Rail Workers Push To Strike. Here's Why They're Angry," in NBC News (7-19-2022).
[3] St. John Paul II, Laborem Exercens. Vatican translation.  ¶20.
[4] Emily Peck, "Possibility Of Railway And Port Strikes Threaten Supply Chain Recovery"  in Axios (9-12-2022).
[5] Pope Francis, "Video Message Of The 109th Meeting Of The International Labour Organization (ILO)" (6-17-2021).
[6] Pope Francis, "Video Message Of The 109th Meeting Of The International Labour Organization (ILO)."
[7] St. John Paul II, Laborem Exercens, ¶8.
Stay in touch! Like A Little Bit of Nothing on Facebook.
If you liked what you read, please consider sharing it with your friends and family!