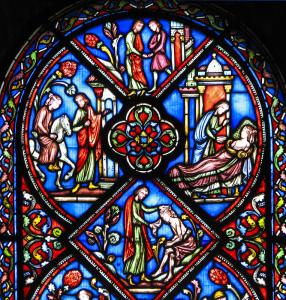 Paul, writing to the Ephesians, also writes to us, telling us that we are called to be one with each other, and also, of course, with God. He makes it clear such unity is established in and through Jesus, through the grace of baptism (a grace, which, of course, can be had through baptism, or through other means). It is in him and through him we rise up and find ourselves becoming children of God:
I therefore, a prisoner for the Lord, beg you to lead a life worthy of the calling to which you have been called,  with all lowliness and meekness, with patience, forbearing one another in love, eager to maintain the unity of the Spirit in the bond of peace. There is one body and one Spirit, just as you were called to the one hope that belongs to your call, one Lord, one faith, one baptism,  one God and Father of us all, who is above all and through all and in all (Eph. 4:1-6 RSV).
That spirit of unity is something which is to be maintained, and indeed, lived out. We are to become workers of peace, helping to restore the bonds of unity which sin has broken down or destroyed. The Spirit is sent out into the world to bring everyone, indeed, everything, together as one. We resist the Spirit when we work against establishing such unity in the world. The more we are hostile to others, the more we find ourselves departing from our calling as followers of Christ.
True evangelism is more than merely preaching dogmas and doctrines, hoping to convince others to believe what we believe, in the way we believe it; rather it is finding a way to work with others, engaging them with the spirit of love so that we become drawn together and the division which lies between us is overcome.  Ecumenism, inter-religious dialogue, in this way, both serve evangelism, as they work to bring better understanding and cooperation among people of different Christian communities or different faiths. They are instruments of peace, so that through them, we can bring a little more peace to the world. If we ignore such peace-building, we ignore a part of what makes Jesus the Christ, for as the Christ, he is the prince of peace. If we are to engage his kingdom (which is not merely of the world, but finds its way in into the world to lift it up and participate in kingdom of God), we must embrace peace and the love which works to establish that peace. That means, we truly must take Jesus' parable of the Good Samaritan seriously; if we are to love, we must be like the Good Samaritan, caring for others when we find them in need, without consideration of their religious orientation or the rules and obligations which might seem to get in the way:
But he, desiring to justify himself, said to Jesus, "And who is my neighbor?" Jesus replied, "A man was going down from Jerusalem to Jericho, and he fell among robbers, who stripped him and beat him, and departed, leaving him half dead.  Now by chance a priest was going down that road; and when he saw him he passed by on the other side. So likewise a Levite, when he came to the place and saw him, passed by on the other side. But a Samaritan, as he journeyed, came to where he was; and when he saw him, he had compassion, and went to him and bound up his wounds, pouring on oil and wine; then he set him on his own beast and brought him to an inn, and took care of him. And the next day he took out two denarii and gave them to the innkeeper, saying, `Take care of him; and whatever more you spend, I will repay you when I come back.'  Which of these three, do you think, proved neighbor to the man who fell among the robbers?" He said, "The one who showed mercy on him." And Jesus said to him, "Go and do likewise" (Lk. 10:29 – 37 RSV).
So many people use religion as a tool to ignore the plight of others, or worse, to excuse themselves from taking care of others, thinking that they must fulfill their normative religious obligations first and help others only after those obligations are fulfilled. However, Jesus showed us that this is the wrong way of looking at things. Christians should take note; while their religious obligations can be significant, they are not absolute, which is why there can be and are many reasons why they legitimately might not fulfill some of them. Forcing people to ignore the greater good, and so cause people to needlessly suffer or worse, die, in order to engage some particular religious ritual misses the mark as it fails to understand what religion is about and the relative value such rituals have. Legalism, which looks at the rules as absolute, gets in the way of the power and spirit of religion, which is something Jesus wanted us to understand through this story. We must be good to our neighbor, looking after them, helping them, promoting them and the common good, if we are to truly follow Jesus, and in this way, we fulfill our calling, building those relations we need with others in order to become one with them.  We are called to meditate on the law, that is, as Jerome said, to be its doers, not just listeners, and in this way, our actions become prayers, which is why it can be said, we fulfill  our liturgical or religious obligations, when we follow the example of the Good Samaritan, and help those who come before us instead of ignoring them so we can rush off to some church service:
Meditation on the law does not consist in reading, but in doing as the Apostle says in another place: 'Whether you eat or drink, or do anything else, do all for the glory of God.' Even if I merely stretch forth my hand in almsgiving, I am mediating on the law of God; if  I visit the sick my feet are meditating on the law of God; if I do what is prescribed, I am praying with my whole body what others are praying with their lips.[1]
Jesus calls us to love one another so that we can come together and be one. It is in such unity we will find ourselves experiencing the reality of the kingdom of God,  the reality in which we learn that God is all in all. Jesus said his kingdom is not of this world, that is, not experienced in the ordinary, fallen mode of being which we have grown accustomed to seeing and experiencing in our lives. The kingdom of God is eternal. Jesus reigns eternally. We have lost sense of it, but Jesus has come to us so we can have that sense restored back to us. Jesus guides us so that, if we follow what he has told us to do, we will slowly find ourselves seeing beyond the way things appear under the mantle of sin, in the division which keeps all things separate. That is, we will slowly begin to see how all things are one in God's reign. In that unity, we will be one with Jesus. We will experience and realize the treasury of blessings given to us by the Spirit. We will be partakers of the divine energies, including and especially that of peace. But, if we want this, if we want to see the kingdom of God, we must follow the lesson Jesus gave with the good Samaritan. We can't justify ourselves by saying we are good people who know we are to love others – we must do it. The more we love, the more we will cast aside sin and find ourselves united to everyone, and everything else, and in that unity, find the real, lasting, peace and joy of the kingdom of God.
---
[1] St. Jerome, The Homilies of Saint Jerome: Volume I (1-59 On the Psalms). Trans. Marie Liguori Ewald, IHM (Washington, DC: CUA Press, 1963), 6 [Homily 1].
Stay in touch! Like A Little Bit of Nothing on Facebook.
If you liked what you read, please consider sharing it with your friends and family!