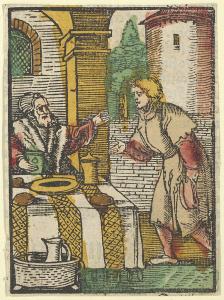 While the great eschatological feast is yet to come, it is also something which we can participate in, now, in our present, temporal existence, thanks to the incarnation and the way it immanentized the eschaton. The liturgical celebration of the eucharist has us partake of the immanent eschaton. We will fully awaken to and realize all that we have experienced and participated in only when we find ourselves drawn beyond our own temporal existence, beyond time itself, that is, drawn into eternity through the eschaton.  Some of us are much more aware of our present-day connections to the eschaton than others, which is why we have different responses and reactions to communion. Some, through their experience, become mystics, and find themselves more drawn out of time. Others barely sense anything but the accidents they receive; they are more entrenched in time, barely able to perceive the spiritual reality upon which they commune. The more we can sense, with our spiritual senses, what we receive, the glory which we partake of, the more we will realize it transforms us,  making us into that which we partake. That is, through the eucharist, and other forms of communion with Christ, we become one with Christ. This is how and why it can be said, in the eschaton, we will be appearing with him in glory. "When Christ who is our life appears, then you also will appear with him in glory" (Col. 3:14 RSV). We are to be partakers of the divine nature. It already surrounds us, but we must open ourselves to it, to let it into us so we can deified by it, whereupon, we will experience (as much as we can) the divine glory for us. In this fashion, Paul tells us, to experience that glory, we must cast aside all those things which will keep us merely engaged with our material senses – we must, as it were, detach ourselves from our earthly cares so that we can slowly come to experience and realize the spiritual senses which we have but have otherwise become atrophied:
Put to death therefore what is earthly in you: fornication, impurity, passion, evil desire, and covetousness, which is idolatry. On account of these the wrath of God is coming. In these you once walked, when you lived in them.  But now put them all away: anger, wrath, malice, slander, and foul talk from your mouth. Do not lie to one another, seeing that you have put off the old nature with its practices  and have put on the new nature, which is being renewed in knowledge after the image of its creator (Col. 3:5-9 RSV).
Paul must not be read as a Gnostic denying the good of material (earthly) being; rather, he is pointing out that we should not be so attached to material existence that we cannot have a healthy, holistic balance between our it and our spiritual being. Indeed, it is our present unbalance which has made it difficult for us to use our spiritual senses. The fall, as it were, has had us become so attached to material being, and the pleasures within it, we have detached ourselves from our spiritual senses. This is why material being has become all that we know and appreciate. And then, we find our focus becomes narrower still, as we engage material being, looking for particular goods within it, goods which we can and will enjoy, goods which we embrace in a way which leads us away from the greater, holistic good. The more we become entrenched to particular goods in material being, apart from the greater good, the more we deaden our spiritual senses, making them that much more difficult to revive. Thus, we can read Paul as indicating that we should cut ourselves off from such undue attachments, especially to the particular, lesser goods which we have let become our focus, and slowly allow ourselves to grow in our awareness of the greater good. Then, through that growth, will hopefully will find ourselves moving beyond mere earthly attachments and once again opening ourselves up to our spiritual senses. If that happens, then we can truly embrace the fullness of our being, partaking of both material and spiritual realities. We will be able to perceive God much better, as we will be able to apprehend more of the ways in which God is at work, both in the material world, and in the overarching spiritual world in which the material world is formed. Of course, there is the possibility, as the Gnostics showed, that we can become so attached to the spiritual senses, we lose sight of our material being, causing similar problems, though in an inverted way, which is why we must not deny the good of our material being either.
The eschatological feast, therefore, is something we have been called to experience, and can and do experience. But as we join in with it, we are  to share it with others, encouraging them to join us at that feast, letting them know that they are welcome to it. Those who are high minded and proud might, so long as they remain with that frame of mind, reject the call to the feast; if they do, we should not worry, they can be asked again later; we should just go on, encouraging others, anyone and everyone, to come with us, and partake of the eschatological feast, if they so wish. This, then, is what Jesus wanted us to understand – everyone is called; there is no one, however low they might seem to be, who will not be welcomed to the feast, so long as they come, ready to receive it:
But he said to him, "A man once gave a great banquet, and invited many; and at the time for the banquet he sent his servant to say to those who had been invited, `Come; for all is now ready.' But they all alike began to make excuses. The first said to him, `I have bought a field, and I must go out and see it; I pray you, have me excused.'  And another said, `I have bought five yoke of oxen, and I go to examine them; I pray you, have me excused.'  And another said, `I have married a wife, and therefore I cannot come.'

So the servant came and reported this to his master. Then the householder in anger said to his servant, `Go out quickly to the streets and lanes of the city, and bring in the poor and maimed and blind and lame.' And the servant said, `Sir, what you commanded has been done, and still there is room.' And the master said to the servant, `Go out to the highways and hedges, and compel people to come in, that my house may be filled. For I tell you, none of those men who were invited shall taste my banquet' (Lk. 14:16 – 24 RSV).
All can be and will be called to partake of and receive the glory shared in the eschatological feast. However, we must not become complacent. We are called. We can receive. But if we close ourselves off to it, if we do not engage the path to properly receive it, if we find excuses to ignore doing what Jesus wants of us, if we fail to live out the dictates of love, we risk losing everything. We are not to presume that once we have been called, we will receive the reward which is being offered, because of course, if we don't answer the call, if we hinder the reception of what is being offered, we  might not get it.  But, of course, once we find ourselves in the highways and hedges, we might once again find Jesus and his friends looking for us, calling us, encouraging us to come to the feast, and then, hopefully, thanks to our time outside, we will come and receive our share of the eschatological glory which God wants us to have.
Stay in touch! Like A Little Bit of Nothing on Facebook.
If you liked what you read, please consider sharing it with your friends and family!