Ivermectin has been vilified in the mainstream media as a horse drug, while the FDA has issued warnings against using it for treating Covid-19. The drug came to popular attention in early September 2021, when influential podcast host Joe Rogan revealed that he "took ivermectin, among other drugs, to treat COVID-19 after testing positive for the virus. Rogan said he felt 'great' after taking ivermectin and monoclonal antibodies to combat his COVID-19 symptoms."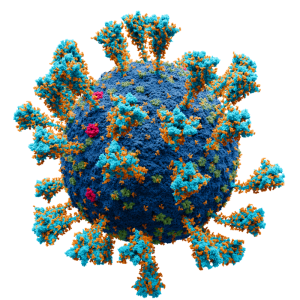 Scientifically accurate atomic model of the external structure of the SARS-CoV-2. Each "ball" is an atom.  …  Color legend:   cobalt — membrana   turquoise — spike glycoprotein (S)   crimson — E protein   green — M protein.   orange — glucose 1.
I am not a medical professional so the following is purely a personal testimony and should not be construed as medical advice.
In mid-December, 2021, I caught what I believed was a rather nasty flu. I was coughing up phlegm, had a wretchedly sore throat and was very tired, napping constantly. However, my sense of smell and taste were just fine. After two weeks, my throat was a little less sore, but I still felt sick. New Year's Eve was rapidly approaching, and I felt that I should get tested. To my surprise, I tested positive.
The Urgent Care doctor who brought me the bad news advised me to take Vitamin C, Vitamin D and Zinc. I had already been taking this "holy trinity" for many months and felt that it was very beneficial for my immune system. The doctor wanted me to quarantine for 5 days and self-treat at home, drink lots of fluids, and only consider going to the Emergency Room if I had trouble breathing.
I had recently added Quercetin to my holy trinity as I knew it had been extensively used in Thailand as part of treatment for Covid-19. In the interests of transparency, I should add that I was also taking oregano oil, elderberry syrup, aspirin and melatonin.
The day after I tested positive for Covid-19, I started on a course of Ivermectin – 12mg a day for 5 days. It was an American made human-grade version of the drug. My Ivermectin treatment was exactly the same length as my quarantine period which made monitoring much easier than it would've been otherwise.
So, how would I evaluate my Ivermectin experience? It's definitely not a magical overnight cure. However, I felt that it accelerated my body's healing.
Would I recommend Ivermectin to others? Yes, so long as the recommended human dosages are adhered to, and you have a mild case that can be treated at home. It is a very safe drug, and there are numerous people have had beneficial experiences with it. It is widely available overseas and has been used extensively in third world countries where vaccination rates have been low.
I feel that given how many people are testing positive for the Omicron variant, it makes sense to have these people return to full health as quickly as possible. Taking Ivermectin during the 5 day quarantine period would mean a rapid return to productivity and minimal disruption to the economy.
Washington Examiner's take on Ivermectin
On September 03, 2021, The Washington Examiner stated:
"Ivermectin is a drug used to treat infections caused by parasites, such as river blindness and intestinal problems caused by roundworms.
Scientists who developed ivermectin won the Nobel Prize in Physiology and Medicine in 2015, when the foundation said the drug 'revolutionized therapy for patients suffering from devastating parasitic diseases.'
In fact, the Centers for Disease Control and Prevention recommends refugees coming to the United States from most parts of the world take ivermectin as a 'presumptive therapy.'  …
Versions of ivermectin are also used to deworm livestock, which has caused confusion and fueled political commentary about the use of the drug.
Inspired by the growing public discussion of ivermectin, some people have attempted to purchase the animal version of it, which is more readily available than the type prescribed by doctors to humans."
Evidence for the benefits of Ivermectin in treating Covid-19
There are a number of scientific studies of the anti-viral effects of Ivermectin including A five-day course of ivermectin for the treatment of COVID-19 may reduce the duration of illness:
"Ivermectin, a US Food and Drug Administration-approved anti-parasitic agent, was found to inhibit severe acute respiratory syndrome coronavirus 2 (SARS-CoV-2) replication in vitro. A randomized, double-blind, placebo-controlled trial was conducted to determine the rapidity of viral clearance and safety of ivermectin among adult SARS-CoV-2 patients.  …  There were no severe adverse drug events recorded in the study. A 5-day course of ivermectin was found to be safe and effective in treating adult patients with mild COVID-19. Larger trials will be needed to confirm these preliminary findings."
This article has links to numerous other studies showing how promising Ivermectin is.
Success of Ivermectin in Uttar Pradesh
On May 12, 2021 The Indian Express reported that:
"'Uttar Pradesh was the first state in the country to introduce large-scale prophylactic and therapeutic use of Ivermectin. In May-June 2020, a team at Agra, led by Dr Anshul Pareek, administered Ivermectin to all RRT team members in the district on an experimental basis. It was observed that none of them developed Covid-19 despite being in daily contact with patients who had tested positive for the virus,' Uttar Pradesh State Surveillance Officer Vikssendu Agrawal said.
He added that based on the findings from Agra, the state government sanctioned the use of Ivermectin as a prophylactic for all the contacts of Covid patients and later cleared the administration of therapeutic doses for the treatment of such patients.
Claiming that timely introduction of Ivermectin since the first wave has helped the state maintain a relatively low positivity rate despite its high population density, he said, 'Despite being the state with the largest population base and a high population density, we have maintained a relatively low positivity rate and cases per million of population'."
Attack on Invermectin by the BBC
Ivermectin was attacked on October 6, 2021, by the BBC, who uploaded an article, Ivermectin: How false science created a Covid 'miracle' drug:
"Ivermectin has been called a Covid 'miracle' drug, championed by vaccine opponents, and recommended by health authorities in some countries. But the BBC can reveal there are serious errors in a number of key studies that the drug's promoters rely on.
For some years ivermectin has been a vital anti-parasitic medicine used to treat humans and animals.
But during the pandemic there has been a clamour from some proponents for using the drug for something else – to fight Covid and prevent deaths.
The health authorities in the US, UK and EU have found there is insufficient evidence for using the drug against Covid, but thousands of supporters, many of them anti-vaccine activists, have continued to vigorously campaign for its use."
Three days later, on October 9, 2021, Dr John Campbell uploaded a video, titled "Debunking the BBC debunk of ivermectin." In their zeal to debunk Invermectin, the BBC had uploaded a paper where the "lead author" was still a student, and two of the studies quoted therein as references had been withdrawn.
I have to admit that this video came as a shock to me, as I'd always considered the BBC to be one of the few gold standards of journalistic excellence.
Quoting again from the Washington Examiner,
"Many on the Left have questioned the promotion of any COVID-19 therapeutic, even ones that have proven effective against the virus, such as monoclonal antibody drugs, because they argue unvaccinated people will avoid getting vaccinated if they mistakenly believe COVID-19 has a cure."
So, here we have a rabbit hole leading to a wonderland of alternative healing modalities discretely promulgated by fringe practitioners. The mainstream medical protocol is being promoted by vaccine manufacturers who are profiting handsomely from the pandemic. Many lawmakers have enjoyed generous payments from Big Pharma. We all have to decide who we feel is more credible.
FDA Warning
The FDA warns against using Ivermectin, yet grudgingly admits that clinical trials are ongoing in Why You Should Not Use Ivermectin to Treat or Prevent COVID-19
"Currently available data do not show ivermectin is effective against COVID-19. Clinical trials assessing ivermectin tablets for the prevention or treatment of COVID-19 in people are ongoing.
Taking large doses of ivermectin is dangerous."
The photograph accompanying the FDA warning not-so-subtly portrays one healthcare professional treating a horse, while another treats a human, thereby suggesting that Ivermectin should only be considered a veterinary drug and avoided by humans.
Bottom Line
In the end, those of us who test positive are left with a choice as to whether we should incorporate Ivermectin into our treatment protocols. Do we lean towards the promising overseas research or do we accept the FDA's recommendation of avoiding it? I made my choice, what will yours be?
Tony Mierzwicki
Author of Hellenismos: Practicing Greek Polytheism Today and Graeco-Egyptian Magick: Everyday Empowerment.