An important part of Shinto worship within the home is the offering of Shinto prayers, or norito, to the kami (deities). But this can be tricky for non-Japanese Shintoists, as norito are written in Japanese. Moreover, norito use rather archaic and poetic Japanese that's even trickier, and they're also intoned in a particular rhythmic, sing-song style that can be hard to imitate.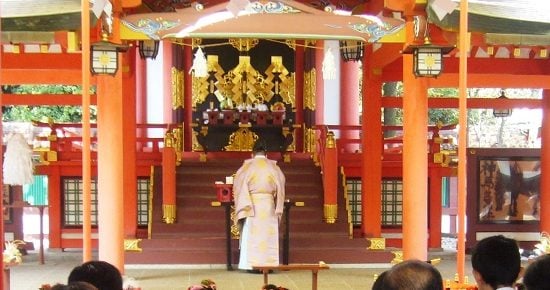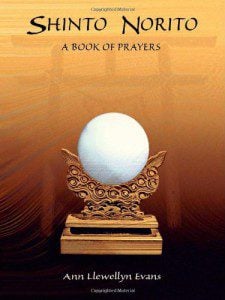 One way to get round this is to say the norito in your own language. I see nothing wrong with this at all – I think it's good to speak to the kami in the language that is closest to your heart. I find the English translations in Shinto Norito: A Book of Prayers, a book by ordained Shinto priestess Ann Llewellyn Evans that I highly recommend, to be particularly beautiful.
But as I can speak Japanese, I do like to say norito in their original language (as well as in English). For me, saying the norito in their original language is a way of honouring and remembering Shinto's Japanese origins, as well as being a form of spiritual discipline – it's much harder to memorise a norito in Japanese than in English, so to make the effort to do so is an act of devotion. One norito I would recommend to those starting out in Shinto or who are not so confident with Japanese is the "Hi-Fu-Mi" norito. The norito is this:
ひ ふ み よ い む な や  こ と も ち ろ ら ね
し き る ゆ ゐ つ わ ぬ そ を た は く め か
う お ゑ に さ り へ て の ま す あ せ え ほ れ け
In romanised Japanese, this is:
HI FU MI YO I MU NA YA KO TO MO CHI RO RA NE
SHI KI RU YU I TSU WA NU SO O TA HA KU ME KA
U O E NI SA RI HE TE NO MA SU A SE E HO RE KE
I think this is one of the most accessible norito for several reasons. Firstly, it's quite a lot shorter than many other norito. Secondly, it consists only of syllables (in fact, all of the major Japanese syllables occurs once without repetition) and has no real words, although many Shintoists attribute particular meanings to individual or groups of syllables (the first ten syllables, for example, can be translated as the numbers 1-10). This makes it much easier to recite in a rhythmic manner. Finally, it's usually only written in phonetic hiragana characters rather than ideographic kanji characters, which is especially welcomed as the kanji used in most norito are typically much more difficult to read than those in regular modern Japanese.
If you want to know what the Hi-Fu-Mi norito sounds like, you can hear it being recited here.
The Hi-Fu-Mi norito is considered a prayer of purification, with the power of changing misfortune into good fortune. I therefore like to intone the Hi-Fu-Mi norito before conducting rituals (including Neopagan ones) as a way of purifying the ritual space. I've even chanted Hi-Fu-Mi when leading rituals with my local moot. I was leading our moot's Imbolc ritual this year, and before it began, there seemed to be a lot of funny, hyperactive energy flowing around the circle. We all had trouble remembering where North was (we'd just changed our usual venue for moots and didn't had a compass), and eventually we all got the giggles and couldn't settle down. Seeing this, I made the decision to open the ritual by intoning Hi-Fu-Mi. This really seemed to calm the energy down and bring focus back to the ritual.
If you would like to honour the kami, be they specific, named kami or the myriad kami all around us, reciting the Hi-Fu-Mi norito is a fantastic way to do so. And if you're like me, you'll probably find it a really soothing, meditative ritual as well.