You do not need to live in Japan in order to follow Shinto. Shintoists around the world have found many different ways of honouring the kami from within their own country. Some simply spend time in nature and use the opportunity to express gratitude to the kami.
But it's still the case that Japan is the heartland of the Shinto religion. What's more, kami tend to have a greater connection to a specific place than deities usually encountered in Neopaganism. Shintoists therefore place a high emphasis on ritual items that originate from a specific shrine dedicated to a specific kami, as items such as ofuda are believed to literally contain the kami's essence.
That's why many Shintoists will still prefer to have some sort of connection to a Shinto shrine, even though for those living overseas this presents obvious challenges.
Fortunately, as worldwide interest in Shinto grows and better technology means that communication between countries gets faster and more efficient, more and more ways have appeared to enable Shintoists around the world to connect with kami in Japan.
Let's explore some of the options now available for international Shintoists.
#1 Private third-party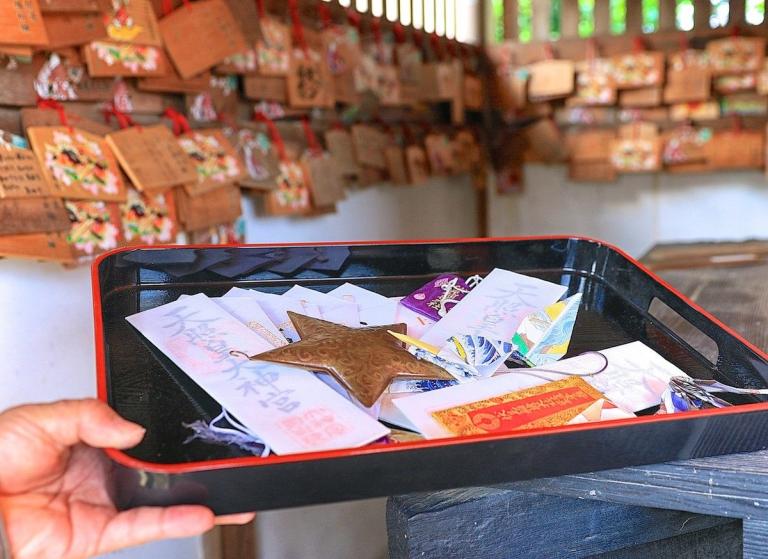 One of the simplest ways of acquiring items like ofuda, kamidana (household shrines) and omamori (protective charms) is to buy them from an international private trader. There are a few traders who specialise and selling and shipping Shinto items to customers overseas. One I regularly use is the ebay seller Yappari-Japan, who offers a wide variety of items from some of Japan's most important shrines. Yappari-Japan will even take your old ofuda and omamori to be ritually cremated each new year at no extra cost.
This is a particularly easy route for international Shintoists because there's no language barrier, and because Ebay's payment system makes the whole process very smooth. However, this method isn't considered ideal. Some Shintoists think it's wrong to buy sacred items like ofuda from a third party rather than directly from the shrine itself. It is certainly true that while this method will deliver the goods, it won't necessarily give you that real sense of belonging to a shrine community and really connecting with the kami.
#2 Tsubaki Grand Shrine of America and Shusse Inari Shrine of America
Another way to connect with the kami without the issues of the language barriers is to connect with a shrine based overseas. Recognised Shinto shrines in other countries will be connected to a parent shrine back in Japan.
There are a handful of Shinto shrines outside Japan, but the one that's probably the most well-known and most accessible to most reader is Tsubaki Grand Shrine of America. Based near Seattle, this shrine is a direct branch of Tsubaki O Kami Yashiro in Japan's Mie Prefecture, one of the oldest shrines in Japan. Its principle enshrined kami are Sarutahiki no Ōkami, kami of justice and guidance and the head of all Earthly Kami, and Ame no Uzume no Mikoto, the kami of mirth who plays an important part in the Shinto myth of the rock cave. Established in 2001 via the merger of two shrines, Tsubaki Grand Shrine of America performs many of the functions one would expect of a shrine in Japan: Shinto ceremonies, wedding ceremonies, and selling items such as ofuda. It's also possible to join Tsubaki Grand Shrine as a member of their kō (worship group).
I have not become a member of Tsubaki Grand Shrine's kō, but I have donated to a fund to build a new torii gate outside the small hokora (sub-shrine) for Uga Mitama no Ōkami within the shrine precinct. This is because Uga Mitama no Ōkami is strongly identified with Inari Ōkami, the main kami I venerate.
I did however become a kō member of a new shrine that opened in Los Angeles in 2017: Shusse Inari Shrine of America. This shrine's parent is in Matsue in Japan, dating back to the 12th century. Unlike Tsubaki Grand Shrine, Shusse Inari Shrine doesn't really have a precinct (yet), so I thought it would be good to join them to give them some support in their early days. Additionally, Uka no Mitama no Kami, the Inari kami, is the principle deity of this shrine.
Joining Shusse Inari Shrine's kō from overseas (I'm in the UK) is a simple process; communication in English is fine, and they can accept PayPal. When I joined up, this is what I received: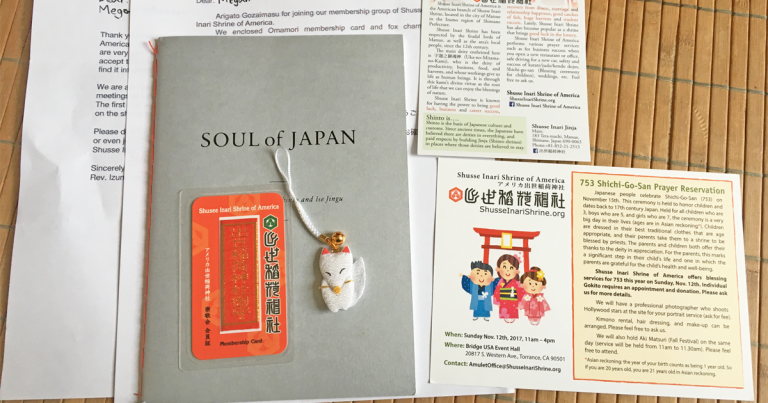 They sent a welcome letter, leaflets for the shrine and its upcoming events, an illustrated booklet produced by Ise Grand Shrine about Shinto, a membership card and a fox charm (the fox is the symbol of Inari). The membership card is rather special as it doubles up as an omamori: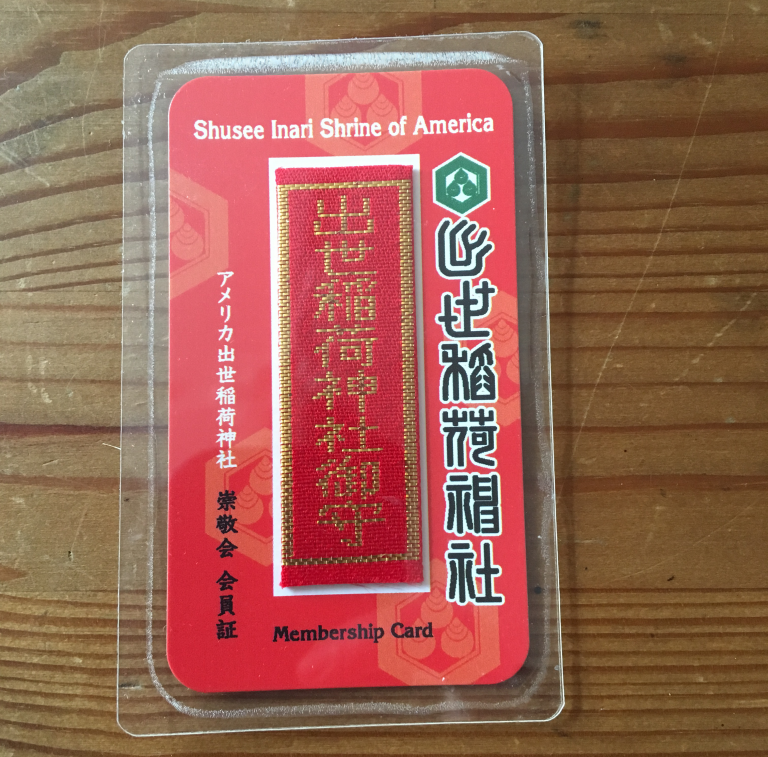 The shrine will also send members various communications and items throughout the year, including a special birthday message and gift!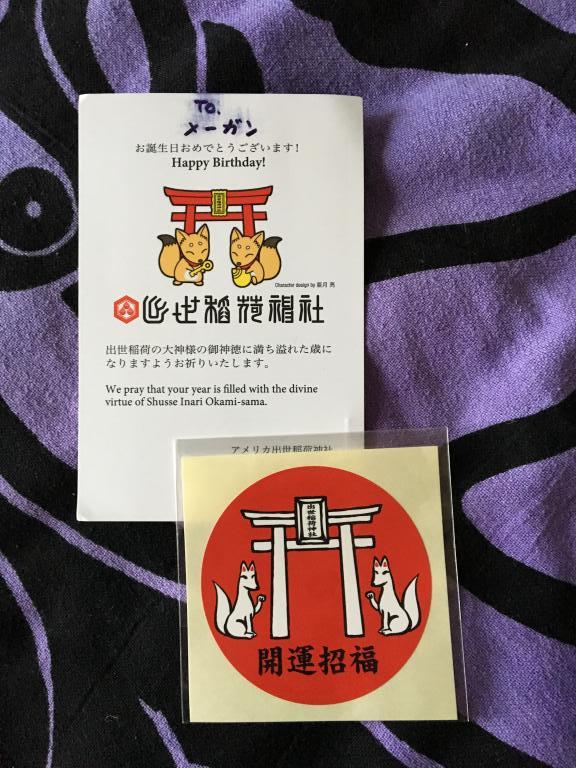 The only problem is, membership of Shusse Inari Shrine is rather pricey – and overseas members such as myself are charged more. Despite this, overseas members cannot easily participate in all the shrine activities, so they will not get their full money's worth. This could, however, be a worthwhile option for Shintoists based in LA.
#3 Other International Shrines
There are are shrines outside of Japan that may be better equipped for serving the needs of overseas Shintoists than the majority of shrines in Japan.  I haven't personally engaged with them but it might be worth a try as an alternative option. You can find a list of overseas shrines at the Green Shinto blog here; they are located in Hawaii, Holland, France, San Marino, Canada, and Brazil.
#4 Fushimi Inari Faith International Group
The newest and perhaps most exciting option out there is the Fushimi Inari Faith International Group, which enables overseas Shintoists to join the kō of Fushimi Inari Grand Shrine in Japan.
This is particularly exciting for Shintoists like myself who place a special emphasis on Inari Ōkami, because Fushimi Inari Grand Shrine is the kami's principle shrine.
Fushimi Inari Faith International Group was set up by Ema Matsubara, who holds a rank and teaching qualification from Fushimi Inari, and Gary Cox, a long-time devotee of Inari who also tends an enshrined wakemitama (essentially, the divided "soul" of Inari Herself). You can read an interview with Gary here.
Thanks to the combined teamwork of these two founders, people from all over the world can now join the Fushimi Inari kō without any barriers in language or international transactions. The membership fee is also very reasonable. This is what I received in my membership pack: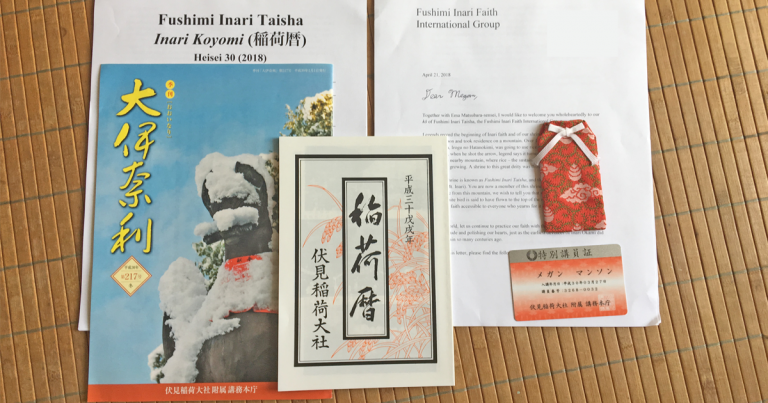 Gary has taken a great deal of time to put together English translations to go with the Japanese documents and booklets from the shrine, including the shrine calendar of important dates. The pack also includes a membership card and a very special omamori designed to last for life (most omamori need to be renewed every year).
For those who do not wish to pay for full membership of the Fushimi Inari kō, you can still join the Facebook group where you can get advice and information directly from the founders as well as access to materials such as norito (Shinto prayers).
Gary Cox has plenty of big plans for the Fushimi Inari Faith International Group, including getting officially established as a non-profit, so there's a lot to look forward to for international Shintoists!