Top stories in Paganism and Shinto for June 10th – 17th:
25,000 people expected for summer solstice at Stonehenge
Ancient doodle discovered on windowsill at Tintagel Castle is evidence of 'King Arthur's court'
Leading Shinto scholar discusses Ise Grand Shrine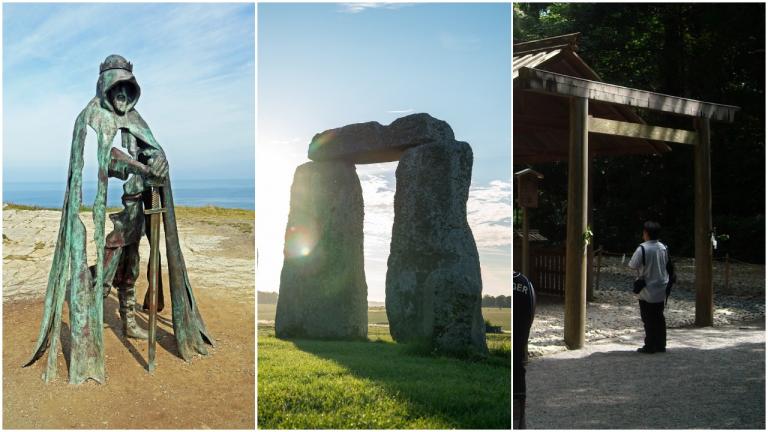 Read more below…
Pagan News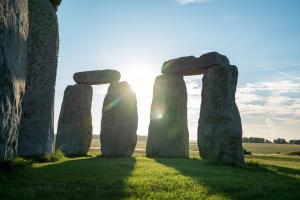 Somerset Live: 25,000 people expected for summer solstice at Stonehenge
Ahead of this year's Summer Solstice Somerset Live has compiled a list of everything you need to know if you are heading to Wiltshire…
The Wild Hunt: Doreen Valiente Foundation gains full charitable status
The Doreen Valiente Foundation has now attained full recognition as a charity, providing an opportunity to look back at Valiente's life, the work of the foundation, and its transition into charitable status.
iNews: Meet Arthur Uther Pendragon, the biker-turned-druid fighting for the soul of Stonehenge
iNews interviews renowned Druid Arthur Pendragon
BBC: The tarot revival thanks to Brexit, Trump and Dior
In the late 1970s, when Karen Vogel started to create tarot cards at her home in Berkeley, California, she couldn't have known that they would one day be featured on haute couture catwalks…
Vice: "These Occult Exorcists Say the Catholic Church Makes Demons Worse"
The Catholic Church attributes the rise of demonic activity to people dabbling in the occult, particularly through the use of tarot cards and Ouija boards…
The Wild Hunt: Reclaiming members urge Neopagans to defend the Berkeley Shellmound
hile Neopagans and native peoples practice earth-based forms of spirituality, these traditions have complicated cultural and political relationships…
The Wild Hunt: Documentary film depicts binding ritual on Trump, NRA
The inspiration for The Binding came when Foust, who had earned an undergraduate certificate in documentary film making from George Washington, saw news footage of Witches conducting a binding ritual on President Trump in February 2017, a month after his inauguration…
Syfy Wire: Doing business with the witches of the internet
Witchcraft and mysticism is thriving on the internet. What was once an oft-maligned subculture veiled in mystery has become more accessible than ever…
Shinto News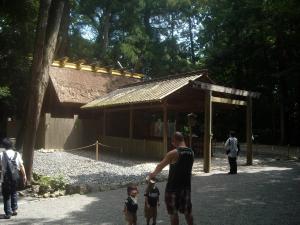 Green Shinto: Leading Shinto scholar Mark Teeuwen on Ise Grand Shrine
Leading Shinto scholar Mark Teeuwen, has written several influential books on matters related to Japan's indigenous faith. His new publication, A Social History of the Ise Shrines, co-written with John Breen, has proved ground-breaking in terms of English language works on the subject…
Japan Times: Japan's gods: More benevolent than fearsome
Japan's gods and goddesses are powerful but not power-mad, capricious but not vindictive; to be worshipped more in joy than in fear…
Other News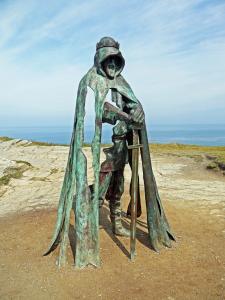 The Telegraph: Ancient doodle discovered on windowsill at Tintagel Castle is evidence of 'King Arthur's court'
Perched on a rocky outcrop on the Cornish coast, the windswept site seemed an unlikely location for a royal court. But the discovery of a 1300-year-old windowsill has lent credence to the idea that Tintagel was, after all, the home of kings…
Punch NG: University of Zambia denies new UNESCO course teaches witchcraft
The University of Zambia on Wednesday dissociated itself from the news of a UNESCO-funded-course on witchcraft allegedly starting at the university soon…
Time Out New York: Thousands of yogis are taking over Times Square to celebrate the summer solstice
The annual yoga fest, Solstice in Times Square, returns for a day of free classes on Thursday…
The Telegraph: Youths destroy landmark rock that had balanced on crag since the Ice Age 
The Brimham Rocks have stood proud since the Ice Age, becoming a National Trust attraction and drawing visitors to one of the most striking landmarks in the Yorkshire Dales.
News24: Archaeologists find ancient rock art in Egypt
Egypt says archaeologists have unearthed 3 500-year-old rock art depicting bulls, donkeys and sheep in the Eastern Desert…
Artsy: Why People Have Worn Charms to Deflect the Evil Eye for Millennia
Believers in the evil eye have fashioned defenses against it, in the form of incantations, objects, and rituals (like spitting three times). But one talisman has proved to be the most lasting and widespread: an amulet of an eye, which is meant to deflect envious onlookers…
Asia Sentinel: When Mother Earth menstruates
Next week, the city of Guwahati, lying on the south bank of the Brahmaputra River near the foothills of India's majestic Shillong Plateau, is expected to be the focus of hundreds of thousands of pilgrims celebrating the festival of one of India's most important tantric goddesses, known as the Goddess of Desire – the goddess who menstruates…
CNN: How artists use myth to explore the darker side of human nature
From the Midas touch to a Sisyphean task, from Pandora's box to Achilles' heel, characters from classical Greek and Roman mythology have an inescapable presence in everyday life and language…
Women.com: 27 Best TV Shows About Witches
Viewers love watching shows about witches and magic and everything occult. To celebrate this awesome trend throughout television history, we have gathered a list of the best TV shows about witches…
Hivisasa: We are not witches, Kenyan herbalists say
A section of herbalists from Bomariba ward in Bonchari Sub County have denied claims that they have been carrying out witchcraft activities in the region…
Stepfeed: Saudi police arrest man performing witchcraft inside Mecca's holy site
The arrest, which took place on Sunday, saw the site's policemen arrest the man along with his wife and confiscate all the material they had with them…
Web India 123: Woman murdered for suspected witchcraft in Gumla
The incident came to surface as the daughter of the deceased reached to meet her and found her lying in a pool of blood after which the police was informed…
Hindustan Times: Elderly woman beheaded, husband killed in Jharkhand; police suspect witch-hunting

The assailants, who broke into the couple's house at Dadgama village in Jharkhand's Khunti, also assaulted their children and made off with the woman's head after beheading her…