This week's round-up takes a special focus on the considerable media coverage related to the summer solstice from June 17th – June 24th, in addition to other top stories in Paganism and Shinto.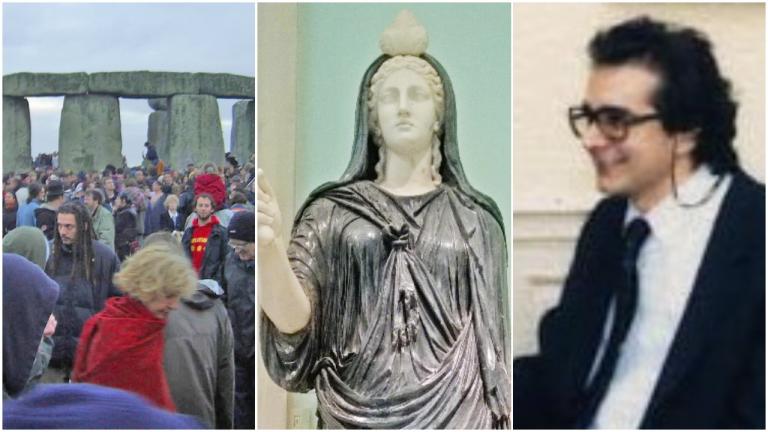 SPECIAL: Summer Solstice Coverage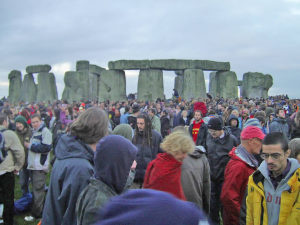 BBC: Summer solstice: Thousands gather at Stonehenge for longest day
Thousands of people gathered at Stonehenge for the summer solstice, as the sun rose amid clear skies…
Japan Times: Over 9,000 people gather at Britain's ancient Stonehenge to greet longest day of the year
thousands of people gathered at Britain's Stonehenge for the summer solstice, watching the sun rise over the Neolithic monument and welcoming the longest day of the year…
News.com.au: Stonehenge secret: Did builders use Pythagoras' theorem 2000 years before the philosopher lived?
A NEW book suggests the builders of the famous site were privy to a mathematical theorem of a famous Greek philosopher two millennia before he developed it…
The Guardian: Summer solstice celebrations around the UK – in pictures
Around the UK people marked the longest day in the northern hemisphere, from the annual festival at Stonehenge to the London Eye, while a gathering of hundreds of druids, pagans and revellers gathered at the ancient neolithic monument in Avebury, Wiltshire…
BBC: In pictures: Summer and winter solstice celebrations
People across the globe have been marking the longest and shortest days with summer and winter solstice celebrations…
The Guardian: Pagan paradise: Glastonbury without the festival
What's Glastonbury like without the bands and the fans? As the festival takes a year off, it turns out there's still plenty to enjoy, from ethical taxidermy to wall-to-wall druids…
Independent.ie: Summer solstice: An amazing story of how one Irish woman became a druid
This week's summer solstice marks a sacred Celtic tradition. For artist Patsy Preston (50), it is a time of special celebration she will mark at the Hill of Tara…
The Irish Times: A priest's daughter's potent pants and other summer solstice piseogs
Solstice is sacred to Aine, who is to Tantric sex what white water rafting is to a paddling pool…
AOL: Yoga summer solstice celebration in Times Square
More than 12,000 yogis hit New York's Times Square to usher in the summer solstice and celebrate International Yoga Day…
iNews: Stonehenge isn't the oldest place to celebrate the summer solstice – by a long way
As crowds gather at Stonehenge to celebrate the summer solstice, Hugh Newman and Robin Heath, authors of new book, Megalith, examine the site's importance and its place among the world's sacred sites…
The Telegraph: Sold for £6,600 in 1915: the surprising modern history of Stonehenge
Before 1918, and despite having brooded mysteriously on Salisbury Plain for more than 4,000 years to the delight and curiosity of many, Stonehenge formed part of the Amesbury Abbey estate in Wiltshire, owned by the Antrobus family…
The Independent: Summer Solstice: The 10 best stone circles in the UK
Summer Solstice or midsummer is the longest day of the year when, weather permitting, we can enjoy up to 17 hours of sunlight…
BBC: Not your usual Summer Solstice
People wishing to greet the rising sun gather at ancient sites and cluster around age-old stones. But there is more than one way to celebrate the astronomical beginning of summer…
Pagan News
Raw Story: NRA complains about anti-gun witches hurling curses at them and Donald Trump
The project is part of an ongoing #BindTrump cause for those who joined the Magic Resistance…
La Croix: Christians fret as Iceland returns to pagan roots
Norse gods are back in vogue courtesy of Marvel's cinematic universe and the success of movies like Thor: Ragnarok but now Iceland is returning to its roots by starting to worship the likes of Odin, Thor and Freya again…
The Wild Hunt: Facebook promotion of Witchsfest USA blocked
WitchsFest USA has been held each summer for the better part of a decade on Astor Place, but this is the first time the event has been deemed "spam" on Facebook, or at least the first time that a flag has impacted promotional efforts for the day-long street fair…
Den of Geek: WitchsFest Summons New Yorkers to a Magical Block Party
The magic comes to Manhattan for the Seventh Time with WitchsFest USA – A Pagan Street Faire…
The Wild Hunt: Home explosion strands three Pagans
Around 4 p.m. on the night of June 6, an explosion ripped through the house of three Pagans in Bulwell, a suburb of Nottingham…
Medium: Slavs Searching for their Gods
A formal revival of Slavic deities, under the name Rodnovery (invoking Rod, a name for God) is underway in Eastern Europe…
Hindustan Times: Mumbaiwale: Can we meet in Mahim? Yes, Wiccan
Spells to repel ex-lovers; potions to attract money; shortages of sage; weird customers. See what's brewing at Mumbai's only Wiccan store…
South Wales Argus: New pagan shop wants to bring positivity back to Newport's Market Arcade
A NEW pagan and spiritual healing shop is determined to bring back some positivity to the once thriving Market Arcade…
BBC World Service: Faith Based Farms
Colm Flynn takes to the farms and fields to meet the Muslims, Christians and even a Druid who want to show their faith through a shared love of farming…
Louder Sound: Daemonia Nymphe bring the wonders of ancient Greece to the UK
Ritual pagan folk troupe Daemonia Nymphe reveal all about their spectacular London show…
My Central Jersey: Aromatherapy in ancient Egypt has linked to today's booming alternative medicine practices
Its origin can be traced to about 265 B.C. to ancient Egypt in the Temple of Edfu where incense and unguents (soothing or healing ointments), were blended according to recipes inscribed on the walls of the laboratory…
Shinto News

Jewish Press: 'Shinto Jew' Commentator Charles Krauthammer dies age 68
Krauthammer was Jewish, but described himself as "not religious" and "a Jewish Shinto" who engages in "ancestor worship."..
Vinography: Sake of The Mountain Gods: Ishizuchi Shuzo, Ehime Prefecture
The offering of sake to the kami of Mount Ishizuchi, as it does in many places in Japan, represents something of an apotheosis of both poetry and pragmatism…
Nashua Telegraph: 'Forest bathing:' Could it really save your health?
Shinrin-Yoku translates as "forest bath." "Forest-bathing" – or a simple walk in the woods – might be the newest "old" idea revolutionizing health care, influencing traditional medicine in surprising ways…
Times Standard: A free year of 'forest bathing'
The idea of "forest bathing" might evoke a kind of New Age therapy, but it is actually a time-honored Shinto-inspired practice, Shinrin-yoku, and is promoted by the Japanese Ministry of Agriculture, Forestry and Fisheries…
Green Shinto: Rock of ages
Worship of rocks predates even the most ancient of shrines, yet nowadays they are often overlooked for the formal trappings of imperial Shinto…
Other News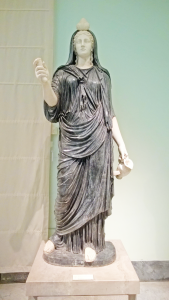 ABC News: Vandals smash copies of Egyptian gods' statues in Greek site
Greek authorities say unknown vandals have smashed replicas of Roman-era Egyptian gods on the site of an ancient sanctuary north of Athens…
Brooklyn Vegan: Shakira uses symbol resembling 'Nazi Occult' Black Sun in tour art
The Black Sun (German Schwarze Sonne), also referred to as the Sonnenrad (German for "Sun Wheel"), is a symbol of esoteric and occult significance…
Greek Reporter: Athens Museum Echoes to Hymns Sung for Ancient Greek Gods
Athens' National Archaeological Museum has been echoing to the sound of hymns sung to the Greek gods thousands of years ago…
JSTOR Daily: Where Witch Hunts Began
Although witch hunts are associated with 17th-century Salem, many hundreds of thousands of "witches" were killed in Europe from the 13th century on…
Japan Times: Japan's cosplay culture proving a hit in typically conservative India
Cosplay culture is gaining popularity in conservative India, where the Japanese hobby has drawn comparisons with a Hindu festival tradition…
Fandom: 5 Anime About Witches to Enchant Your Day
Throughout time, our obsession with witches has spawned many interpretations about enchanters ranging from the cackling old crone flying on a broomstick across the night sky to those who use critters and herbs to make magical concoctions in cauldrons…
Cyprus Mail: Japanese fans sticklers for cleanliness
Some have attributed this to Shinto, one of the main religions in Japan, whose gods hate filth and adore cleanliness…
Business Standard, India: Tribal woman beaten to death for practising witchcraft
A 40-year-old tribal woman was beaten to death allegedly by her extended family on the suspicion of practising witchcraft in Bihar's Purnea district, police said today…
Asian Age: Woman set on fire by relatives for 'practising witchcraft' in Gujarat
A 42-year-old woman in Arvalli district in Gujarat sustained serious injuries after she was allegedly set on fire by her relatives, who accused her of practising witchcraft, police told on Thursday…
Daily Nation, Kenya: 17 houses torched in witchcraft claims in Suba South
According to the police boss, at least 200 angry villagers stormed the affected houses and accused their owners of engaging in witchcraft…
The Citizen, South Africa: Man, 24, cites witchcraft after allegedly murdering grandmother
The granny, who raised the accused, was said to have been hit over the head by her grandson with an old case pressing iron. The force of the impact cracked her skull, which led to her death…
Orissa Post: Widow killed over suspected witchcraft
A widow was found hacked to death by unknown miscreants over suspected witchcraft and sorcery practice at Tambajhari village under Bisoi police limits in Mayurbhanj district, police said Monday…
OdishaTV: Elderly Man Thrashed On Suspicion Of Witchcraft
A 70-year-old man was brutally attacked by a fellow villager on suspicion of practising witchcraft in Nilgiri area of Balasore district last night…