Many people are motivated by their religion to give to charity or do other good in the world, and Pagans are no exception. Trying to do good for the world is an important part of my own practice as a form of worship in its own right.
I'm sure many other Pagans out there also feel the same way and do good deeds. In this blog, I'd like to share three very simple things that I do to try and combine Pagan worship with giving to charity.
1.Donate money as an offering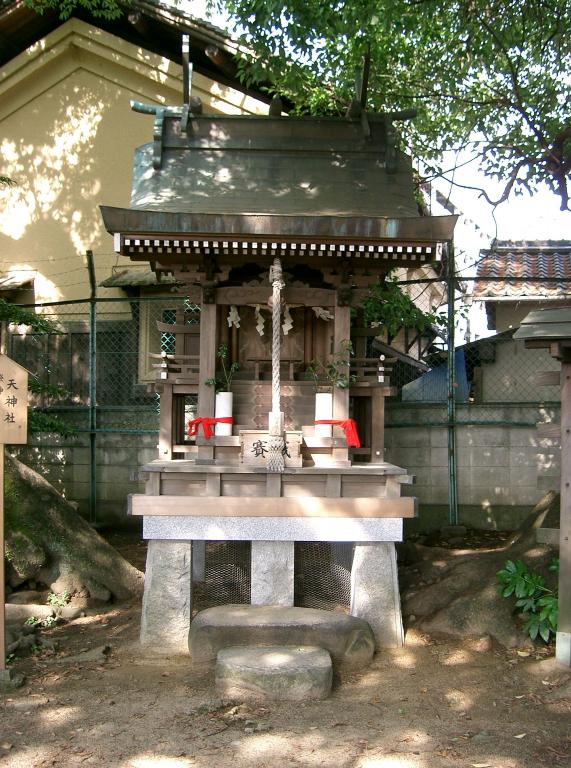 Donating money is an important aspect of Shinto. Separation of religion and state in Japan means that Shinto shrines and other places of worship must rely on private donations to survive. That's why you'll find ample opportunities to donate money at a Shinto shrine in Japan. You traditionally throw loose change into an offertory box before praying to the kami at the shrine, and you can buy ofuda and omamori charms at larger shrines. Companies and organisations can even donate torii gates in their name; these are naturally rather costly! Money is especially important to the particular Shinto deity I am devoted to – Inari Ōkami, the kami of prosperity.
In my experience, donating money as a specific act of worship does not tend to be as common in Neopaganism as it does in Shinto. This makes sense, because the vast majority of Pagans do not regularly visit a collective place of worship that needs money to keep it going.
The same thing applies to Shintoists living in countries that do not have Shinto shrines – how can one give money when there is no shrine to give to?
This is what I do. I have a small money box just below my kamidana. Every now and then I'll put a donation in there before praying to the kami. It might be a pound coin on special occasions like the Sabbats or the Full Moon, or something extra on some of the major Shinto festivals like New Year. Sometimes I'll also add coins that I find on the street. I see dropped coins as symbolic as a blessing from Inari, so I pick them up and then offer them at the kamidana.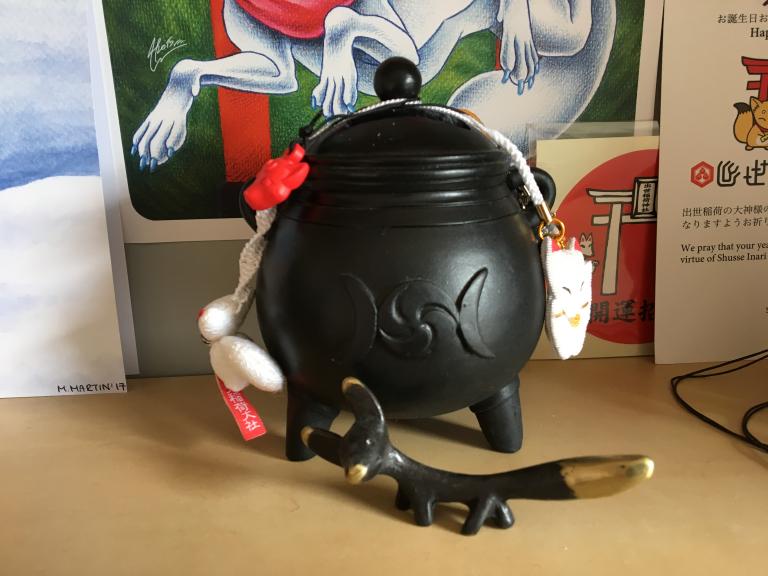 This will go on throughout the year until November. That's when my husband organises a special month of charity collections at his school for the Movember Foundation, which works to tackle men's health issues. At November, I'll give my husband all the money collected at the kamidana to donate to the Movember Foundation. That way, I can also involve my husband in my spiritual life!
Because Inari's messengers are foxes, I'll also occasionally donate to the Fox Project. This charity that helps sick and injured foxes in the south of England. What's great about the Fox Project is that they have an Amazon wishlist of things they need; you can buy these items directly for them! I'll always try to time my donations around Hatsuuma, which is the most sacred day for Inari.
Finally, I've made donations to Shinto shrines, including Tsubaki Grand Shrine of America and Shusse Inari Shrine of America. I've also recently joined as a paid member of a group for international devotees of Fushimi Inari Shrine in Japan.
If you want to help a charity, you could consider incorporating charitable donation as part of your practice. You could pick a charity that somehow relates to a particular deity. For example, you could donate to an educational charity for gods of knowledge and wisdom; a charity that helps women or children for goddesses of female fertility; or a homeless charity for gods of the hearth. Or, you could donate to an environmental charity that helps Mother Earth. And if you cannot donate your money, you could donate your time instead as a volunteer.
2. Donate offerings to food banks
People love to give offerings at group rituals, I've found, and I do too! It's a great way to participate even if you're not taking a lead role in the ritual, and it feels good to be giving something to the deities.
But what I often found at group rituals was that people would be so generous that there would always be an awful lot of food left over, even if we did try to eat it all in the simple feast post-ritual. This inevitably meant some of it unfortunately going to waste.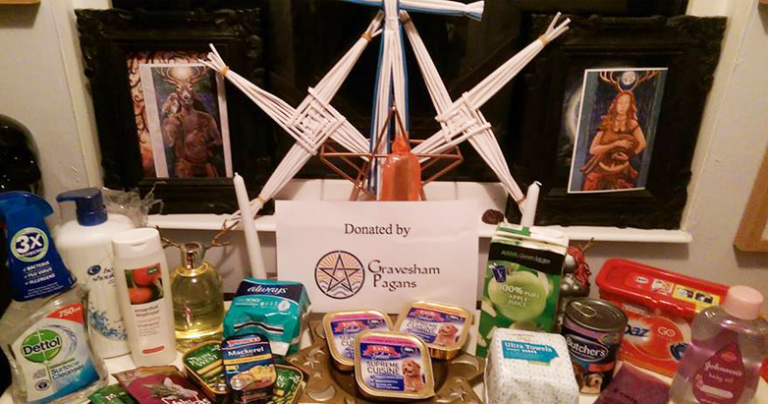 So at my local moot, Gravesham Pagans, we've developed a policy regarding ritual offerings. We ask people who wish to make an offering to bring, instead of perishable foods to be eaten straight away, items that can be donated to our local food bank. This doesn't have to be food either – food banks are often in need of nappies, sanitary towels, cleaning products and other goods. The local food bank puts a list of items it particularly needs on its website, so attendees can check to see what's a good offering. It's also possible to get creative and try to give suitable offerings according to the Sabbat: long-life milk for Imbolc, nappies for Ostara (the time for babies), and instant rice for Lammas, for example. During the ritual, we ask the deities to bless the food bank items and help those in our local community in need.
After the ritual, a member of our moot will take all the items to the food bank, with a little notice saying that it's donated by Gravesham Pagans. That way, we're also doing a bit of outreach and showing the community that Pagans want to play their part in the community!
3. Use charity goods in your practice
Many charities sell things in order to generate funds. This can be anything from cheap badges or ribbons that are given to donors which they wear to spread awareness, to full-scale charity shops. In all cases, a creative Pagan can probably find a way of using these items in their practice.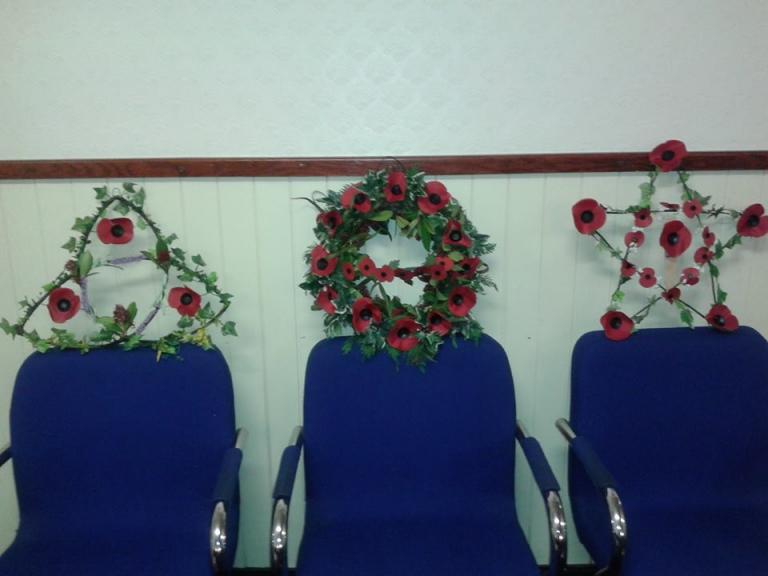 The leaders of another moot local to me, Medway Pagans, do a lot of good for the Royal British Legion. Every year they buy poppies to make wreathes which they then lie at the local war memorial on Remembrance Day. The wreathes take the shapes of sacred Pagan symbols like pentagrams and triquetras. This not only combines charitable giving with Pagan worship, but also again serves to raise the profile of the local Pagan group and show that Pagans want to be engaged in community action.
I myself like to buy the little daffodil brooches from Mary Curie, which they sell throughout March. I buy a new one every year. I then add it to the pentagram on my Ostara altar. They look beautiful and very seasonal, and it's good to know that buying them is helping people too.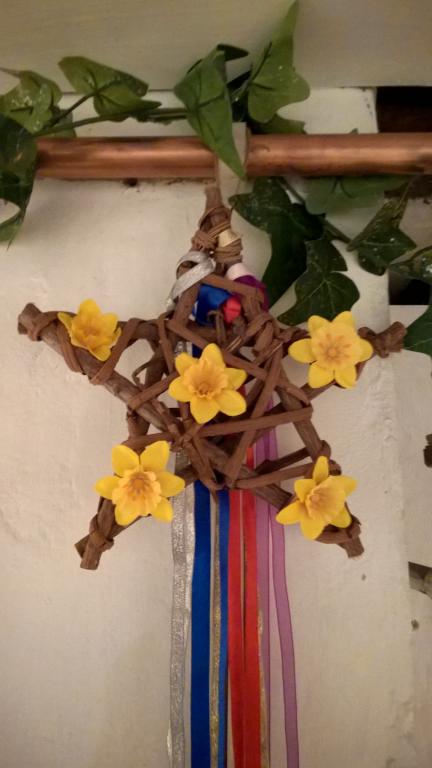 And as for charity shops, loads of Pagans already source items from them! Not only because they help good causes, but also because they're cheap, often filled with interesting items, and they make a good environmentally friendly alternative to buying new items.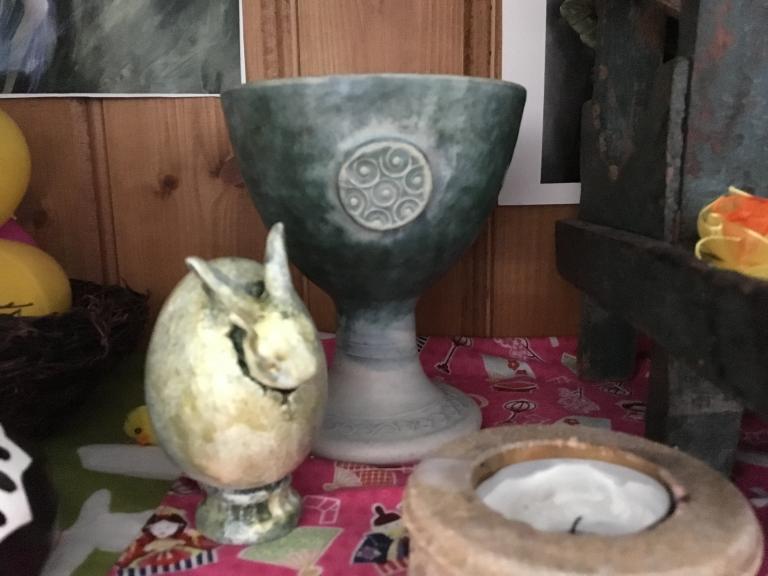 These two items – the rabbit and the cup – are both on my altar at the moment, and they were both purchased from a charity shop. I thought the rabbit hatching from the egg was very Pagan-looking, so I bought it and then re-painted it (it was covered in pastel flowers originally which isn't really my thing).
The cup is absolutely perfect for communal ritual, as it's large enough to contain enough ale for sharing around the circle. It's possibly my favourite altar tool.
Do you have any other ideas for combining charitable acts with Pagan practices? If so, why not share them in the comments!