In my last post, I wrote about my pilgrimage to St Anne's Well in Whitstone. My next visit on my Cornish well pilgrimage was St Genny's Church, which is home to not one but two holy wells.
While the St Anne's Well pilgrimage was a pretty easy trip, the St Genny's visit involved a little more work. Partly because I walked the entire way from the cottage where my family were staying (which took over an hour), and partly because these wells were harder to find. This made the pilgrimage all the more rewarding.
St Genny's is a tiny hamlet by the coastal village of Crackington Haven. Its 15th century church is located in a stunning location right on a high cliff, overlooking the sea.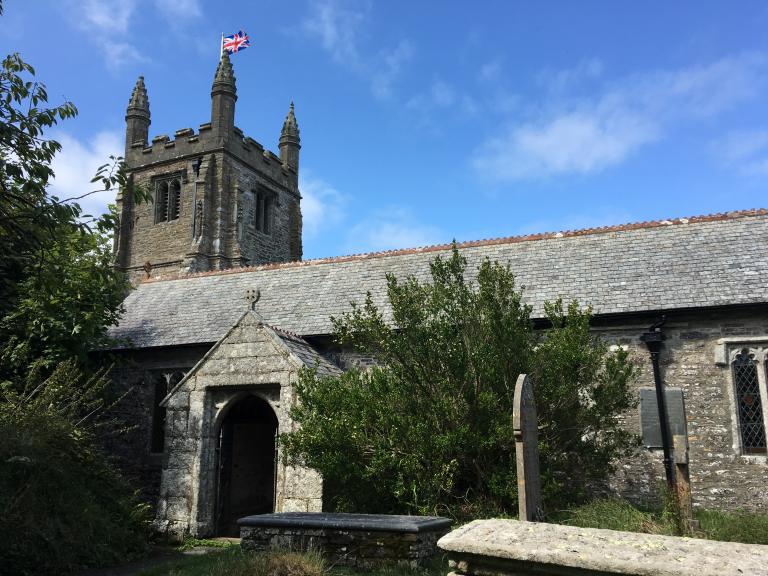 The name St Genny is thought to derive from St Genesius of Rome, to whom church is dedicated. St Genesius himself is an interesting figure. He is the patron saint of actors, lawyers, comedians, and other performing artists, and he was said to have been an actor himself. According to legend, he was once performing a play mocking Christianity, when he fell ill on stage and had a vision of angels who compelled him to be baptised. Naturally as a Pagan that's not the ending I would've picked to this story, but there we are!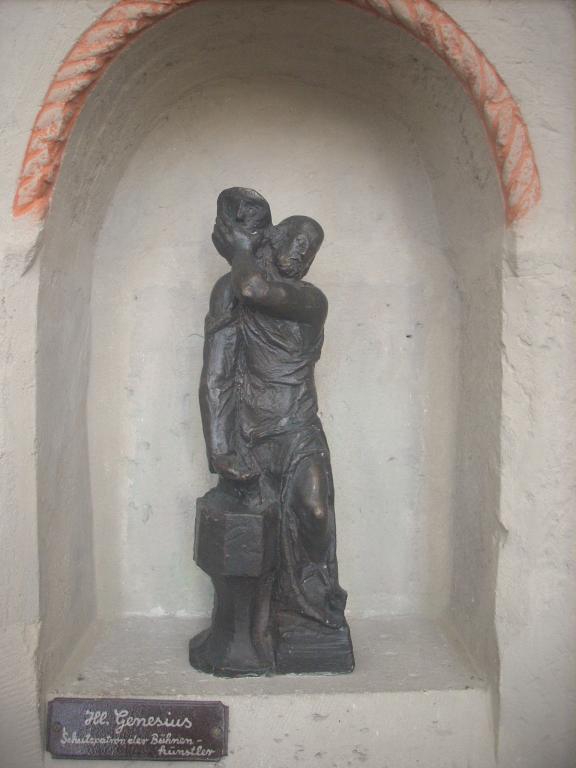 I knew from researching St Genny's Well that there are two wells by this church. There's the "original" ancient well, and a second well that's considered something of a "fake" as was apparently built in 1927 by the vicar in the hope of attracting more visitors.
I took a look at the church notice board, as churches with holy wells often mention these and where to find them. But there was nothing at all mentioned about the well. Clearly I'd have to work a bit to find them!
I found the "fake" holy well first. It's tucked away at the side of the church, rather unceremoniously next to the piping and power lines.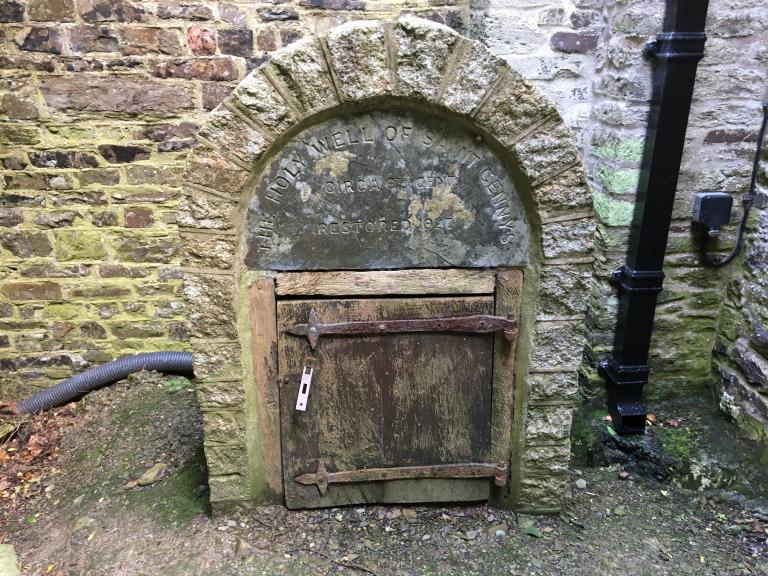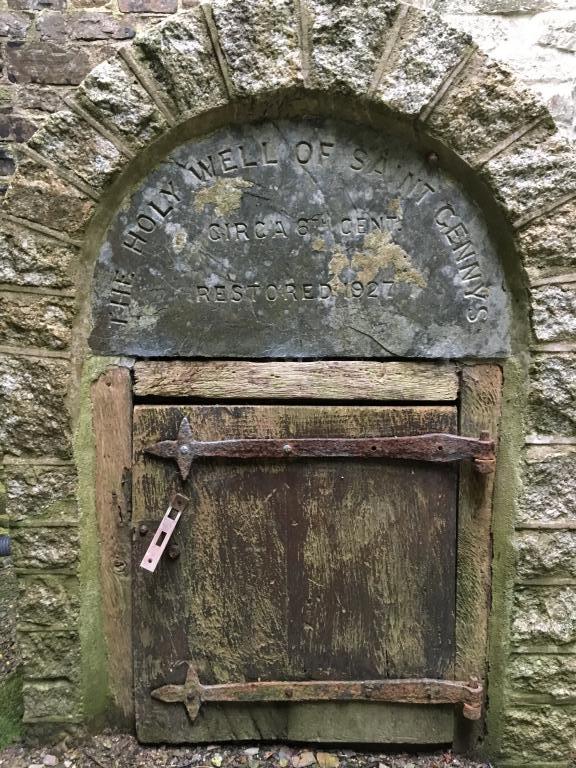 As you can see, the vicar who built the well was quite keen for visitors to believe that this is an original holy well from the 6th century. And who knows, perhaps it is built on the foundations of a more ancient site.
Despite my sources telling me that this well is dry most of the year, I opened the door and found that it did have some, albeit rather muddy, water.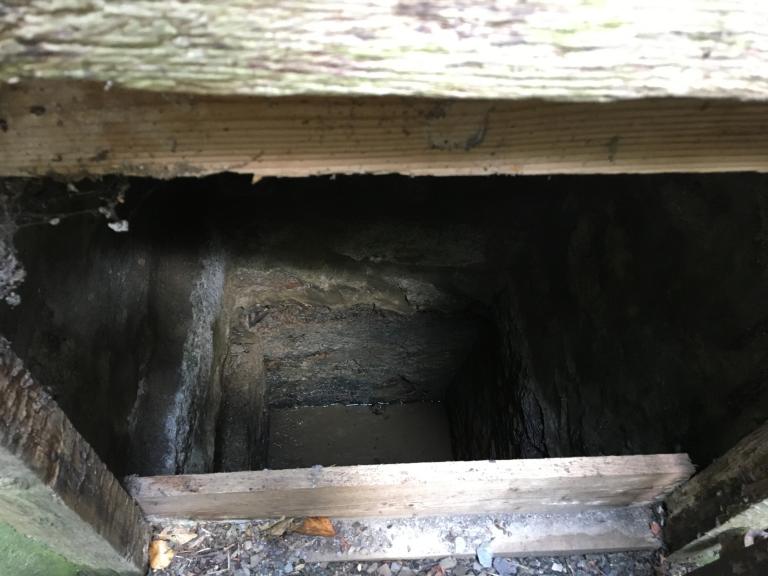 Unlike the other holy wells I've visited, I could find no offerings here. Perhaps it isn't considered "holy" enough to leave an offering. Or perhaps it isn't as well-known, and therefore not well visited. In some ways, it's quite nice to know that I'd paid a visit to one of the lesser-known wells of Cornwall.
Now I tried to find the "genuine," older well. I'd read that it was located within a sloping bank. I hunted around the grounds, which are comparatively large compared to the rather smallish church, but to no avail. No well was to be found.
I therefore decided to check in the church itself – perhaps I'd find a clue inside?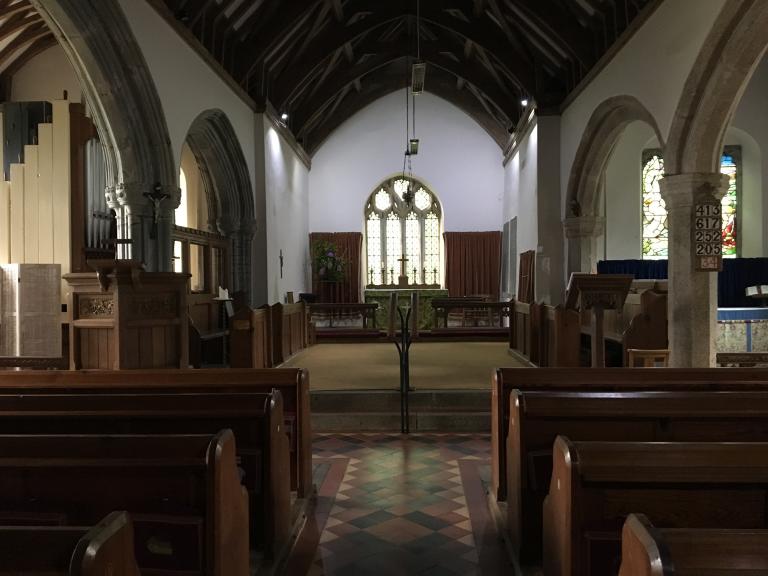 One thing I love about rural churches is that they are left open even when there's no mass and no-one present in the church. It's so safe here that no-one seems to worry about vandalism or theft. Where I live, in urban Kent, no-one would dream of leaving a church unlocked. Even when they are locked, it's not uncommon for them to be broken into and have valuables stolen.
These rural churches even have "honesty boxes." They have little goods like prayer cards and books for sale, and they trust visitors to put the stated price in the honesty box.
I enjoyed exploring the church. I spotted a little state tucked in a corner in the wall and thought it might be St Genesius, but I on closer inspection think it might meant to be Jesus Christ. I always think it's a bit of a shame when churches don't have imagery of the saint they're dedicated to, but that might be something of a polytheist attitude on my part.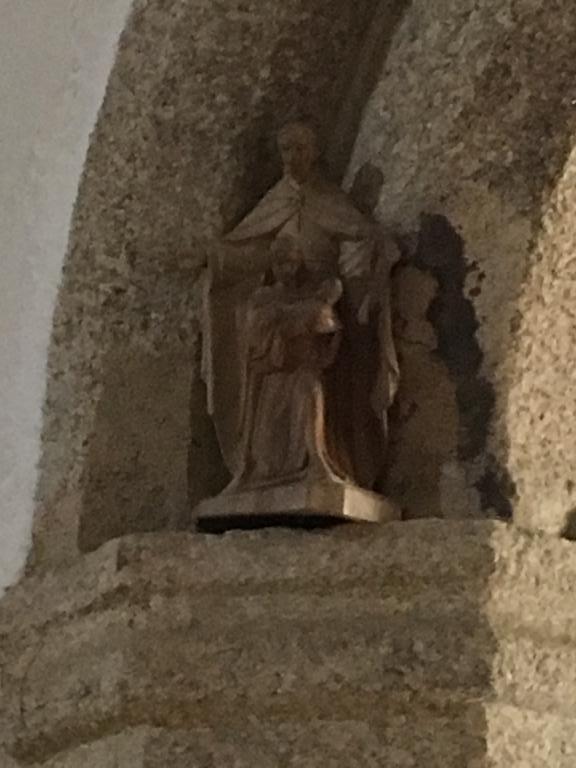 I still couldn't find anything written about the holy wells in the church. I even took a look at the guest book (which I signed), but couldn't find a reference to the wells there either.
A bit disappointed, I left the church and headed back up the path to the entrance to the churchyard.
And then, I saw it.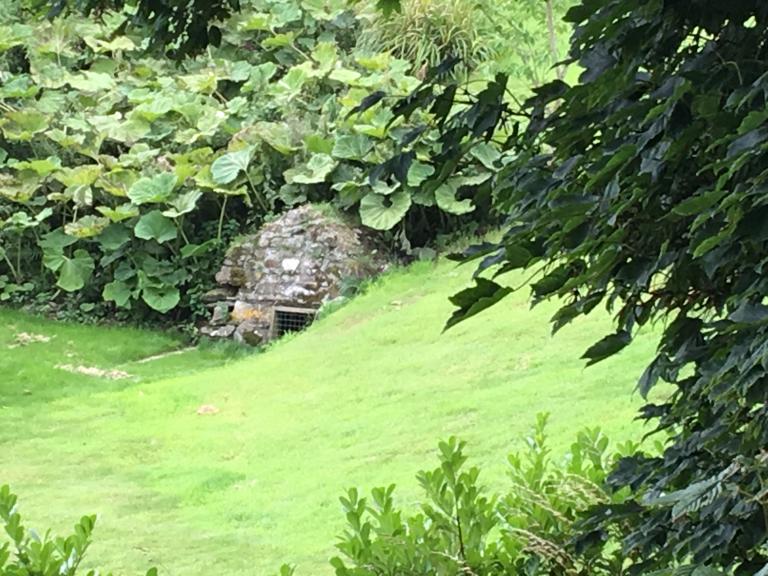 There, below the slope and outside the fence of the churchyard, lay the ancient holy well of St Genny.
While its location was probably part of the church's land (curtilage, to use the correct term) at one point, the land now appears to be privately-owned, as part of a guesthouse. I wasn't 100% sure if the land is private or public, but there was a fence around it so I assume it's private. You can see the well quite clearly though from the churchyard.
As you can see, it does look much older than the modern well by the church. And it's good to see that whoever does own the land where it is appear to be taking good care of it. And it's location is certainly much prettier than the well by the church.
Out of all the wells I visited, these wells were perhaps the most mysterious because of their somewhat hidden nature, and the fact that little is recorded about their history. Why are they considered holy? What stories surround them? It all appears to be lost in the mists of time.
And I rather liked the "fake" modern well as well as the older well. It seems to me very appropriate that a patron saint of acting would have a modern well masquerading as an older well dedicated to him!
---
Sources and further reading:
Paul Broadhurst, Secret Shrines: In search of the holy wells of Cornwall, 1988
Wikipedia – Genesius of Rome
Megalithic – St Gennys Well