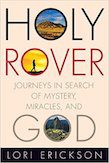 Holy Rover: Journeys in Search of Mystery, Miracles, and God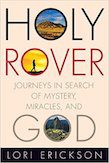 Publisher: Fortress
Copyright: 2017
A memoir about the transformative power of travel told through trips to a dozen holy sites around the world.
Publisher: Globe Pequot Press
Copyright: 2017
A journey along the highways and byways of my home state, from the Bridges of Madison County to the Loess Hills.
Publisher: Resurrection Press
Copyright: 2007
A reflection on the meaning of spiritual travel through descriptions of pilgrimages around the world, including Lourdes in France, Santiago de Compostela in Spain, and Iona in Scotland.
Publisher: McMillen Publishing
Copyright: 2004
This bilingual book about the sister state relationship between Iowa and Yamanashi, Japan, was chosen as the 2004 Iowa Children's Book of the Year.
The Mighty Mississippi: A Traveler's Guide
Publisher: Globe Pequot Press
Copyright: 1995
A guide to the attractions, lore, and history of America's greatest river.
I'm also the author of three collections of ghost stories published by Quixote Press in 1987 and 1988: Ghosts of Johnson County, Iowa; Ghosts of Linn County, Iowa; and Ghosts of the Amana Colonies.