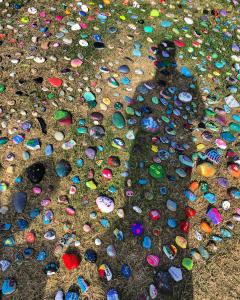 On Saturday evening, my Parish, Saint James Anglican Church, hosted a reconciliation dinner for First Nations' survivors of Canadian residential schools. Much like their counterparts in the US, Canadian residential schools were boarding schools administered by Christian churches mandated to assimilate native peoples to North American culture and language. Over 100 years of existence, more than 150,000 indigenous children were forced to attend. An estimated 6,000 died for various reasons mostly associated with abuse while in the custody of these schools. The schools separated young people from their families and communities and restricted parental visits. As a result of this systematic cultural genocide, and many other factors, indigenous peoples in Canada and the US suffer higher rates of suicide, PTSD, alcoholism, drug addiction, abuse, violent crimes, incarceration, and disease. To hear the stories is chilling, to see the survivors seek to move past their anger and grief toward reconciliation is inspiring.
Saint James Anglican Church is located in the Downtown Eastside of Vancouver, a place where drug use, alcoholism, homelessness and sex work are commonplace. Again, First Nation's peoples are over-represented among them. In collaboration with the parish, survivors planned a dinner that would sit survivors at the same tables with settlers of a similar age. The hope was that settlers would listen and that survivors would feel listened to.
At the urging of one of the parish members, I signed up as an event volunteer and when I arrived the parish hall was humming with conversation. Coffee, tea, and bannock were being served. There were a lot of volunteers, and I struggled to find useful work to do, and despite the beauty of the cultural presentations, I began to secretly regret coming.
As I stood in the back of the Parish Hall, one of the coordinators waved me over to an elderly First Nation's man in a wheelchair. She explained that he needed to be wheeled next door, to his nursing home so he could take his pills. I happily obliged, relieved to have a task to carry out. I introduced myself to the man, and carefully wheeled him down the ramp into the back alley behind the church.
I felt a sense of satisfaction, that I was doing a good deed. But as I wheeled him along, and he talked in a raspy whisper, I quickly realized that in addition to taking his pills, the man would also need to take his insulin shot. He was diabetic, and his right foot had been amputated just below the knee. I was humbled by how much he had been through. However, as the chair dipped into the street and then up onto the sidewalk of the other side of the street, the irony of my position hit me suddenly. I was a well-intentioned white person pushing a diabetic indigenous man to take his insulin pills.
My ancestors had not only attempted to eradicate and assimilate his people, they had brought with them a diet that increased native people's risk of contracting one of a hand full of diseases including diabetes. Though not personally implicated in his suffering, my people's presence on this landscape has unalterably harmed his people.
My people also invented the medical means to save his life from diabetes. But at what cost? Saved, only to be subjugated.
With a ding, the elevator reached the third floor, and I navigated the wheelchair through a crowded meds counter, staffed by a single Chinese woman. She presented my First Nation's friend with his insulin kit. He opened it fluently, pricked his finger and dabbed the red blood onto a digital sensor, the size of a wristwatch. He read off the reading which the nurse recorded. He unsheathed his insulin wand and lifted his shirt, inserting the needle without a wince or hesitation. When he was finished he packed up the box, put down his shirt and looked me in the eyes. He was ready to go back to the church. But first, he wanted to go to his room and get a hat made of cedar bark that he had made by hand.
As I wheeled him back into the alley behind the church, an indigenous woman sat on the ground searching for a vein in her bare left foot. It is a common sight in this neighborhood. From behind the wheelchair of a diabetic indigenous man, however, her presence made the reality of indigenous survivorship all the more powerful. I wheeled the man back to his place at the front of the Parish Hall and patted him on the shoulder. There was a dance troupe dressed in regalia performing under a simple crucifix affixed above the stage.
My eyes filled with tears as I glimpsed something of the pain that was being healed through this gathering, pain inflicted by my beloved Christianity. Colonization is not just an event that happened once, its wake continues to swell across the sea of our world. Events like those which took place this weekend, this small dinner followed by the Walk for Reconciliation on the streets of Vancouver where thousands of people participated, are small steps toward our goal of seeking justice for all peoples, and forgiveness from those we have brutalized. Hoping that their children will be better off, and their children's children will once again thrive here on the shores of the Salish Sea.