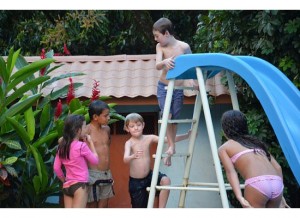 "Can we go to the pool tonight, mom?"
"But you just spent four hours in the ocean."
"I know. But I just really, really want to go to the pool after dinner."
Hence my numero uno tip for traveling with children:
#1 – Stay somewhere with a pool.
(Today is day three of my Traveling With Children series. Read Day One here and Day Two here.)
Staying somewhere with a pool may not seem like much to the uninitiated, but I cannot stress this enough. My kids have been through hours and hours of working or walking or listening, all in the blazing sun. They endure boring lectures and dinners where they don't understand a word said. And they do it with grace that is normally beyond their grasp – all because there is a pool at the end of the tunnel.
To be honest, I don't understand it. Ezra LOVED climbing the Great Wall in China. But I'm not sure that he would have chosen it over going to the pool. We have hiked to breathtaking waterfalls, surfed in beautiful weather, and played soccer and badminton with local children in Mexico and China. They went ziplining through the jungle, and searching for (and finding!) nesting sea turtles. But each and every day, they ask to go to the pool, and most days they would chose to stay home and play in the pool over anything else we have planned.
We traveled to China with a family that actually has their own pool. And the hotel pool seemed to hold the same allure for their children as it did for mine.
Which might beg the question – WHY GO?
This is why you need to be clear about your purpose in going. Because honestly, if you just want to have fun with your kids, you could check into the local Holiday Inn, order pizza and swim all day.
If however, you have good reasons for going somewhere else, make sure it has a pool. Because kids understand that doing underwater handstands and getting wet and playing Marco Polo is fun. They know that exercise makes everything better. So do water and games where everyone can play. They know that the simple pleasures of childhood often trump the new and adventurous.
And that's true whether or not you are traveling.