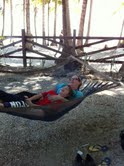 I just woke up from a nap. It took place in a hammock under the coconut trees that line the beach. That's where I napped yesterday too. And that's why I didn't write yesterday, in spite of saying that I would post every weekday until I have elaborated on all ten tips for traveling with children.
I've been napping a lot since we got here and I'm not the only one. The boys continue to get nine to ten hours of sleep each night, and I have even managed to get them to take a nap. Nafisa's been sleeping ten to thirteen hours a day. Even Jeff has been getting seven plus hours of sleep, plus a few hammock naps of his own.
It could be the heat, or the hours of swimming and surfing and trying to learn a language that we don't speak. But I don't think that's it. I think it's that we are getting the amount of sleep that it takes to have a sane life and a healthy body.
Whatever it is, travel is the exact wrong time to get less sleep. If your kids normally go to bed at eight, everyone will be happier if they continue to do so. Which leads to number five on the list:
#5 – Do less. Of everything. Except sleep.
Your kids do not need to see every important historical site in a given city; they can still turn out to be interesting, loving people. It's okay if all you manage to get done in a day is find a place to do the laundry and talk to the guy on the street about how he knows when the coconuts are ripe.
Vacations, service trips, and traveling to see friends are not supposed to be exercises in packing it all in. You probably experience too much of that at home already. You run from event to event, accumulating enriching experiences that will guarantee your children's future success – as people who go from one activity to the next without stop.
Tired children are cranky children. Rushed children are anxious and grumpy children. Who wants that? Instead, stay longer at the park where they are playing badminton with local children, and skip the great museum. Stay in one day to play cards, and take an extra city off the itinerary. Skip the once-in-a-lifetime performance of the local (insert cultural event here), and go to bed early.
Seeing more and doing more often mean getting less of what you really want.
And that's true whether or not you are traveling.