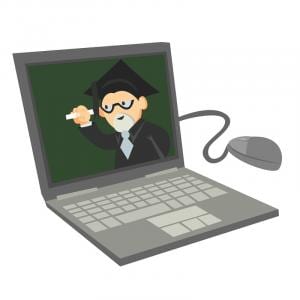 How to begin your online video course with students:
Hello students!
I'm hosting this Zoom class from my home, so you might hear dogs bark when the Amazon guy shows up at the door, which is daily, almost hourly.
And, though I have my teenage daughters sequestered in a secure room during this lecture, they could break free any time and cause an unpredictable ruckus. Don't be alarmed if you hear loud piercing screams now and then, as when one of the girls wrestles the TV remote from her sister.
The other thing to be aware of is that my spouse is also a professor, and we might get our Zoom accounts mixed up. You could tune in one day to a lesson on Medieval Japanese theater. Don't get upset. Just hang in there, take good notes, and I'll give you a little quiz on it later. It could boost your grade.
I'll be giving extra points to anyone of you who shows up on the Zoom video in a costume, cosplay, or some other outrageous attire. A three-cornered musketeer hat with a four-foot orange feather on it is worth 2 points in and of itself. Wearing sunglasses, especially Ray-Bans Caballeros, is worth a point, at least.
I encourage you all to speak at will. If you do so after inhaling a bit of helium, that's worth a point right there.
So let's try to keep this course serious, and let's proceed as if our lives depended on it.
And now to the first lecture …
Featured image 'Teaching Online' by bluefieldphotos bp via Flickr